Catalonia will press ahead with next steps in its push for independence from Spain, its government said late Sunday after clashes between riot police and voters marred a referendum rejected as illegal by Spain.
"The Catalan institutions have the duty to respect and implement the choice citizens have made and to honor it with the commitment to collectively build a free, peaceful and democratic country with dignity," Catalonian Government President Carles Puigdemont said in a statement.
Catalonia's government planned to hold a closed-door Cabinet meeting Monday to discuss its next steps. Regional officials said preliminary poll results showed 90 percent favored independence after less than half the electorate voted.
More than 890 were injured in the clashes between riot police and voters, according to the Catalonia Health Department. Catalonia's health services said four people remained in the region's hospitals, two of them in serious condition.
In addition, 33 police officers were injured.
"Violence can never be an instrument in politics"
The referendum debacle brought Spain and Catalonia closer to a potentially disastrous showdown as each side said Sunday's events proved them right and neither looked prepared to cede ground.
Catalan president Carles Puigdemont will chair the Cabinet meeting, which is expected to consider asking the regional parliament to vote on an historic independence declaration later in the week.
Photos: Hundreds Injured as Spanish Police Try to Block Catalan Referendum
Spanish Prime Minister Mariano Rajoy, meanwhile, will meet with ruling Popular Party leaders before seeking a parliamentary session to discuss how to confront the country's most serious crisis in decades.
He also called an afternoon meeting with the leader of the main opposition Socialist party to discuss Spain's options.
The impasse developed after Catalan authorities decided to go ahead with Sunday's referendum even after Spain's Constitutional Court suspended it. The Spanish central government denies the referendum even took place, while Catalan separatists say it was valid and justifies making a final break with Spain.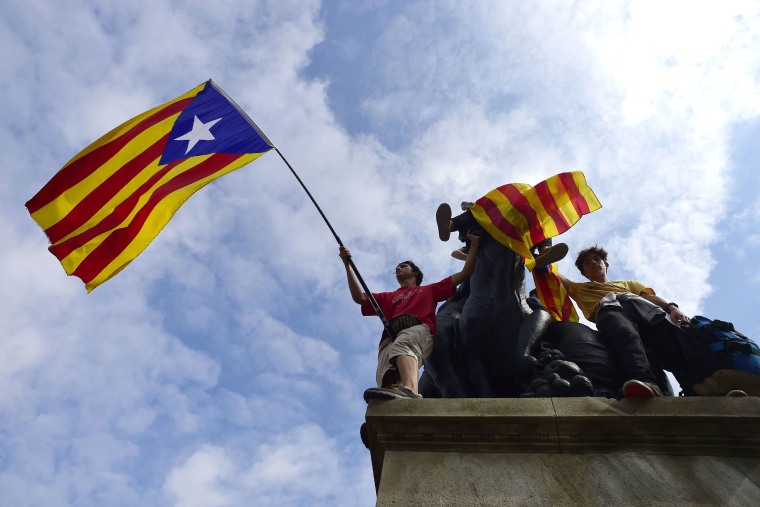 Clashes broke out at a number of voting locations after riot police turned up to prevent people from voting and to confiscate ballot boxes.
Some Catalonians said both sides were responsible for the mayhem.
"I am very annoyed for the both sides involved in what happened yesterday," said Eric Tigra, 56. "I think both sides involved committed grave mistakes. But we must also highlight that if the people of Catalonia go out in the streets and you don't listen to them then something is not working right."
Catalan leaders accused Spanish police of brutality and repression while the Spanish government praised the security forces for behaving firmly and proportionately.
Videos and photographs of the police actions featured on the front page of news media outlets around the world.
Related: Catalan Independence Referendum: What's Behind Divisive Spanish Vote?
So far, the European Union, the U.S. and most international bodies have backed Spain in its stance against Catalonian independence.
The E.U. on Monday urged all sides in Spain to move from confrontation to dialogue.
"Violence can never be an instrument in politics," read a statement by the European Commission. "We trust the leadership of Prime Minister Mariano Rajoy to manage this difficult process in full respect of the Spanish Constitution and of the fundamental rights of citizens enshrined therein."
It also warned that if Catalonia voted to legally secede from Spain then it would fit itself outside of the European Union.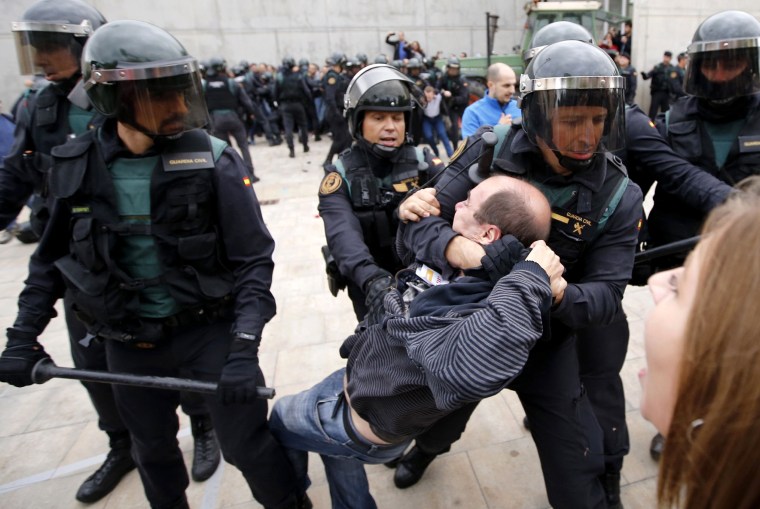 Catalonia, with the vibrant city of Barcelona as its capital, represents a fifth of Spain's economy. Polls consistently show that while most of its 7.5 million inhabitants favored a referendum, they are roughly evenly split on independence from Spain.
Those in favor of secession argue that the region contributes more to the national government than it receives in return. Catalonians already enjoy a wide measure of autonomy but the central government still controls taxation and other financial levers, as well as infrastructure projects.