BARCELONA, Spain — Spain may be taking control of the autonomous region of Catalonia and fired its separatist government — plunging the country and Europe into crisis — but locals are undaunted about what lies ahead.
"Today I'm independent. Today I have no king. Today I have my own country," Rut Carandell Rieradevall, a 51-year-old lawyer, said Saturday. She came to the square in front of the autonomous region's government building to see if Spain's flag had been lowered after Catalan lawmakers passed a declaration of independence Friday.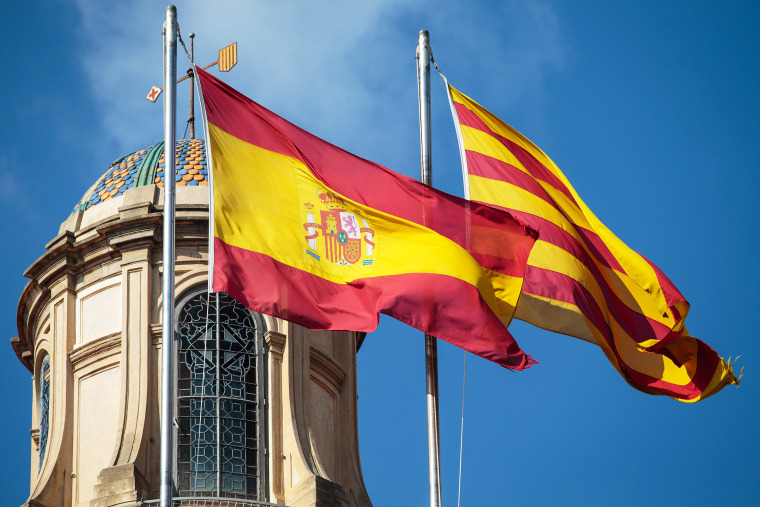 "For me, to have no king and have my own country is good enough," Carandell said on a sunny weekend in Barcelona, where tourists mingled with journalists and the hosts of a Catalan cultural festival.
The uncertain future did not make her nervous, even after alleged police brutality injured hundreds during the region's disputed referendum on Oct. 1, when 92 percent of those who voted backed independence. However, overall turnout was under 45 percent.
Related: How Catalonia's Bid for Independence From Spain Unfolded
"When you know what you want, you aren't scared," Carandell said as she stood with her pet dog, Mato — named after a kind of Catalan cheese.
Catalonia's parliament voted to become an independent republic in a secret poll — a move that followed the referendum on the same subject. Early Saturday, Spanish Prime Minister Mariano Rajoy not only dissolved the regional parliament and called elections for Dec. 21, he replaced Catalan leader Carles Puigdemont as the decision maker in the wealthy northeastern region.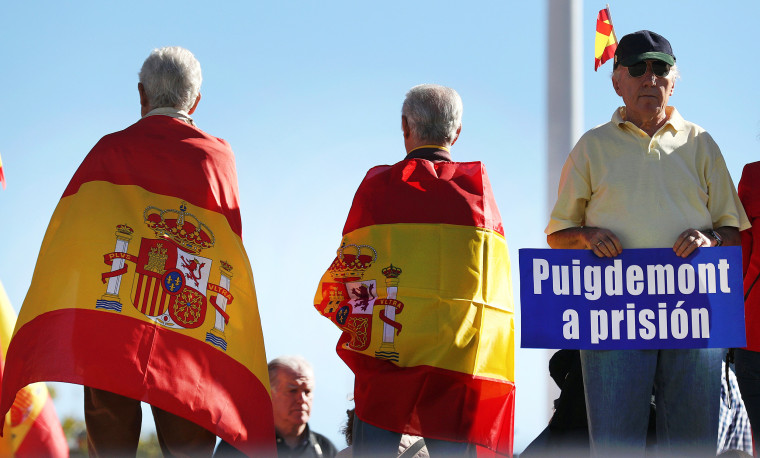 The head of Catalonia's regional police was also fired. According to reports, the justice ministry would try and press charges of rebellion against those behind the vote.
The movement for autonomy has waxed and waned in Catalonia, one of Spain's 17 autonomous regions with a distinct culture and language, and an economy equal to around a fifth of the entire country. The movement for independence has caused a constitutional crisis that is the worst since the end of the dictatorship of Gen. Francisco Franco in the 1970s, and has deeply divided opinions in the region.
Related: What's Behind the Catalonian Vote Dividing Spain?
In his hometown of Girona, some 60 miles northeast of Barcelona, Puigdemont addressed the crisis for the first time since Rajoy's announcement Saturday, calling for "patience, perseverance and perspective."
"In a democratic society parliaments are the ones that chose or dismiss presidents," he said in a statement carried by local television. Saying "we will continue working to build a free country," he also called on Catalans to defend the declaration of independence and to hold peaceful protests.
It isn't clear what comes next after Catalonia's independence declaration, which is illegal under the Spanish constitution.
Rajoy could send the Guardia Civil, Spain's oldest law enforcement agency, to take control of government buildings, but the Spanish government came under intense criticism after images emerged of police beating civilians and shooting rubber bullets into crowds during the Oct. 1 referendum.
Still, Madrid has the international community on its side.
The European Union has confirmed its commitment to a united Spain, saying Madrid was still the "sole interlocutor." The United States, Germany and the U.K. also confirmed their commitment to a united Spain.
The president of the European Commission, Jean-Claude Junker, painted a picture of what politicians and bureaucrats most feared would spring up throughout the 28-member EU.
"I do not want a situation where … the European Union is made up of 95 different states," he said.
This specter of a splintering Spain hung over the crowd in Barcelona on Saturday.
"Good for you — about time," Miren Garcia said as she leaned over to congratulate Carandell, the lawyer. "We're on the same track."
Garcia and her husband, Jose Ramon Garcia, had traveled to Barcelona from their home in San Sebastian in Spain's Basque Country, a region in the north which saw an armed struggle as separatist militants fought for independence. Those so-called ETA militants surrendered their remaining weapons earlier this year after four decades of violence.
Like Catalonia, it is relatively wealthier than other parts of the country, and some of its residents hanker for complete independence from Madrid.
"Yesterday it was so emotional, people were crying," Garcia, 49, said as her husband nodded in agreement. "It makes us jealous — this is what we want for ourselves."