BARCELONA, Spain — Hundreds of people were injured when armed police descended on some polling stations in Catalonia on Sunday as defiant voters tried to take part in a banned referendum on independence from Madrid.
The Catalonian government said late Monday that about 90 percent of about 2.25 million voters backed independence. That would represent a turnout of about 42 percent of registered voters.
But as regional health officials announced on Sunday night that the number of people wounded had nearly doubled, rising from more than 460 to over 760, conservative Spanish Prime Minster Mariano Rajoy said there had been no referendum because "the great majority of Catalans have decided not to participate."
"They have sided with our democracy and the rule of law," Rajoy said during a news conference, adding: "Some have tried to break the rule of law, and we have answered with serenity and sanity."
Barcelona Mayor Ada Colau called for Rajoy's resignation and for the police to halt their violence "against a defenseless population."
The leader of the regional government, Carles Puigdemont, meanwhile, said, "Catalonia's citizens have earned the right to have an independent state in the form of a republic."
Photos: Hundreds Injured as Spanish Police Try to Block Catalan Referendum
"My government, in the next few days will send the results of today's vote to the Catalan Parliament, where the sovereignty of our people lies, so that it can act in accordance with the law of the referendum," he added.
Earlier, Spain's interior ministry said that nine policemen and two civil guards had been injured. One civilian was in a critical condition at a hospital in Lleida, a town in western Catalonia, a spokesperson from the hospital confirmed.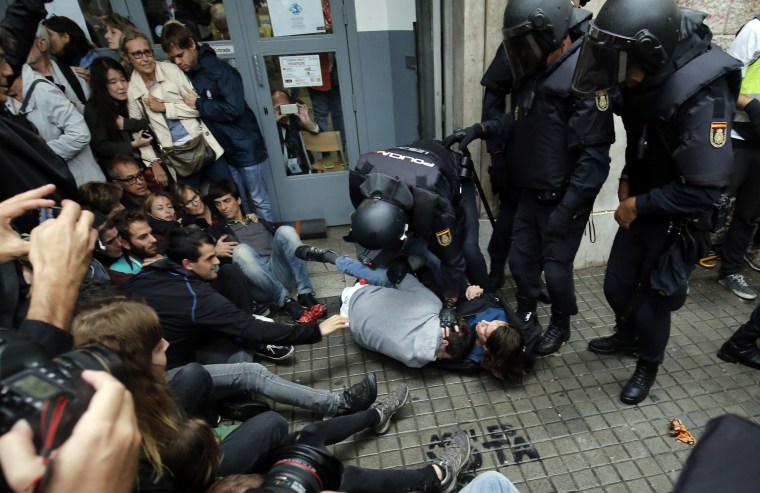 In the region of Girona, Spanish officers scuffled with angry voters before smashing their way into a school being used as a polling station and seizing ballot boxes as voting began.
Armed police also clashed with voters outside some polling centers in Barcelona.
Rubber bullets were fired at protesters in the center of the city, the Associated Press reported, with people showing minor wounds to TV cameras.
The poll has no legal status, as it has been blocked by Spain's Constitutional Court and Madrid for being at odds with the 1978 constitution, but tens of thousands of voters were still expected to take part.
Puigdemont said Spain had used "unjustified, irrational and irresponsible violence," adding that it wouldn't stop Catalans voting "peacefully and democratically."
He said batons and rubber bullets had been used against people who were protecting ballot papers and polling stations.
"Today Spain has lost even more that it had lost until now and the citizens of Catalonia we've achieved even more than we've had achieved till now," he said.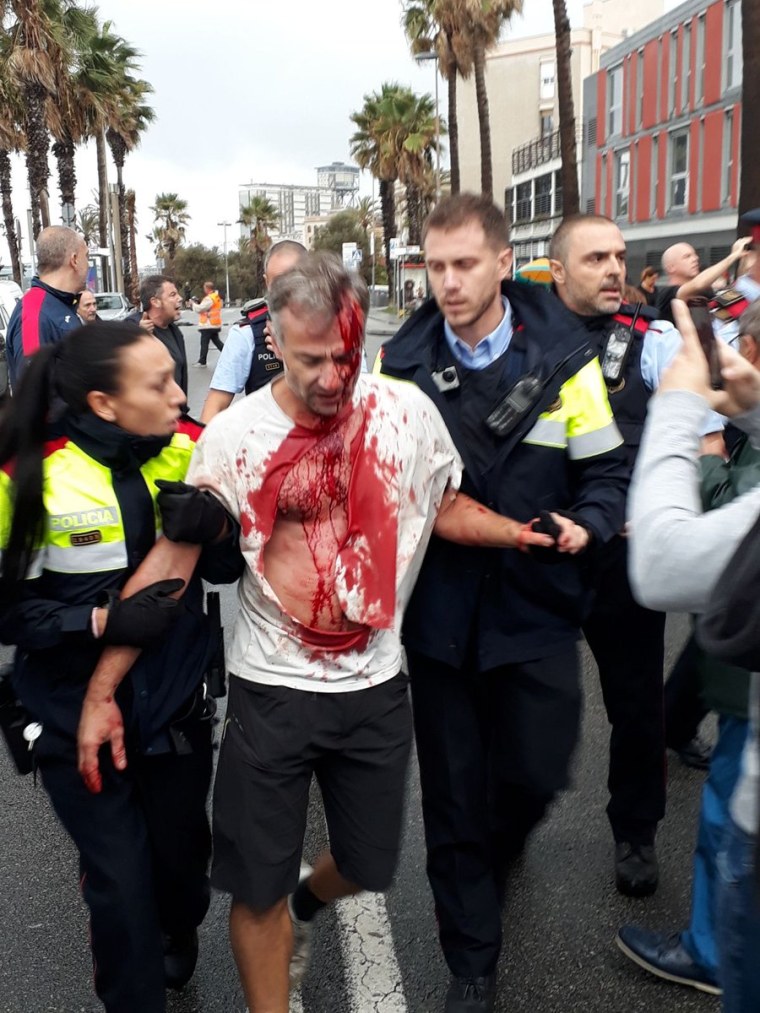 Spanish deputy prime minister Soraya Saenz de Santamaria said Madrid intervened with "firmness and proportionality" against the Catalan vote, adding that the regional government had behaved with absolute irresponsibility in holding the referendum, according to the Associated Press.
But Juho Romakkaniemi, a senior European Union official, tweeted that while it was "clear" the Spanish government was legally right about the Catalan referendum, "excessive actions may endanger its legitimacy."
FC Barcelona — the city's top soccer club and a cultural symbol for the region — were due to play against Las Palmas — a team from Spain's Canary Islands off the coast of Africa — later on Sunday, but announced that they would play only behind closed doors with no crowd.
"FC Barcelona condemns the events which have taken place in many parts of Catalonia today in order to prevent its citizens from exercising heir democratic right to free expression," the club said in a statement posted to Twitter.
"Given the exceptional nature of events, the Board of Directors have decided that the FC Barcelona first team game against Las Palmas will be played behind closed doors following the Professional Football League's refusal to postpone they game," it added.
The club tweeted updates throughout the game.
Las Palmas had earlier said in a statement that they would play wearing Spanish flags on their jerseys because "we're against this referendum that no one has agreed to and we believe in the unity of Spain."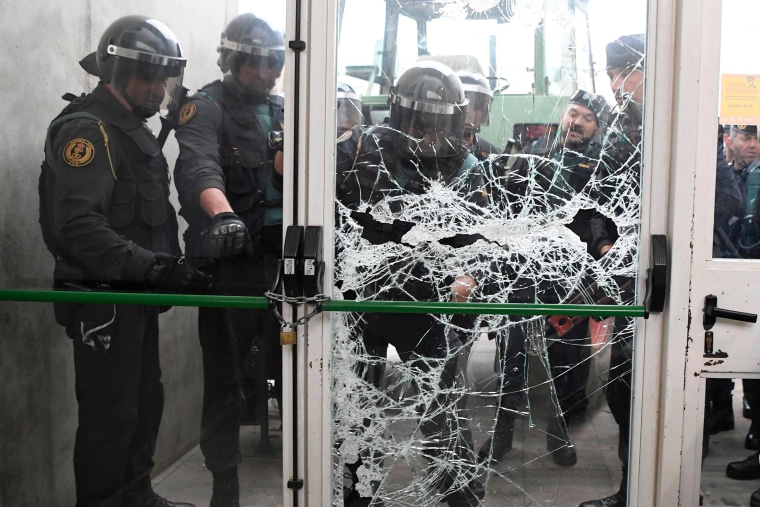 Spain's interior ministry posted a picture on Twitter early Sunday of what it said were the first ballot boxes seized by police. It also also posted video of officers carrying the boxes through crowds. "The police, despite harassment, remove ballot boxes from the illegal referendum at the Jaume Balmes institute in Barcelona," it said in a caption.
Crowds gathered outside Ramon Llull school, in Barcelona's central Sagrada Familia district, to cast their vote early Sunday but riot police arrived and scaled a fence to stop the process. Around the corner at Els Llorers school, voting went ahead unhindered.
It was unclear why police were seemingly blocking voting at some schools but not others.
Shortly after 2 p.m. local time (8 a.m. ET) Turull said 96 percent of polling stations were still open. Many supporters of the vote spent the night in polling booths in a bid to keep them open.
Related: Catalan Independence Referendum: What's Behind Divisive Spanish Vote?
He called on the international community to recognize that Catalonia was witnessing "human rights violations" and demanded the resignation of the Spanish government's representative in the region.
"This violence is not proportional," Turull added later at a press conference. He blamed Prime Minister Rajoy for the violence, saying it would never have happened had he allowed the vote to go ahead.
Meanwhile Raul Romeva, Catalonia's foreign affairs minister, said they would be asking Europe to look into the crackdown.
Earlier Sunday Puigdemont, the head of the regional government, urged Catalans to follow their convictions. "Everyone who wishes to vote can do so. Do what convinces you most: all the options are just as legitimate. Let's do it with the usual civility!" he posted on Twitter after casting his vote.
The region in northeastern Spain has a population of 7.5 million and is one of the country's powerhouses, accounting for around a fifth of Spain's economy.
It has a distinct language and culture, which were suppressed under Franco, a conservative monarchist whose regime dominated Spain for four decades.
Saphora Smith reported from London. Matt Bradley reported from Barcelona. Tim Stelloh reported from Alameda, California.