Catalonia is no stranger to flirting with secession.
The Catalan Parliament voted overwhelmingly to declare independence from Spain in late October, leading the Spanish Senate to respond by granting Madrid unprecedented powers to exert control over the region.
Long recognized as one of Spain's 17 autonomous regions, Catalonia is home to roughly 7.5 million people, including Barcelona, Spain's second-largest city. The region also has its own language, Catalan, and comprises about a fifth of Spain's 1.1 trillion euro economy.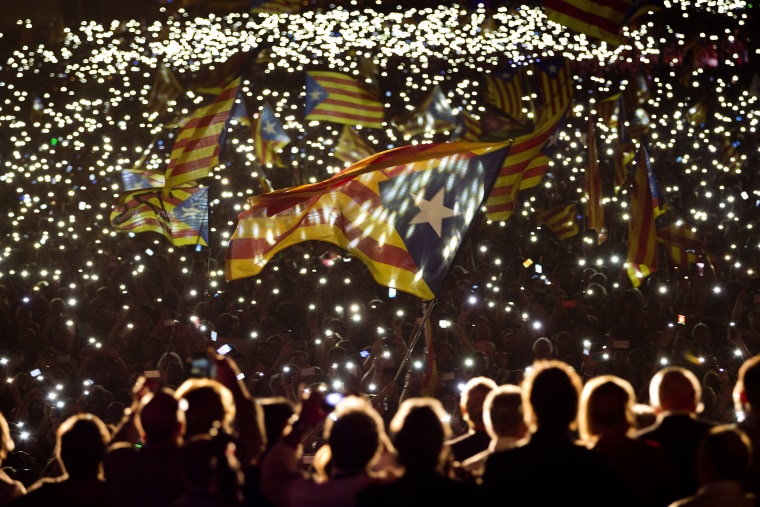 The region has embarked on a dramatic multi-week standoff with Madrid, as Barcelona became the independence movement's flash-point, with Catalan legislators voting, 70 to 10, to "form the Catalan Republican as an independent and sovereign state" on Oct. 27.
Here's a timeline of how the divisive movement for Catalan independence unfolded in recent years:
2006: Spain's central government and Catalan authorities agree to devolve more powers to the northeastern region, including finance, health care and education. Catalan lawmakers and Spain's national parliament approve the agreement.
2008: Spain enters a five-year financial crisis that prompts harsh austerity measures and economic recession. Many Catalans begin to believe their wealthy region would be better off on its own.
2010: The Spanish Constitutional Court in Madrid strikes down key parts of the 2006 agreement, unintentionally reigniting the Catalan independence movement. About 1 million Catalans protest the court's actions in a march through Barcelona, and pro-independence parties win a regional election.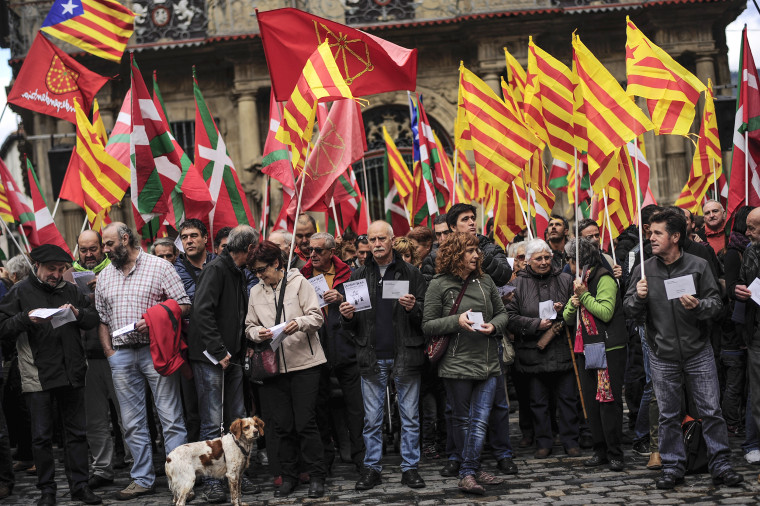 2014: Spain's Constitutional Court rules that Catalonia cannot proceed with a planned Nov. 9 independence referendum, claiming that all Spaniards must be allowed to vote. On Nov. 9, the Catalan government scraps the referendum, instead describing the vote as an unofficial opportunity for locals to voice their opinion about the region's future. Less than half of eligible voters cast ballots, and more than 80 percent favored secession. The national government rejects the vote as propaganda.
2015: In September, U.S. President Barack Obama says the U.S. wants a united Spain, and European Union officials say they would not welcome an independent Catalonia as a member. Catalonia's pro-independence parties narrowly win most seats in another regional election. In December, Spain's Constitutional Court rules that a pro-independence resolution from the Catalan Parliament is unconstitutional.
March 13, 2017: The national government bars former Catalan President Artur Mas from holding public office for two years after holding the unofficial November 2014 vote.
Photos: Hundreds Injured as Spanish Police Try to Block Catalan Referendum
June 9: Catalan President Carlos Puigdemont announces a new independence referendum set for Oct. 1. Catalan officials say they will proclaim a new republic within 48 hours of the vote if a "yes" vote wins, regardless of turnout.
Sept. 7: Spain's Constitutional Court suspends the ballot after a legal challenge from the central government in Madrid.
Sept. 20-21: A dozen Catalan officials are arrested by Spanish police for organizing the independence referendum. Police also seize 10 million ballot papers in a crackdown. The following day, the Constitutional Court says it will fine 22 Catalan electoral board members between 6,000 euros ($7,000) and 12,000 euros ($14,200) daily for failing to comply with the court order suspending the vote.
Sept. 29-30: The national government vows to block the vote while Catalan officials vow to proceed with it. Activists and parents occupy Catalonia schools to be used as polling locations. Police give them an ultimatum to leave by 6 a.m. on Oct. 1, the day of the vote.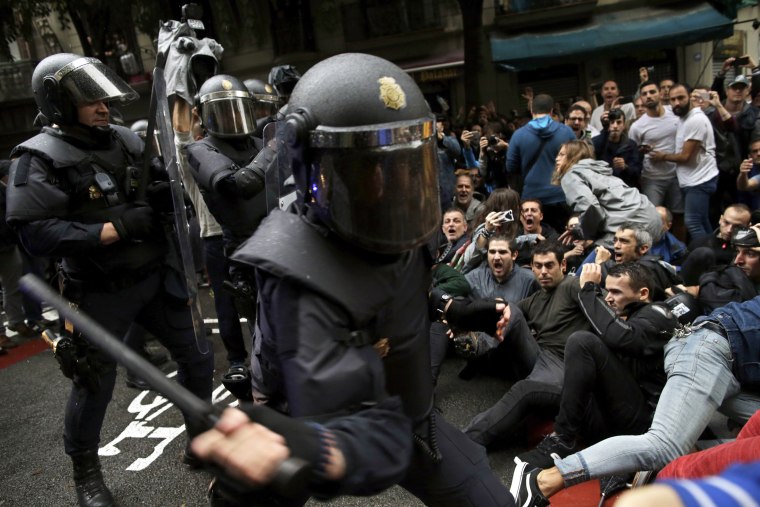 Oct. 1: Hundreds of people are injured as armed police descend on polling locations in Catalonia while defiant voters cast ballots in the banned referendum. Catalan officials say about 90 percent voted for secession, with about 42 percent voter turnout. The officials vow to press on with independence.
Oct. 3: Spanish King Felipe VI accuses secessionists of fracturing society in a televised speech. Hours later, Puigdemont says Catalonia will declare independence within 48 hours once the official votes are counted.
Oct. 10-11: Puigdemont hesitates to make a formal declaration of independence during a highly anticipated speech to the Catalan Parliament. The next morning, Spanish Prime Minister Mariano Rajoy activates the Spanish constitution's so-called nuclear option to suspend Catalonia's political autonomy.
Oct. 16: Puigdemont calls for dialogue with Spain and a meeting with Rajoy, barely meeting a deadline to respond to a Spanish central government request to state explicitly whether Catalonia had seceded from Spain.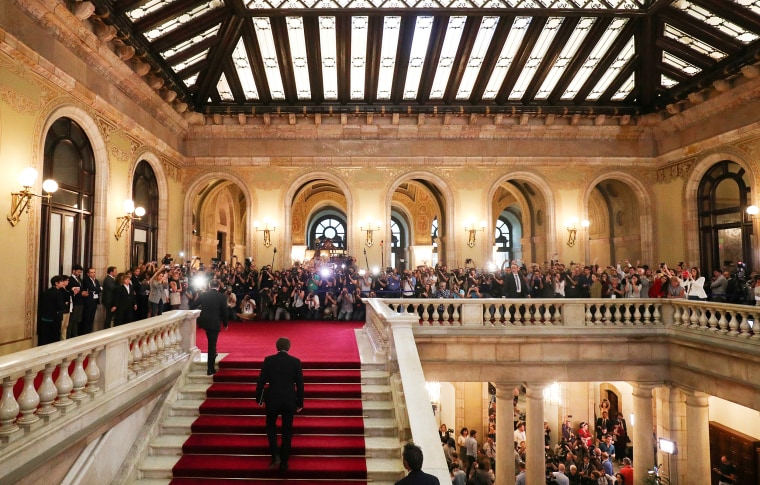 Oct. 19: Spain says it will begin to take control of Catalonia after Puigdemont threatens to declare independence if the central government is unwilling to enter into talks with Catalan officials.
Oct. 21: Rajoy decides to fire Catalonia's government and force a new election. Catalan Parliament Speaker Carme Forcadell responds in a televised speech, denouncing Rajoy's actions as a "coup" and an "attack against democracy."
Oct. 27: Catalonia declares independence from Spain in defiance of Madrid's efforts to prevent secession. The declaration is deemed mostly symbolic because it is unlikely Spain or the international community will recognize an independent Catalonia. Spain fires Catalonia's regional government and dissolves its parliament after the Spanish Senate granted the government special constitutional powers to stop the region's move toward independence.
Oct. 28: Catalonia's ousted leader, Puigdemont, calls for peaceful opposition to Spain's decision to take direct control over the region. European Parliament President Antonio Tajani denounces the Catalan independence referendum as illegal, saying "No one will ever recognize Catalonia as an independent country." Spain takes direct control of Catalonia, and the region's new leader, Spanish Prime Minister Mariano Rajoy, calls for a new regional election on Dec. 21.
Oct. 30: Puigdemont arrives in Brussels, Belgium, after fleeing Spain. Spain's state prosecutor says he plans to seek charges of rebellion, sedition and embezzlement against members of Catalonia's ousted government.
Oct. 31: A Spanish judge orders Puigdemont and the rest of the ousted Catalan government to appear for questioning later in the week as part of a rebellion probe. Puigdemont says he will agree to take part in an early regional election scheduled for Dec. 21.
Nov. 2: A Spanish judge jails nine former officials of Catalonia's separatist government, and deliberates issuing a possible arrest warrant for Puigdemont, who remained in Belgium while the others were questioned in Madrid about the region's bid for independence. The judge sent eight of the officials to jail without bail. Another was ordered to be held in lieu of 50,000 euros ($58,300) in bail.
Nov. 3: A Spanish judge issues an international arrest warrant for Puigdemont and four aides who were last seen in Brussels. The judge filed the request with the Belgian prosecutor to detain the five former Catalan officials, and issued separate international search and arrest warrants to alert Europol in case they attempt to flee Belgium. All five former officials are being sought for five different crimes, including rebellion, sedition and embezzlement, the judge says.
March 25, 2018: German police arrest Puigdemont as he crossed from Denmark into Germany on his way back to Belgium. The Catalan leader had been visiting Finland when the international arrest warrant against him was reactivated. Arrest warrants were also issued for five other Catalan separatists.