The American dentist who used a bow and arrow to kill a well-known lion in Zimbabwe also has a felony record over the hunting of black bear in Wisconsin, court documents show.
Walter James Palmer sparked outrage when it emerged he killed Cecil the lion, a local tourist favorite who had been collared as part of an Oxford University research project.
The Minnesota-based dentist said he had the correct permits to hunt and kill the animal earlier this month. But the two people he hired to lure the lion to its death have been charged with breaching hunting quotas and appeared in court Wednesday. The Associated Press reported they had been paid $50,000 by Palmer.
Following the incident, court documents emerged showing Palmer was fined $3,000 and given a year's probation after pleading guilty over the illegal killing of a black bear in Wisconsin in 2006.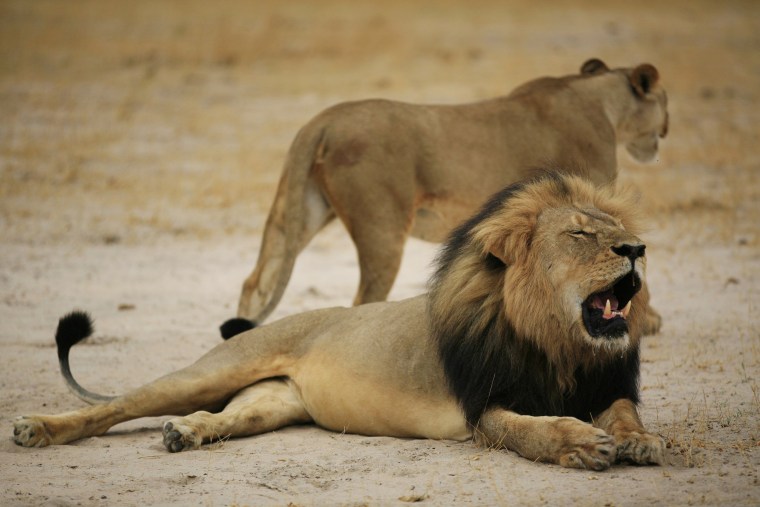 Palmer had a permit to hunt bears within a certain area near Phillips, in the north of the state. But on September 1, 2006, he was part of a group of people who killed a black bear 40 miles outside this permitted zone, according to the court documents from April 2008.
Realizing what they had done, the group agreed that "if any authorities were to ask where the bear had been killed, they would say" it was hunted within the correct area, the documents added.
They transported the carcass to a registration station where they certified the animal had been killed legally, the documents said, adding that the body was later taken to Minnesota, where Palmer lives.
Palmer was charged with knowingly making false statement to an agent of the Department of the Interior, U.S. Fish and Wildlife Service, having "falsely stated that he thought the bear had been killed legally" during interviews with officials the next month.
According The Associated Press, citing the Minnesota Board of Dentistry, the dentist was also the subject of a sexual harassment complaint settled in 2006. He admitting no wrongdoing and agreed to pay a former receptionist more than $127,000, the AP said.
He was also convicted in Minnesota court in 2003 for fishing without a licence.
Local hunter Theo Bronchorst and game park owner Honest Trymore Ndlovu, who allegedly "connived" to kill Cecil the lion, appeared court in Hwange on Wednesday. They did not speak to reporters.
Together they are charged with illegally killing the animal because they had "no permit or quota to justify the offtake of the lion and therefore are liable for the illegal hunt," the Zimbabwe Parks and Wildlife Management Authority said in a statement Monday.
Palmer said in a statement to NBC News: "I have not been contacted by authorities in Zimbabwe or in the U.S. about this situation, but will assist them in any inquiries they may have."