The killing of the beloved lion Cecil by an American tourist hunting big game in Zimbabwe has outraged animal lovers around the world.
Walter James Palmer, a Minnesota dentist, deflected some of the criticism Tuesday, saying in a statement that he had hired professional guides as part of a bow hunting trip earlier this month — and believed they had "secured all proper permits."
Two of the guides who aided in Palmer's conquest appeared in court Wednesday to answer for the killing, raising questions about whether the American will also be held responsible.
What is the legal case against the guides?
The two Zimbabweans — professional hunter Theo Bronkhorst and farmowner Honest Ndlovu — were in court to face poaching charges. Authorities say they did not have the valid hunting permits.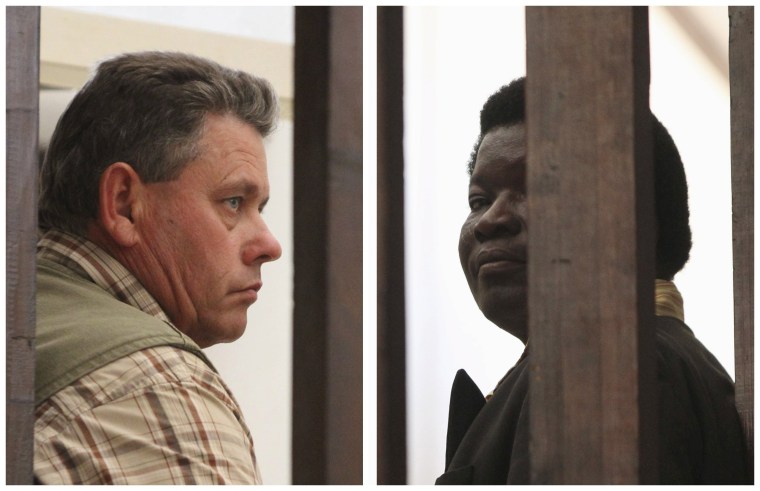 Wildlife officials accuse the men of taking $50,000 from Palmer in order to coax Cecil out of the Hwange National Park and onto private land, where he was beheaded and skinned.
Johnny Rodrigues, chairman of the Zimbabwe Conservation Task Force, said Palmer is the one who fatally shot the creature.
Bronkhorst has been stripped of his license while he faces criminal charges, according to a joint statement from the Zimbabwe National Parks and Wildlife Authority and the Safari Operators Association.
Bronkhorst's bail was set at $1,200 and he's due back in court in one week. If found guilty, he and Ndlovu could be fined $20,000 and get a sentence of up to 10 years in jail.
What charges could Palmer face — and could he be extradited?
Police would like to question the 55-year-old trophy hunter for his role in the killing, but have not commented on any possible charges.
He may not face any charges depending on the circumstances, according to the U.K.-based charity LionAid, which advocates for the animal's protection. The group says it is legal to bait lions in Zimbabwe, and even to kill them using a bow and arrow outside of national parks during private hunting trips. Whether or not they're wearing a radiocollar — Cecil was — also doesn't matter, the group says.
But the landowner in this case allegedly never obtained a "quota" for the number of lions that could be killed on his property, making it illegal, LionAid said.
Palmer, meanwhile, was merely the "client" and entrusted his guides — a defense that could get him off the hook for any charges, the group added.
Palmer said in a statement Tuesday that he had "no idea" who the lion was and the legalities of the hunt. He added that he has not been contacted by Zimbabwean authorities.
The U.S. does have an extradition treaty with Zimbabwe that covers crimes punishable for more than a year in jail. Minnesota Congresswoman Betty McCollum has asked the U.S. Attorney's Office and U.S. Fish and Wildlife Service to investigate whether any American laws were violated.
Palmer in 2008 pleaded guilty to making false statements to U.S. wildlife officials about a black bear he had fatally shot in western Wisconsin.
Why was Cecil so celebrated?
The black-maned beast was a fixture of Hwange National Park, making him a local favorite among parkgoers and wildlife researchers. He was named after Cecil Rhodes, a British businessman who was also the namesake for the former southern African territory of Rhodesia, now Zimbabwe.
Since 2008, Cecil was being studied by an Oxford University research program. "The lion, Cecil, was a remarkable individual. Remarkable particularly because we have studied him for so long," Professor David MacDonald, founding director of the Wildlife Conservation Research Unit at Oxford University, told NBC News.
What could happen to Cecil's cubs?
Although the exact number of cubs that 13-year-old Cecil fathered is unclear, researchers believe about eight to 10 of them could wind up dead. That's because in a lion's social circle, when one male dies, incoming males in a new coalition typically kill the cubs of the old incumbents, MacDonald said.
"The death of one male lion can cause a cascade of effects that leads to other lions being killed," he said, adding, "We are working hard to follow the consequences of Cecil's death."
Nature conservationist and TV personality Jeff Corwin told MSNBC: "The first thing that's going to happen or likely happen is that the next competing male is going to move in, kill all his cubs to bring the female into estrus and to wipe out his genetic line — it's kind of like 'Game of Thrones.'"
Do these pay-to-hunt programs have conservation benefits?
The incident has sparked fierce debate over the commercial "trophy" hunting of African big game.
Like many countries, Zimbabwe issues annual permits that allow foreign hunters to kill wildlife such as elephant, buffalo and lion legally, arguing that the funds raised allow the government to fund conservation efforts.
"Sustainable trophy hunting is part of well-managed wildlife conservation. It creates incentives for people to look after wildlife," said Adri Kitshoff, chief executive of the Professional Hunters' Association of South Africa.
"It's easy to fall into the trap of emotions," he added, "and not focus on facts."