April 26 is National Pretzel Day so go ahead and indulge in your favorite pretzel products (as though you needed another reason to do this).  Pretzels are thought of as the world's oldest snack—monks were twisting bits of dough as far back as the Middle Ages—and from a health perspective, they're a smart choice, as they're often lower in calories than chips and crackers. The products below are made with natural, high quality ingredients, making them an even better option for the afternoon—or anytime—munchies!
Martin's Handmade Pretzels   
I often buy a bag of Martin's Pretzels as I stroll through the farmers market in NYC's Union Square, and I was delighted to learn that you can purchase the pretzels online as well. All of Martin's hard pretzels are handmade (each baker can twist about 12 pretzels per minute), which results in a perfectly salted, crunchy snack that no machine can beat.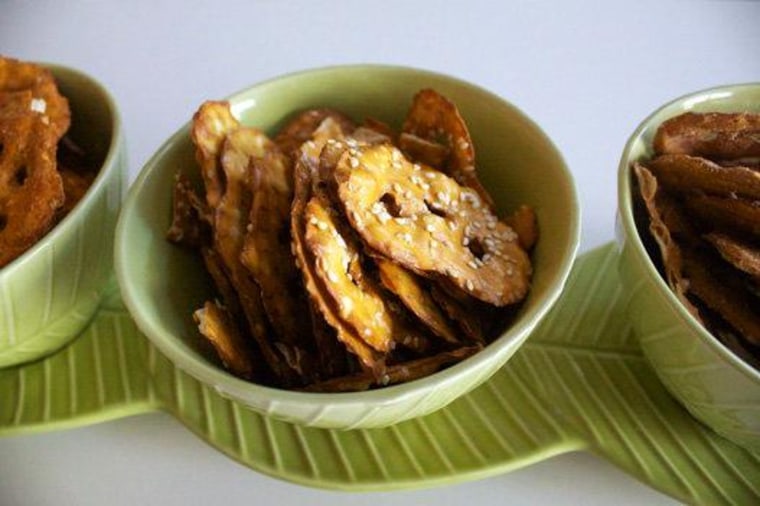 Happy Herbert's Ancient Grains Organic Kamut Mini Pretzels
If you have a wheat sensitivity, these pretzels might be the snack for you. They contain kamut, a grain loaded with selenium, zinc, and magnesium that can be better tolerated by those with wheat allergies.
Snack Factory's Pretzel Crisps in "everything" flavor
These delightful spreadable crisps make a welcome, healthier addition to any cheese plate. I'm partial to the "everything" flavor (which tastes just like everything bagels) and often eat them straight from the bag. For pairing ideas, visit the Pretzel Crisps website and Facebook page.
Annie's Organic Honey Wheat Pretzel Bunnies
Their shape is appealing to kids, but adults will also love the flavor of these slightly sweet snacks. And since Annie's pretzels don't contain hydrogenated oils or artificial flavors, the entire family can indulge without guilt.
H.K. Anderson Salty Stix
In honor of last year's National Pretzel Day, H.K. Anderson committed to producing pretzels without any hydrogenated oils, artificial flavors or colors!
If you're a fan of soft pretzels this recipe from Alton Brown is surprisingly simple to make. and the finished product is as good as any pretzel you'll buy on the street.  Just give yourself a chunk of time to work with, as the dough does need to rise for an hour.  Also, I substituted 2 cups of white whole wheat flour and the pretzels were yummy and soft, best eaten straight from the oven!
Get more tips and recipes for seasonal eats at Made By Michelle.
More from TODAY Food: