An undercover New York police detective seen on video smashing the back window of an SUV during an attack by a pack of angry motorcyclists pleaded not guilty in a Manhattan courtroom Wednesday to charges of gang assault, assault and criminal mischief.
Police had initially arrested Detective Wojciech Braszczok, 32, on charges of riot and criminal mischief. The new felony charges of assault and gang assault each carry sentences of up to 25 years.
Braszczok's lawyer, John Arlia, said the charges were not supported by the video, which showed that the officer wasn't part of the assault on SUV driver Alex Lien, but had kicked the vehicle's door and a back window that was already broken. 
"His activities in that video depict him never having come into contact with Mr. Lien," said Arlia.
Prosecutor Samantha Turino said that the Sept. 29 incident could "only be described as a brutal and brazen attack on the driver and his family, in which this defendant [was] an active participant."
"This defendant also did nothing to stop it," said Turino, "including not calling 911."
Bail was set at $100,000. Braszczok is expected to testify before a grand jury on Friday.
Also on Wednesday, police made their seventh arrest in connection with the SUV attack. Motorcyclist James Kuehne, 31, of Brooklyn surrendered at the 33rd Precinct in Manhattan. He is charged with gang assault, assault, criminal mischief and criminal possession of a weapon and will be arraigned Thursday.
On Tuesday, Det. Braszczok was seen on a newly obtained video banging on the rear window of the SUV. Lien, who was beaten by numerous motorcyclists in the Sept. 29 incident, was then seen being pulled out of the car as the undercover officer rode off, the sources said.
Braszczok surrendered to police on Tuesday, accompanied by his attorney.
The video is not the one that has been widely distributed on YouTube, but has been reviewed by investigators, the sources said. It was recorded by a bystander using his iPad. It's not clear when the video surfaced but investigators learned of it late Monday.
The detective had originally been defended by officials as a deep undercover officer who failed to act in defense of the motorist because that might have unmasked him. But when the new videotape surfaced those officials felt duped, sources said. 
Read NBC New York's report: Undercover NYPD cop seen on video smashing window in SUV-biker brawl: source
The detective already had been criticized for waiting until Wednesday, Oct. 2 to come forward and acknowledge he was present at the scene. 
Police released photos Tuesday of more people who may have been involved in the brawl, and asked anyone with information to get in touch with New York Crime Stoppers at 1-800-577-TIPS (8477) or at the Crime Stoppers website.
The investigation continues, said a spokeswoman for Manhattan District Attorney Cy Vance.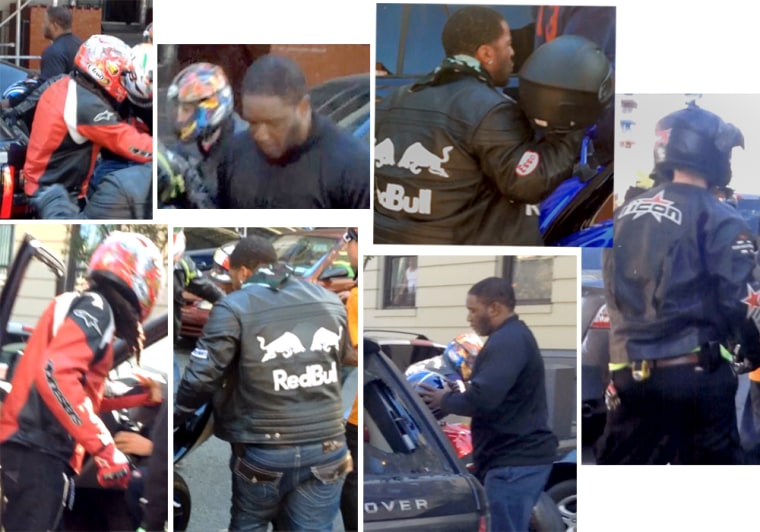 "As we said from the beginning of the investigation, the NYPD and the District Attorney's Office are methodically scrutinizing the evidence to build the strongest possible cases in our continuing effort to hold accountable those responsible," said Erin Duggan. 
Before Braszczok's name emerged, sources had described him as a veteran officer who has spent virtually all of his career undercover, sources say.
A law enforcement source told NBC News that some of Braszczok's duties in the past included undercover work within the Occupy Wall Street movement.
Braszczok participated in protests, attended meetings and lived among protesters during parts of the movement, providing information to the NYPD, the source said. It is unclear how long Braszczok did that work.
As many as five other off-duty police officers may have been riding with the hundreds of motorcyclists who flooded Manhattan on Sept. 29 as part of an annual biker event called Hollywood Stuntz.
More from NBC News Investigations: