MOSCOW — He's a self-proclaimed anti-extremist Islamic warrior and Vladimir Putin supporter with a penchant for horse racing, wrestling, Hollywood celebrities — and, according to some, brutal repression.
Now Ramzan Kadyrov, the leader of the Russian republic of Chechnya, looks to be trying to muscle into a bigger role on the regional stage, experts watching the strongman say.
The 39-year-old "is interested in being a deputy prime minister overseeing inter-ethnic relations, a job that the Kremlin would need to create specifically for him," according to Alexei Malashenko of the Carnegie Moscow Center think tank.
Kadyrov has a lot going for him. The scion of a powerful clan, Kadyrov battled the federal Russian government in the first Chechen war in the 1990s. The Kadyrovs sided with Moscow in the second war in the 2000s when the predominantly secular uprising was taken over by jihadists.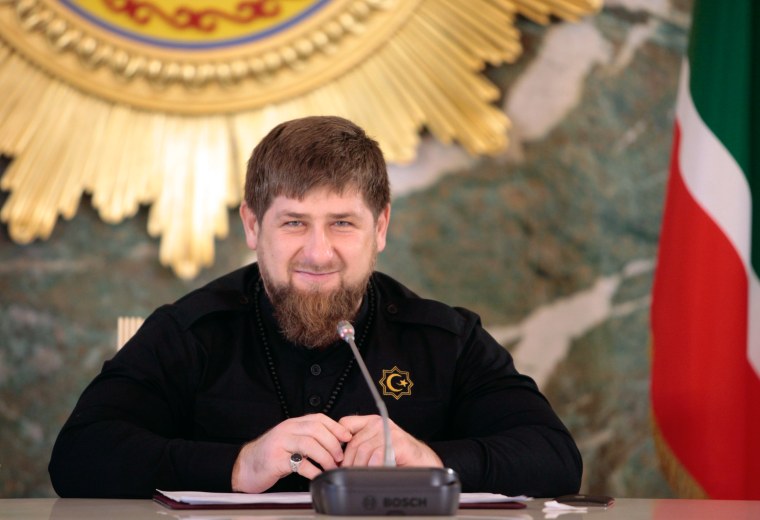 Ramzan's father Akhmat became president of Chechnya in 2003 as Putin was fighting to root out Chechen Muslim extremists. Just seven months later, he was killed in a terror attack claimed by Chechen jihadists and his son Ramzan took the reins.
"The Chechen conflict is not resolved, it's just pushed outside the country"
Ramzan Kadyrov led a successful campaign to root out jihadist cells from the mountain hideouts of the North Caucasus region, leading the Kremlin to officially declare the "anti-terrorist operation" in Chechnya over in 2009.
He then rebuilt the capital, Grozny, which the United Nations had declared "the most destroyed city on Earth" in 2003. Grozny now sports modern high-rises and one of the world's largest mosques. The prosperity is enabled by the Kremlin, which provides 83 percent of Chechnya's 2016 budget.
While Kadyrov has been heralded for helping usher in a rebirth, more sinister reports have emerged from activists who accuse him of brutally repressing opposition.
"He built a very tough authoritarian, Islam-based regime with totalitarian elements," Malashenko told NBC News.
Kidnappings, torture, torching of homes and intimidation are among the techniques utilized by the security forces under Kadyrov's command, according to rights activist Igor Kalyapin.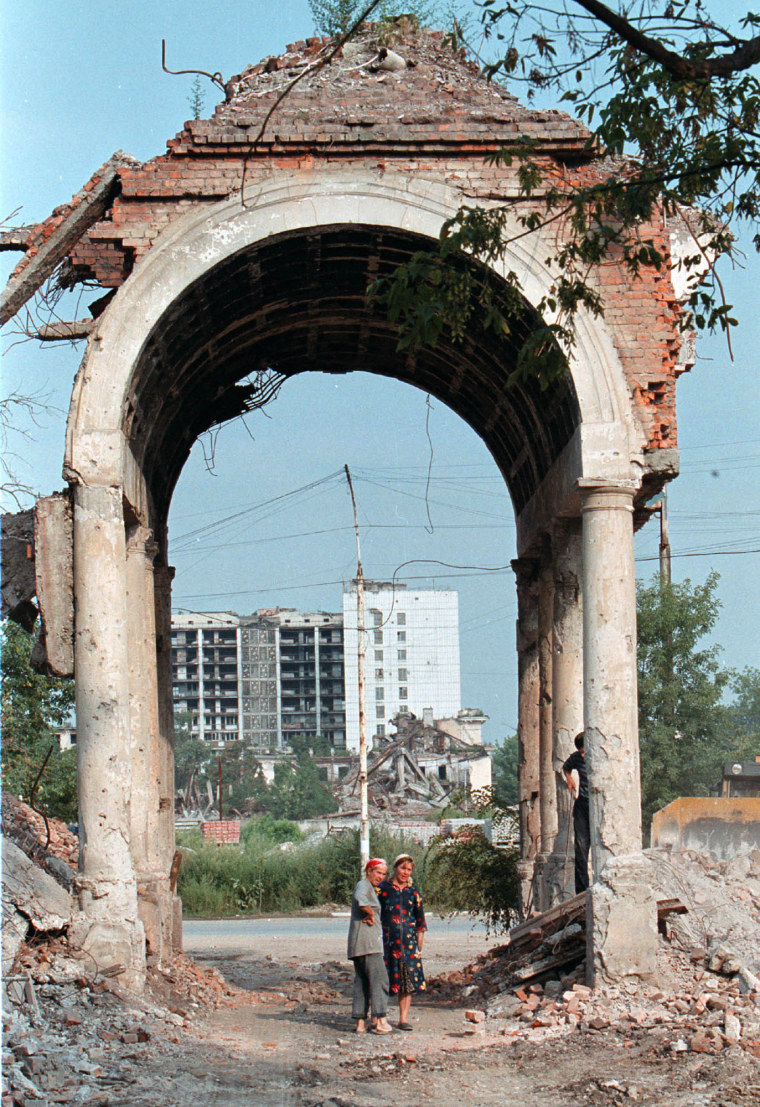 Kalyapin's group, the Committee Against Torture, is the only rights organization still working in Chechnya. Unidentified, saw-wielding thugs raided their office in Grozny twice last year and set it on fire, he told NBC News.
In a statement last week, Human Rights Watch said "local authorities are viciously and comprehensively cracking down on their critics" in Chechnya.
Ordinary Chechens are also targeted, with at least two critics having been publicly humiliated and forced to recant, Kalyapin said.
Kadyrov has consistently denied all allegations of abuses and human-rights violations. Chechen officials did not respond to repeated NBC News requests for comment on this story.
Such are the allegations that celebrities Hilary Swank and the singer Seal were sharply criticized for attending Kadyrov's 35th birthday bash in 2011 by the campaign group Human Rights Foundation. Seal reportedly hit back at critics on Twitter by asking to be left out of politics, though Swank later apologized and said she was unaware of allegations against Kadyrov, according to the BBC.
"The murders, rapes, and barbaric human rights violations [Kadyrov ] routinely carries out should result in criminal charges from the Hague," Thor Halvorssen, the president of the New York-based group, told NBC News last week.
While the allegations continue to swirl, Kadyrov meanwhile has been boosting his pro-Putin credentials.
Earlier this year he slammed Putin's political opponents as "enemies of the state."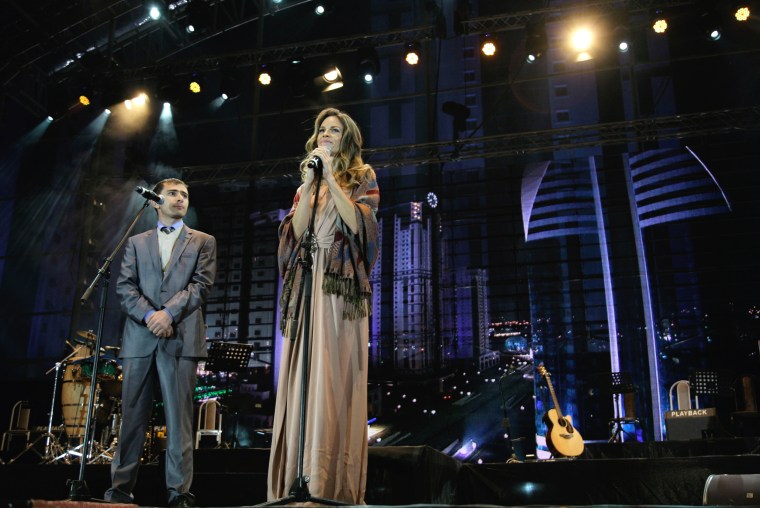 In a commentary published Jan. 18 in the Izvestia newspaper, Kadyrov called Russian opposition leaders "jackals" intent on destroying the strong Russian state. He suggested sending them to a psychiatric hospital in Chechnya.
"I could help them deal with this clinical problem and I promise we won't stint on injections," he wrote. "Where one is prescribed, we could do two."
Kadyrov's Instagram account — which has some 1.6 million followers — also posts threats to Putin opponents, along with selfies featuring his family, pets, racehorses and wrestler friends.
A video posted Monday on Kaydrov's Instagram account of Russian opposition politician Mikhail Kasyanov in the crosshairs was taken down by the social media network, prompting the Chechen leader to lash out at "American dogs" and Instagram which he accused of suppressing free speech.
Amnesty International and the New York-based Committee to Protect Journalists have urged Putin and his government to respond to Kadyrov's statements. Amnesty noted that the killings of journalist Anna Politkovskaya in 2006 and Chechen rights defender Natalya Estemirova in 2009 were preceded by similar threats.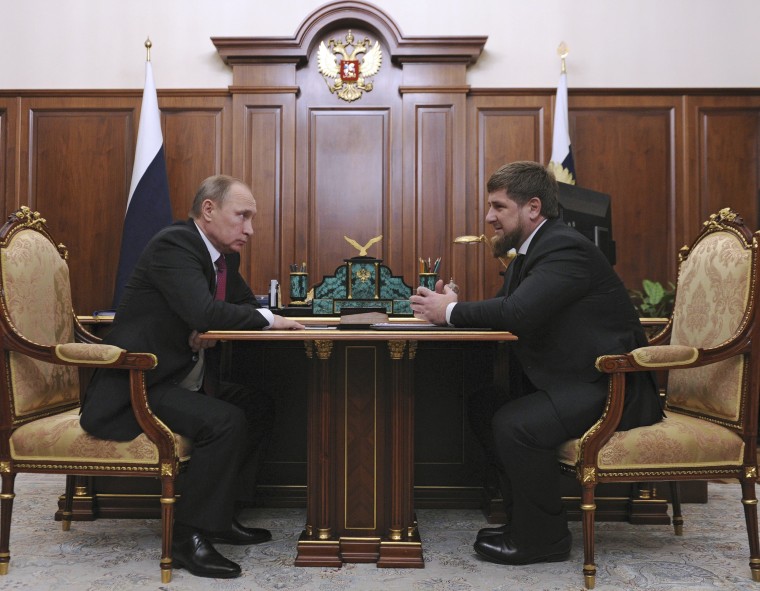 "Previously restricted to violating human rights in Chechnya, [Kadyrov] is now routinely targeting his enemies outside of Chechnya and using tactics that range from intimidation to murder," Halvorssen said. "He now sees himself as larger and more lethal than Putin."
Varvara Parkhomenko, an expert on the region with the International Crisis Group think-tank, sees Kadyrov's attacks on Putin's adversaries as a bid for nationwide recognition and promotion.
"He had the ambition to move up to federal politics for years," she explained.
Kadyrov faces reelection in September. Experts say he is sure to win — but his bid for greater power may founder.
The government's financial backer, Russia, has been hit by an economic crisis, meaning money for Chechnya could run dry, according to analysts.
They also warn that Kadyrov's main achievement — stamping out extremism — may be on shaky ground given how Russian authorities believe many ethnic Chechens have gone to fight for ISIS in Syria and Iraq. That could suggest they were not defeated, only displaced, from Kadyrov's home turf.
ISIS has repeatedly threatened to return to the Russian North Caucasus and turn it into part of their "caliphate" once they have secured their foothold in Syria — thus negating the supposed victory over jihad in Chechnya.
"The Chechen conflict is not resolved, it's just pushed outside the country," Parkhomenko said.