MADRID — Since the middle of March, birdsong has been the loudest sound on many of Madrid's tree-lined streets. But over the weekend, it was drowned out by the long-absent whoops, laughter and tantrums of the Spanish capital's children.
As the death toll in Spain reached 950 on April 1 the country's authorities instituted one of the world's most stringent lockdowns. Children of all ages were cooped up inside indefinitely, with adults only permitted to leave the house to buy food and medicine or — in the case of essential staff — to travel to work.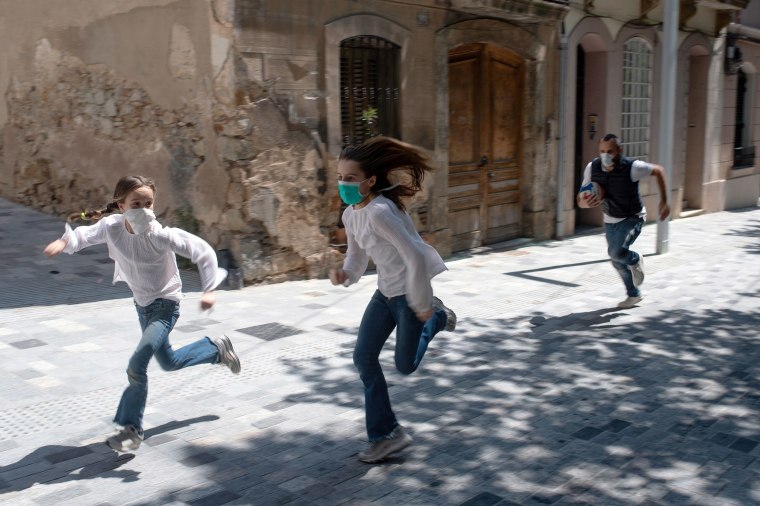 But with the mortality rate gradually slowing since then to 301 on Monday, Prime Minister Pedro Sanchez has eased restrictions on freedom of movement, including allowing children under 14 to go outside for an hour a day.
Once he got reaccustomed to the outdoors, 2-year-old Devrim Gursel Hmielak spent a blissful Sunday morning digging in flower beds and chasing birds.
It provided some much-needed respite for his mother, Umut Gursel, 43, from New Jersey, and father, Thad Hmielak, 52, from Minnesota.
"It has gotten to be a drag as the weeks went by," Hmielak said as he stood on a boulevard a few hundred yards from their fourth floor, 800-square-foot apartment, where Devrim had recently learned to scoot down a corridor for the first time.
But like many of the parents NBC News spoke to, they understood the need for the restrictions.
"Once we were all seeing the numbers go up, and by how much," Gursel said, "people took it seriously, even if they weren't likely to at the beginning."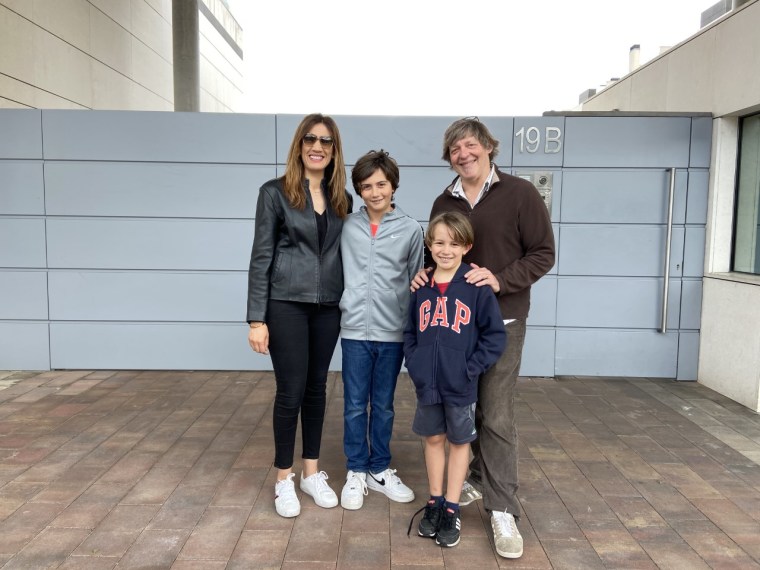 And with Spain's death toll now at more than 23,500, second to the United States, Spanish authorities are still taking baby steps out of the lockdown.
Children are only permitted outside for one hour a day with a parent and must remain within a kilometer, or around 0.6 miles, of their homes. Police checkpoints and patrols remain a frequent sight and residents are wary of the government's power to levy substantial fines.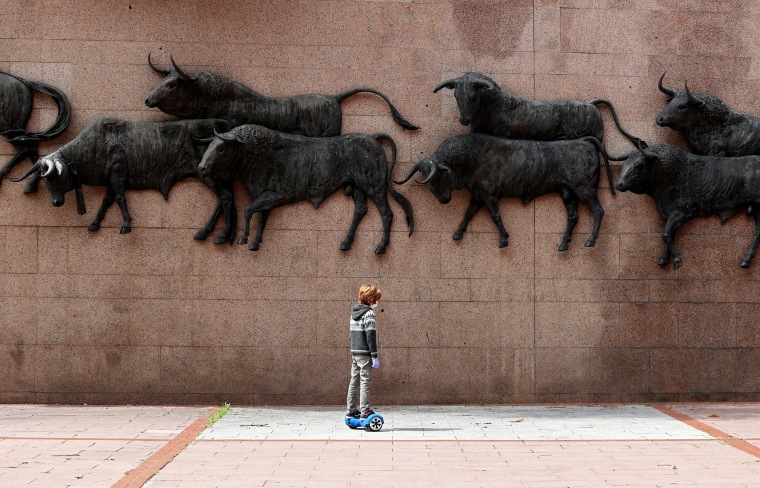 "We could go outside again tomorrow as long as you guys pay attention to the rules," Neil Block, 54, reminded his sons Sam, 10, and Elias, 7, as they played a furious game of tag on a stretch of sidewalk in front of their residential complex in the Pozuelo de Alarcon neighborhood.
"I can't imagine what they've gone through," he said, looking at them proudly, "they have been absolutely amazing."
But the rules mean that those older than 14 can't go outside, leaving even the closest of sibling relationships at risk of being tested.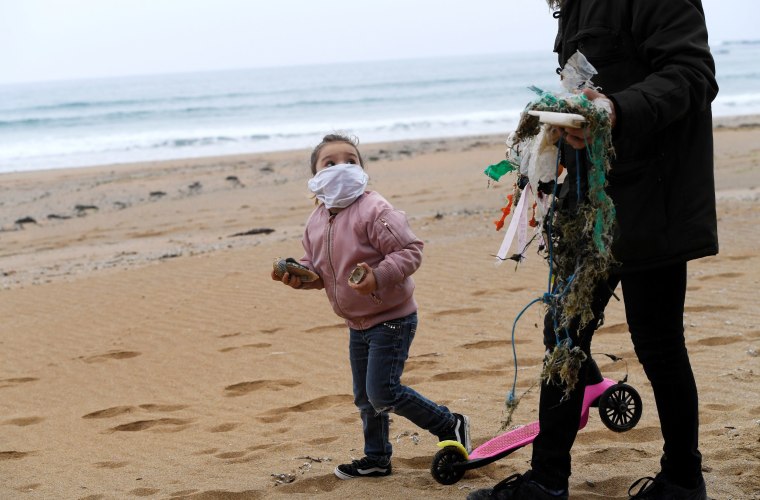 Mariner Headrick, 16, a Madrid resident for eight years after her family moved from San Francisco, hovered in the doorway of her family's building, enjoying the breeze but unable to cross the street toward the city's magnificent — but shuttered — Retiro Park. She was frustrated that her younger sibling, Lauder, 13, was allowed to stroll around the neighborhood, but she dare not risk getting "into trouble with the police."
Their mother, Laure, has been a solo parent through the pandemic after her husband got stuck in San Francisco when he fell ill with a suspected case of COVID-19 after a conference in Seattle.
That has prompted her to be very strict. "If I had to go to the hospital, these guys would be on their own, alone," she said. "I've been really tough on the kids too, because the consequences could be enormous."
"The parents here are very aware of what they can and can't do," said Barbara Kollmeyer, a Madrid-based senior editor at financial news website MarketWatch, as she stood on her doorstep with her son Rodrigo, 12, and daughter Ines, 16. "Nobody's going to take chances now. Death is all around us."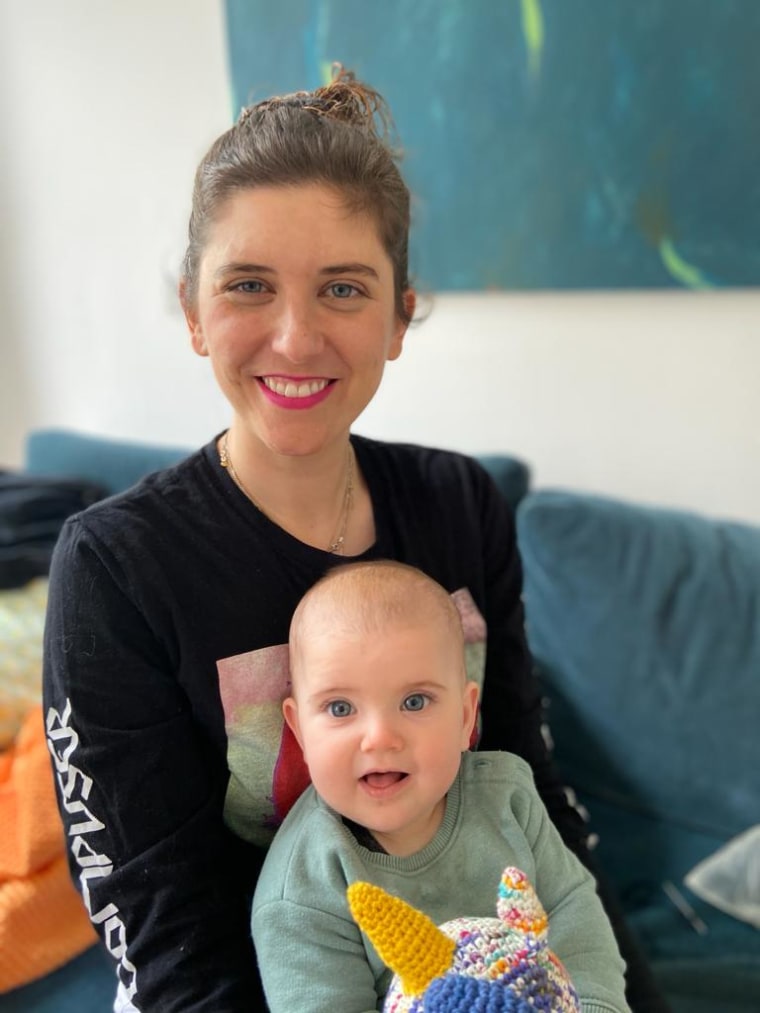 Kaitlin Mellini is originally from Oregon and moved to Madrid a year ago. But she considers herself safer in Spain than in the United States, even though a large portion of the country's deaths have occurred in the Spanish capital.
But she too was grateful that her 8-month-old daughter, Zoe, could experience the warm spring weather for the first time. "I walk up and down the hallway in the house but it's not the same, so it's nice to get some fresh air," she said, quieting her dog, Oscar, and bouncing her daughter's sling.