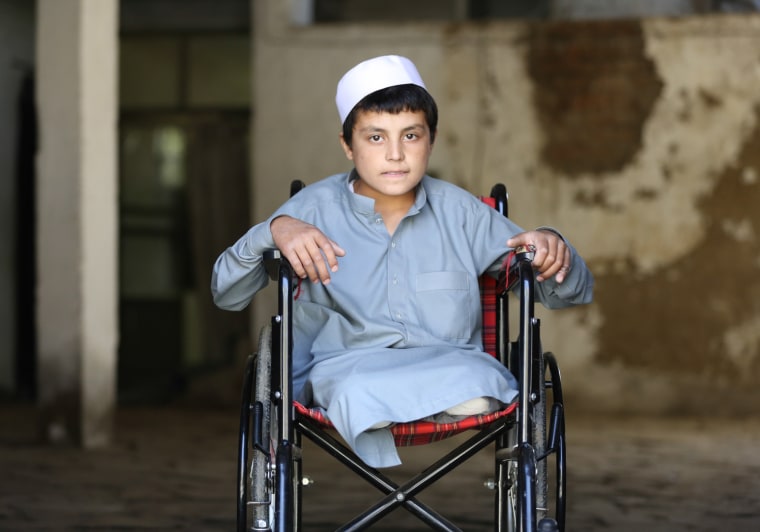 KABUL, Afghanistan– A loud bang, a cloud of dust, a poof of smoke. Twelve-year-old Obaid Salaar doesn't remember much of what happened on the overcast afternoon on October 30th. But when he woke up hours later in the hospital he was missing both of his legs.
"The shells hit my family members and they died. I lost my sister, my brother, my cousin and my uncle, all of them were killed. Thank God that I am still alive," he said from his bed in the Kabul Emergency Hospital, where patients are treated for free.
He initially blamed the Taliban for his losses. "The Taliban are responsible for all this," he said. He added later: "I also blame American forces."
For a boy who had just lost his legs he seemed very composed, said his cousin Ahmad Salaar. "We were crying, saying you lost your legs, but he said, don't cry for me, my legs were given to me by God and were taken from me by God." 
Afghan kids like Salaar are increasingly caught in the middle of the fight between Afghan security forces and militant groups like the Taliban. Doctors said most injuries are caused by bullets, bombs and shelling and the conditions vary from mild to critical.
According to statistics from the Kabul Emergency Hospital and other clinics affiliated with it, civilian casualties have increased by 45 percent nationwide over the last year. In some areas like Lashkar Gah in the southern Helmand province -- a Taliban stronghold -- they have increased by 80 percent.
Just this week, nine children were killed in Afghanistan in two separate incidents, according to AFP. Seven children from the same family died when a bomb exploded as they played on the side of a road in the eastern Paktika province. Two other children were killed in the southern Zabul province when their family's vehicle was hit by a roadside bomb.
The closure of the International Security Assistance Force (ISAF) bases, and the handover of security responsibilities and tasks to Afghan security forces, have led to an escalation of attacks by militant groups like the Taliban. This has resulted in "civilians increasingly being killed or injured in the crossfire or by improvised explosive planted by Anti-Government Elements," a UN report said.
Wahid Mujdah, an Afghan security analyst, told NBC News that the Taliban could now engage Afghan forces for longer periods of time. "In the past Afghan forces were backed by foreign forces and had better equipment.  Now the security responsibilities have been handed over to Afghan forces and that has encouraged the Taliban to fight them because they can engage them for longer periods of time." 
And civilians – notably children hoping for a brighter future – are increasingly paying a toll. Obaid, a sixth grader at the top of his class, was eager to leave the hospital and go back home to study for his upcoming exams so he wouldn't lose his position in his class. He hopes to be a doctor when he grows up.
The Taliban dismissed reports about mounting civilian casualties as propaganda created against them by "their enemies."  Zabylah Mujahid, a Taliban spokesman told NBC News: "It is our obligation to fight the foreign forces and sometimes civilians die, but our war is a very low casualty war if we compare it to other wars. Our enemy, the US, is the one who is destroying our villages and killing our women and children."
The family of fifteen year-old Allahnazer Mohammad would disagree. He was in the ward next to Salaar at Kabul Emergency Hospital, having suffered a gunshot wound to the head. He is in critical but stable condition, drifting in and out of consciousness. His doctors say he will never speak again.
Allahnazer was wounded by a stray bullet earlier this month as he was working in his family's field in Ghazni province in southeastern Afghanistan.
A firefight had erupted in the late morning after the Taliban attacked an Afghan National Army post less than a mile from his house. Allahahnazer's relatives brought him to the hospital in Kabul in an ambulance. It was a hundred mile trip to save his life.
Allahnazer's family is poor. When he was seven, his father got sick. So he quit school and started working. His family will suffer more now, given his grim prognosis.
Life will be different for Obaid now. He's learning how to use a wheelchair athis uncle's house on the outskirts of Kabul while waiting for the swelling in his legs to subside in order to be fitted for artificial limbs – a process his doctors said could take months.
"I will stay here – Kabul – until I get the prosthetic legs" he said.