China's Xi Jinping called for restraint during an overnight call about North Korea with President Donald Trump, which came as Japan conducted joint drills with a U.S. aircraft carrier strike group headed for the region.
The late-Sunday call was the leaders' second conversation since the Mar-a-Lago summit on April 6.
Xi told Trump that China hoped "all parties will exercise restraint and avoid aggravating the situation" on the Korean peninsula, according to the Chinese Foreign Ministry, which released details of the call on Monday morning.
China is seen as key to restraining North Korea — one of the reclusive nation's only remaining allies and economic partners.
Trump also spoke with the leader of Japan, Prime Minister Shinzo Abe. They discussed maintaining close contact as Japan's Self-Defense Force began joint exercises with the USS Carl Vinson in waters off the Korean peninsula.
The White House confirmed the calls Monday and said in a statement that during their call, Xi and Trump "reaffirmed the urgency of the threat posed by North Korea's missile and nuclear programs, and committed to strengthen coordination in achieving the denuclearization of the Korean Peninsula."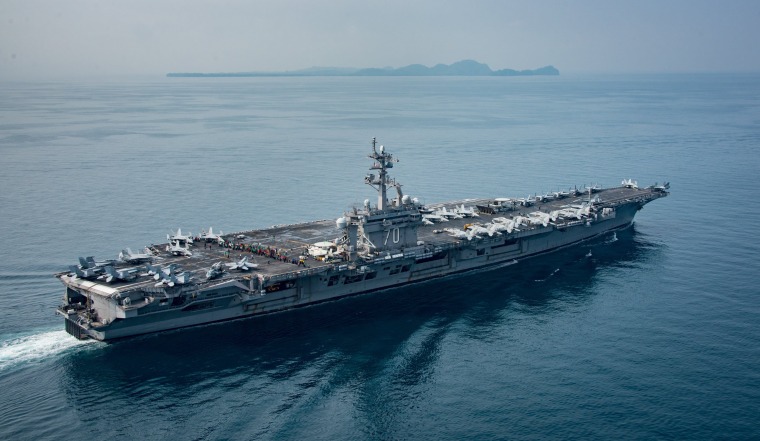 "We completely agreed to strongly demand that North Korea, who's been repeatedly dangerous and provocative, show restraint," Abe told reporters Monday. "We'll maintain close contact with U.S. and high level of monitoring and surveillance as we respond firmly on North Korea."
North Korea regularly threatens Japan, a key U.S. ally in the region.
Two Japanese destroyers have already joined the carrier group for drills in the western Pacific, and South Korea said on Monday it was also in talks about holding joint naval exercises.
Pyongyang has been angered by the deployment of the USS Carl Vinson and said it was "an extremely dangerous act by those who plan a nuclear war to invade the North."
"The United States should not run amok and should consider carefully any catastrophic consequence from its foolish military provocative act," Rodong Sinmun, the official newspaper of the North's ruling Workers' Party, said in a commentary on Monday.
Amid the heightened tensions, North Korea detained a third U.S. citizen in Pyongyang on Saturday, the Swedish Embassy confirmed to NBC News. Sweden's diplomats take care of consular affairs on behalf of the U.S. in North Korea.
Washington and its Asian allies fear North Korea could be preparing to conduct another nuclear missile test soon in defiance of United Nations sanctions.
The Trump administration has warned that "all options are on the table," including a military strike. But publicly, Trump seems to have settled on a strategy of putting pressure on Pyongyang with China's help. And despite all the tough talk from the Trump administration, many experts warn that diplomacy is likely the only path forward — as it has been for every U.S. administration since President Bill Clinton was in office.
China is hoping to diffuse the situation.
"Only if all sides bear the responsibilities they're supposed to bear and come together, can the nuclear issue on the peninsula be resolved as quickly as possible," Xi told Trump, according to the Chinese Ministry of Foreign Affairs.
On Monday, the U.S. ambassador to the United Nations told TODAY's Matt Lauer and Savannah Guthrie that China's involvement in resolving the conflict was essential.
"China has been considerably helpful in putting pressure on [North Korean leader Kim Jong Un] and I think he's just trying to show his strength to the people of his country," she said. China has "really been our partner in holding him at bay."
Haley warned, however, that the U.S. would not ignore the North's aggression.
"The United States is not looking for a fight so don't give us a reason to have one," she added..