China has completed the construction of a two-mile runway on one of the artificial islands it built in the hotly-contested South China Sea, according to satellite images released Friday by a monitoring group.
The release came on the same day President Barack Obama was to host Chinese President Xi Jinping for his first official visit to the U.S. The issue of the islands has been a source of tension between the U.S. and China.
The images, published by IHS Jane's Defence Weekly, appeared to show China is near to making operational the 3,125-meter landing strip on Fiery Cross Reef in the disputed Spratly Islands.
According to IHS Jane's, the landing strip would allow China to "accelerate construction on the new island and to start patrols over the disputed islands."
The satellite images showed the runway was only completed in recent weeks, the military publication said.
Chinese construction workers continued to build other structures on the artificially reclaimed island, as well as seawalls, road networks and dumping topsoil — possibly an attempt to grow food there, according to Jane's.
China has reclaimed land on at least half a dozen reefs in the archipelago in an apparent attempt to assert its territorial claims in the South China Sea. This has rattled other nations — such as the Philippines, Vietnam, Malaysia, Brunei, and Taiwan — with overlapping claims in the waters.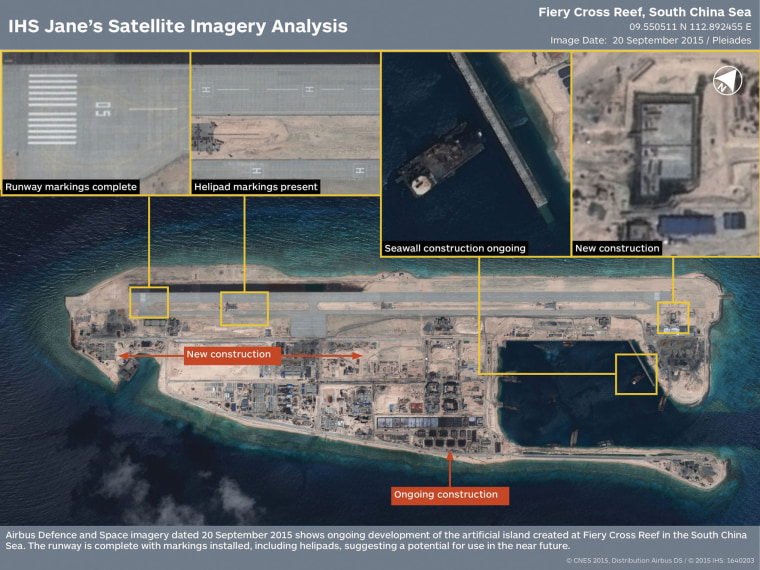 China said last week that it was "extremely concerned" at the suggestion by a top U.S. commander that American ships and aircraft should challenge China's claim by patrolling close to the islands.