Even as China declares its second Covid wave over, families both inside and outside China are still grappling with the trauma from the first one.
The government's abrupt lifting of "zero-Covid" restrictions in December unleashed the coronavirus on a population that had barely been exposed to it, with cases peaking in the days before Christmas. After three years of minimal infections, everyone seemed to be getting Covid at once.
For a woman who lives in the U.S., Christmas Eve was interrupted by the news that her mother — who, along with her father, had been stranded in China since the start of the pandemic — had tested positive for Covid. Her mother, 87, died at a hospital in a northern Chinese city as the U.S. was waking up on Christmas morning.
"It was totally surreal," said the woman, who requested anonymity for fear of repercussions for herself and for relatives both inside and outside China. The government has jailed or silenced critics of its coronavirus response, and international criticism of China's handling of Covid has contributed to its declining relations with the U.S. and other countries.
Though her mother's death came at the height of China's worst outbreak of the pandemic, it does not appear to have been counted as being related to Covid.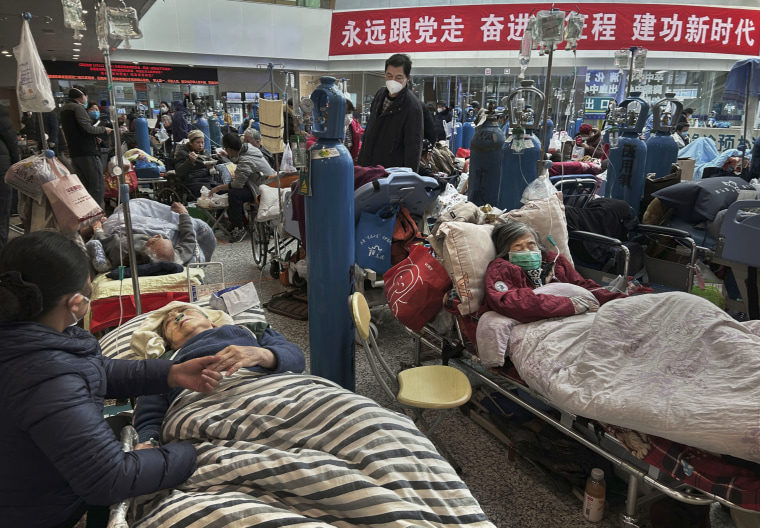 According to the World Health Organization, China has reported fewer than 122,000 Covid-related deaths among its 1.4 billion population, most of them in the two months after the government ended its zero-Covid restrictions on Dec. 7 following rare mass unrest. The U.S., by comparison, has reported more than 1.1 million Covid deaths in a population of about 330 million.
Estimates of China's Covid deaths by researchers in the U.S. and elsewhere are vastly higher. According to modeling by Zhanwei Du of the University of Hong Kong and Lauren Ancel Meyers of the University of Texas at Austin, Covid may have killed more than 1.4 million people in China from Dec. 16 to Jan. 19 — or more deaths in a single month than the U.S. has recorded throughout the pandemic. 
The official figures may be lower for a number of reasons, Du said, including China's relatively narrow definition of Covid deaths and the fact that only deaths in hospitals were counted. The explosion in cases, which Chinese officials say peaked around Dec. 22 with more than 7 million new infections a day, also coincided with a steep drop-off in testing.
"If people die without testing positive, they will not be counted as Covid-19 deaths — especially in villages, because they have limited ways to do that," Du said.
Chinese social media users questioned the official numbers, pointing to a series of reported celebrity deaths and a spike in obituaries of prominent academics. Though the causes of death for such high-profile figures were rarely specified, public suspicions were raised by the timing, as well as personal experiences.
"Almost everybody we talked to knew somebody who passed away from Covid," the woman who lost her mother said.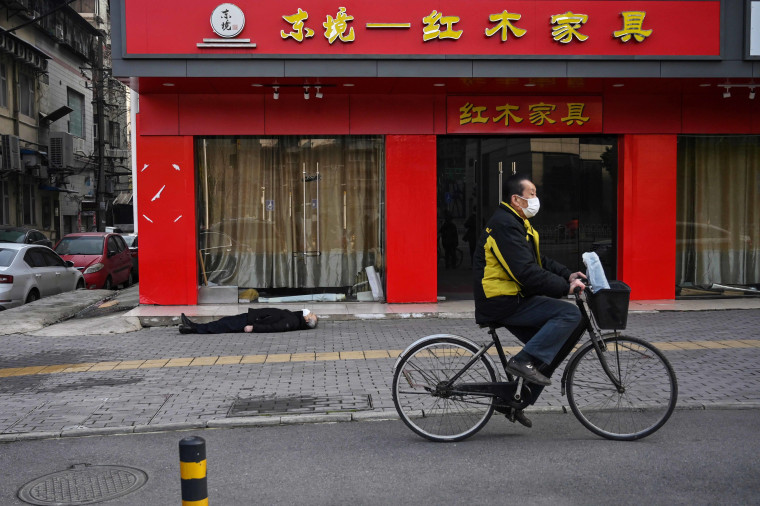 Chinese officials say the country is past the peak of its second wave, which began this spring and was much smaller than the first one. In a report on June 11, the Chinese Center for Disease Control and Prevention said that from May 1 to 31, there were almost 2,800 severe cases and 164 deaths, mostly among older people with underlying conditions. It did not provide overall case numbers.
Airfinity, an independent forecaster based in Britain, had estimated that China's second wave would peak in early June at 11 million cases per week, with 112 million people infected overall and 629,000 deaths. That is far lower than an earlier prediction by Chinese respiratory health specialist Zhong Nanshan that cases would peak in late June at 65 million a week; Airfinity said that unlike its estimate, Zhong's probably included asymptomatic cases. 
The Chinese Foreign Affairs Ministry denies accusations by the WHO, the U.S. and others that Beijing has withheld Covid data from the international community, accusing them of politicizing the pandemic. Chinese officials say they are still analyzing "excess deaths" and will have a more complete picture of the Covid death toll later. 
"We don't want to throw all the raw data directly out there without doing any proper analysis," said Gao Fu, a former director of the Chinese Center for Disease Control and Prevention.
"We are professionals, we are scientists, and we are always scientific and cautious," Gao, who appeared at an international business forum in China in March, was quoted as saying in the Chinese state newspaper Global Times.
'No Covid mentioned'
The woman's parents, both U.S. permanent residents, had been splitting their time between the U.S. and China for years. They traveled to northern China just before the Lunar New Year holiday in early 2020, shortly after the virus was first detected in the city of Wuhan. Worried about traveling before vaccines were available and later that the Chinese vaccines they received were ineffective, they decided to stay where they were. 
With China's strict zero-Covid policies keeping cases to a minimum, the woman's parents did not have to worry much about contracting the virus for the first couple of years. But the pandemic only enhanced the role of smartphones in Chinese daily life, and they struggled to use WeChat and other apps to buy groceries and make doctor's appointments.
Things got better in 2021, when they moved into a retirement community with staff members on hand to help. But by late 2022, China's anti-Covid strategy was being strained by public fatigue and the highly transmissible omicron variant, and the government announced its end. Suddenly, life in China went from zero-Covid to almost zero restrictions — and not everyone was prepared.
"The zero-Covid policy, I think, really made people numb about how dangerous this virus is," said the couple's daughter, a U.S. citizen who lives on the East Coast.
Staff members at the retirement community were still testing residents regularly, going door to door. The mother's PCR test on Dec. 23 came back positive, but the family was not informed, the daughter said. If they had been, she said, they would have told her to immediately take the Paxlovid antiviral medication they had sent from abroad.
On Christmas morning in China, the mother suddenly fell unconscious, and an ambulance was called. A rapid test administered by paramedics came back positive, and she was taken to the hospital, where her condition quickly deteriorated as the daughter and other family members watched over video. 
She died about 16 hours after the positive rapid test.
"She never opened her eyes to see us," her daughter said. "She didn't say anything to us."
The mother's death certificate, her daughter said, lists her cause of death as "community transmitted pneumonia," followed by a question mark in brackets. She had tested positive again at the hospital, "but still on her death certificate there's no Covid mentioned," her daughter said. 
Cremation facilities in the city and nearby smaller cities were all full, the daughter said, and the family had to use connections to find one a three-hour drive away. The family's experience is consistent with satellite images at the time that showed heightened activity at Chinese crematoriums and funeral homes. 
Days later, the daughter met her father in another Asian country before she took him back to the U.S. — without his wife of more than 60 years.
"My 90-year-old dad was crying," she said. "He couldn't believe Mom passed away like that. Mom didn't say a final word to him, either."