SEOUL, South Korea — A jet ski rider who has been detained since he washed up on South Korea's coast is believed to be a Chinese dissident who feared for his safety and fled by crossing hundreds of miles of sea, trailing barrels of fuel behind him.
The coast guard in the western South Korean port city of Incheon said in a statement Sunday that a Chinese man in his 30s tried to illegally enter the country Aug. 16 by riding a jet ski from the Shandong area of China, an eastern province around 200 miles away across the Yellow Sea. 
He was detained and was being investigated for breaching immigration law, the statement said. 
The coast guard quoted the man as saying he left China on his own jet ski, wearing a life vest and a helmet and carrying a navigator and binoculars. The man also carried five fuel containers weighing 25 liters (about 6.6 gallons) each, the statement said, tying them to the jet ski to make sure he had enough fuel to reach South Korea. 
The agency said it had to rescue the man from the muddy shore in Incheon late at night after it got a request from the South Korean navy to track a jet ski stuck in the area.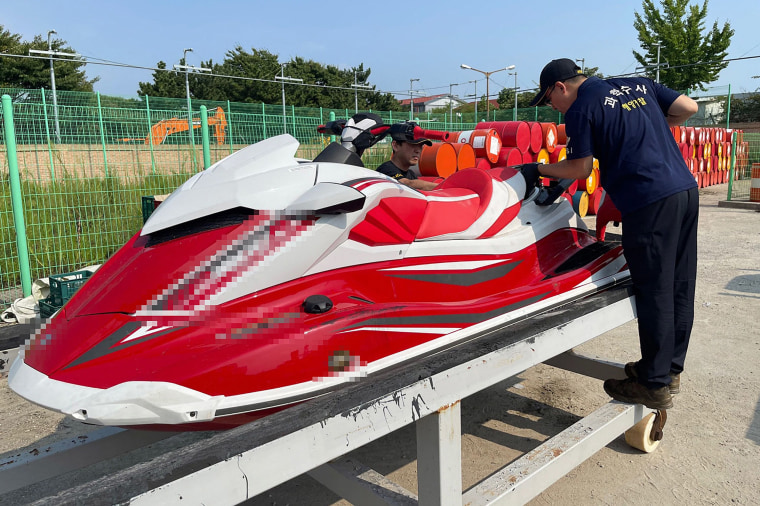 The man, who lived in South Korea before, had visited the Incheon area several times, the statement added. 
South Korean authorities have not released his name, and official statements have referred to him as "Mr. A."
The coast guard said by phone Wednesday that he had been handed to Incheon police authorities the previous day. 
Lee Dae-seon, a pro-democracy activist based in South Korea, identified the man as a Chinese dissident called Kwon Pyong.  
He told NBC News that Kwon had been trying to leave China ever since the crackdown on pro-democracy protests in Hong Kong in 2019. 
Front Line Defenders, a nongovernmental organization working to protect human rights activists around the world, has a profile of Kwon on its website, saying he has actively campaigned for detained lawyers and other human rights defenders in China. 
Kwon served an 18-month prison term for "inciting subversion of state power" and was released in 2018, the group said. The evidence against him included a photo of him wearing a T-shirt criticizing Chinese President Xi Jinping with the slogan "Xitler," it added. 
Lee said Kwon asked him for his phone number two days before the coast guard said it apprehended him and told him that he was ready to come to South Korea, without explaining how he was going to get across. 
Lee said that he got a call from Kwon from the Incheon coast guard's office after his detention and that he saw the man in custody Tuesday. 
Lee said he has been in touch with lawyers specializing in seeking refugee status in South Korea, which can be difficult, but he said Kwon is also open to going to a third country, as he speaks English.  
He said Kwon's parents also traveled to South Korea in light of the incident. 
"[They] told me that they found out from the Chinese authorities that Kwon was banned from leaving China," Lee said. "[He] had no choice but to flee China for his safety." 
China has increasingly used exit bans to bar people — including domestic critics and foreign executives — from leaving the country.
Lee said Kwon attended Iowa State University and has a degree in aerodynamics. He said Kwon bought the jet ski shortly before he left from Shandong. 
The Chinese Embassy in Seoul did not reply to a request for comment. The incident was not mentioned during the Chinese Foreign Affairs Ministry briefing Wednesday.
Stella Kim reported from Seoul and Yuliya Talmazan from London.