LONDON - China's leaders have for decades been known more for seriousness and secrets than warmth and wit.
But this week in London, Chinese Premier Li Keqiang launched a charm offensive complete with smiles, jokes about tea and a sit-down visit with Queen Elizabeth II at Buckingham Palace.
Li, who was appointed by China's president to deal with the day-to-day running of the country, was jovial in his first speech to the British press, thanking them for bringing sunshine and good weather.
Sign up for breaking news alerts from NBC News
In a later speech hosted by think-tank Chatham House, he joked that "though China was where tea was first discovered, the British people, it is said, drink more tea than most people in the world."
Li's visit comes as China is trying to embrace its role as a world power – both soft and hard.
Figures released by the World Bank's International Comparison Program predict that China will probably overtake the U.S. as the world's largest economy this year.
And China on Tuesday signed trade deals worth $24 billion with the U.K. Meanwhile, Beijing's military spending has ballooned in recent years as it flexes its muscles in the region.
Despite its undeniable surge in power, China is still struggling with its role as an emerging world leader, according to Roderic Wye, China analyst from London-based Chatham House.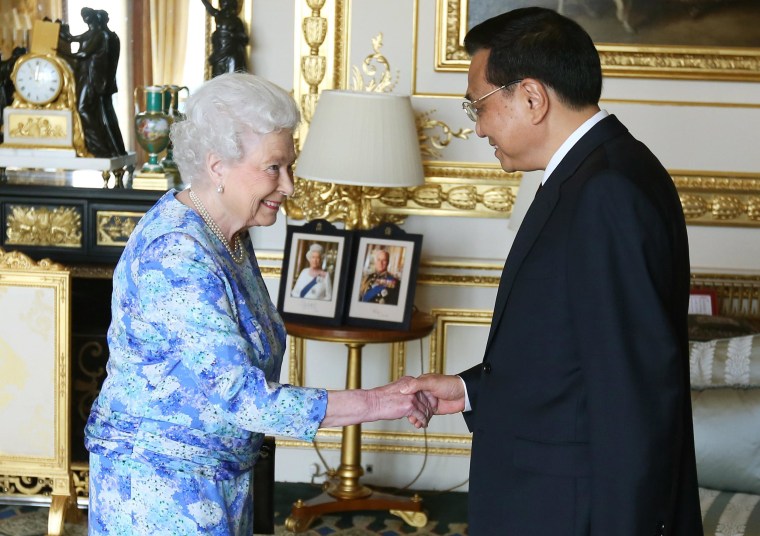 "They say frequently and often that they have no desire to be what they call a superpower," he said. "But with greater influence inevitably comes greater capacity to change things, and greater responsibilities for the actions you do take because they are more consequential, and the Chinese are only slowly coming to terms with this."
In a sign of this probable discomfort in the limelight, glancing mentions in British newspapers immediately raised hackles in the Chinese press.
The Global Times, a Chinese state-run newspaper, on Wednesday criticized the "narrow-minded" and "unprofessional" speculation in British media over Li's meeting with the queen, calling Britain an "old declining empire."
So while Li continues on his European tour - heading to Greece, next, to build on bilateral ties - it is too soon to say whether China is ready, or even willing, for the scrutiny that comes with a prominent place on the global stage.