HONG KONG — The sounds can be heard almost every day at midnight: firecrackers being set off one after another, accompanied by funeral songs played on drums and the sounding of a traditional horn. 
The frequent ceremonies, which are meant to release the souls of the dead from purgatory, come as China's worst outbreak of the coronavirus pandemic spreads further into its rural, more vulnerable areas.
"It has never been this many all at once," said a 24-year-old visiting her home village in Taoyuan County, in the southern province of Hunan, for the Lunar New Year, China's biggest holiday.
China's first Lunar New Year without Covid restrictions has allowed families dispersed across the country to reunite, some of them for the first time in years. But migrant workers, students and others traveling from Covid-ridden cities could also take the virus to their hometowns, raising fears, especially for older residents.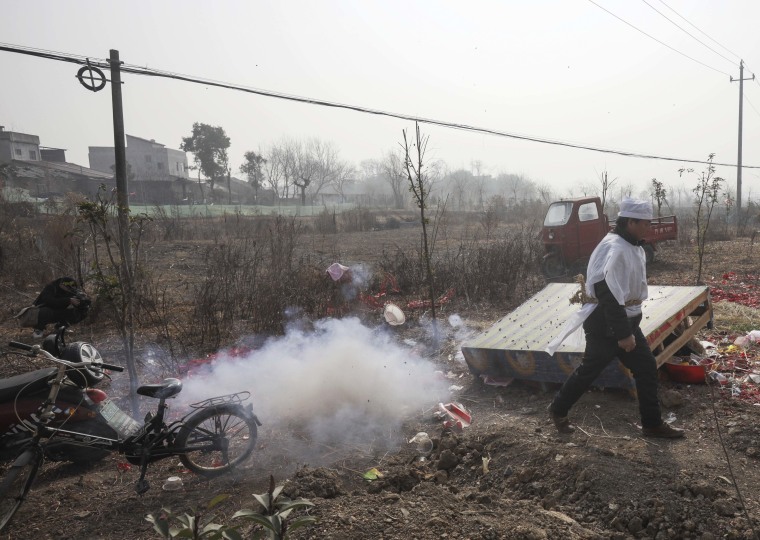 The 40-day holiday period in China, also known as Spring Festival, is often described as the single largest annual human migration. The Chinese Transport Ministry said this month that it expected more than 2 billion passenger trips, double the number last year and 70% of what it was in 2019.
Although the Lunar New Year officially starts Sunday, holiday travel has been underway for weeks, with many people taking extra precautions despite the abrupt end of "zero-Covid" restrictions in the wake of rare protests late last year.
After having recovered from Covid in December, Fan Kaiwen, 24, decided to drive home this year rather than take a plane or a high-speed train — mainly because she couldn't find a ticket, but also because she worried she could be reinfected while traveling and transmit the virus to relatives. She spent three days driving almost 1,000 miles alone from the southern city of Dongguan to Heze in Shandong province — her trunk stuffed with gifts for family members.
Fan, who hadn't been home for Spring Festival since 2020, said it was the first time she had driven that far. 
"I was super nervous and tired," she said. "But when I think of home, I feel full of energy again, and nothing can stop my desire to go home."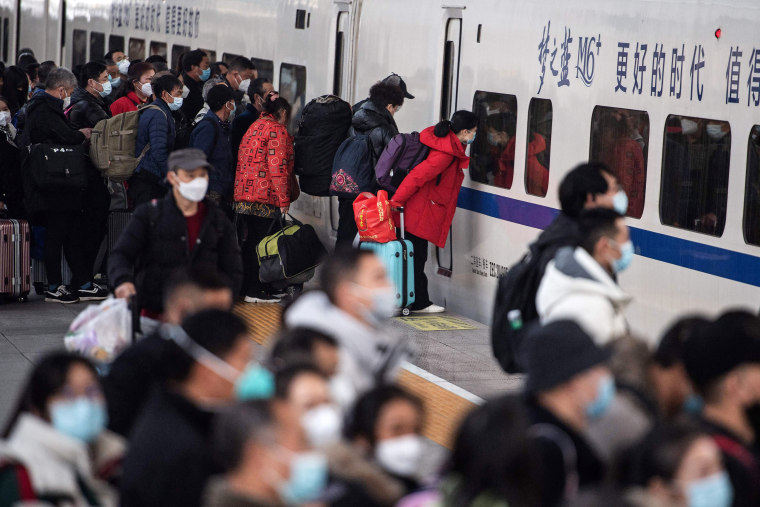 Nationwide infections could remain high for two or three more months, Zeng Guang, the former chief epidemiologist at the Chinese Center for Disease Control and Prevention, was quoted as saying last week by the local news outlet Caixin. With major cities like Beijing and Chongqing saying their outbreaks have peaked, he said, "it's time to focus most on rural areas."
Zeng noted that fewer medical resources are available for those he said had been "left behind" in rural areas, like older people and people with disabilities. According to official statistics, there were about five medical personnel and fewer than five hospital beds per 1,000 people in China's rural areas in 2020, compared with more than 11 medical personnel and almost nine hospital beds in urban areas.
Jiao Yahui, an official at the National Health Commission, said the government's Covid strategy for rural areas had two focuses.
"First is to ensure that medicines can reach them and that the supply covers the time period of Spring Festival or even longer," she told Chinese state media early this month. "The other is that patients who are seriously ill are able to be treated in regional hospitals or at least be transferred to county hospitals."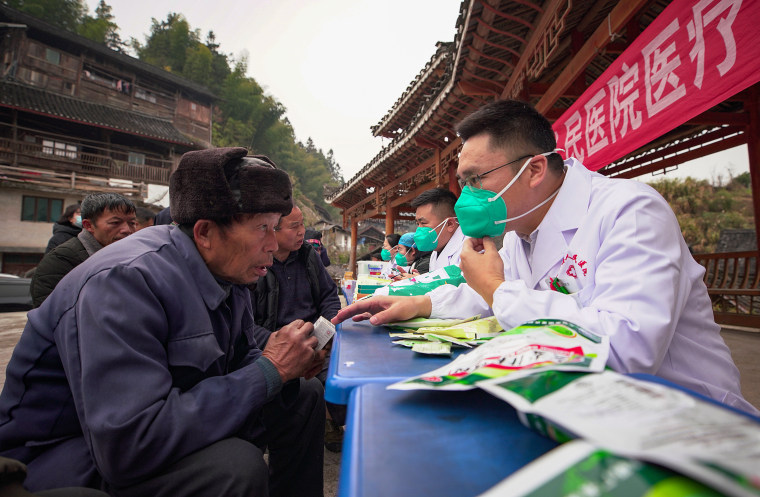 Some ordinary Chinese are also mobilizing to help. 
Yuki Yang, 26, said she had been working with about 100 other volunteers since mid-December to send medication and other Covid supplies to older people in villages around the country.
"Most of the time we get in touch with local clinics and distribute the pills in the presence of local doctors," said Yang, who lives in Shanghai. "But I know more people need help."
The Taoyuan County visitor, who asked to remain anonymous for fear of official reprisals, said that there was only one health clinic in her village and that it was not equipped to treat Covid patients. The lack of facilities means those with Covid are more likely to travel elsewhere for treatment or simply recover at home to avoid further exposure in hospitals.
"There is a relatively comprehensive hospital in town, but it is still incomparable with the medical resources of the city," she said.
At a hospital in Qingjian County in the northern province of Shaanxi, about 30 to 40 people — mostly middle-age and older and all wearing masks — stood in line for outpatient registration one morning last week. Several older people waited for family members on a sofa near the hall entrance, coughing occasionally.
On the streets, people dressed in white, the traditional color of mourning in China, could be seen the same day walking in funeral processions for two different people.
A resident with the last name Li said he had attended five funerals since December, all for people who died after having contracted Covid. He said he had heard that at least 300 older people died this winter in the county, not including its administered villages or towns.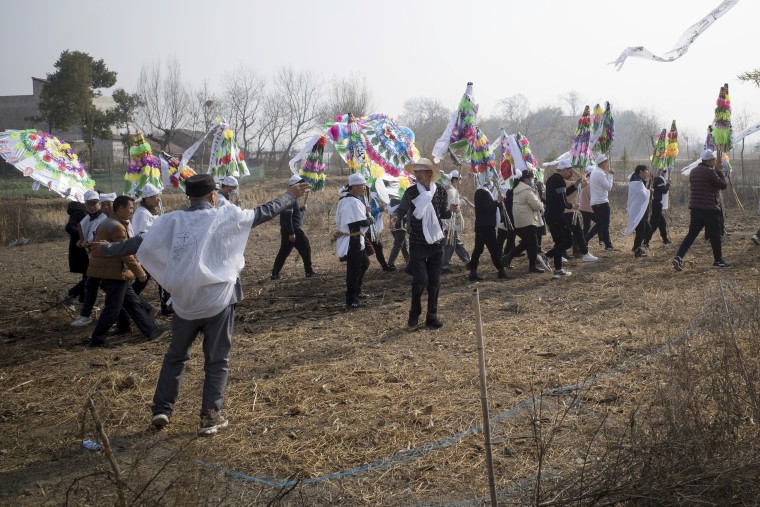 Beijing denies claims by the World Health Organization, the U.S. government and others that it has not been transparent about the severity of its outbreak.
A study at Peking University found that 900 million of China's 1.4 billion people had been infected with the virus as of Jan. 11. As Covid case numbers exploded in the weeks after restrictions were lifted, the government stopped providing daily case counts and reported five or fewer deaths per day. Anecdotal reports, as well as satellite images of funeral homes around the country, suggest the true number is much higher. 
In an update Saturday, China said it had recorded almost 60,000 Covid-related deaths since Dec. 8, 5,503 of them due to respiratory failure, which is how China officially defines Covid deaths. Previously, China's official death toll since the start of the pandemic was about 5,270.
The WHO says it has been working with Chinese officials to mitigate the spread of Covid in rural areas over the Lunar New Year and that China has prepared "quite a number of strategies."
"In terms of policy and in terms of procedure, it's what we have been recommending across all countries," Abdi Rahman Mahamud, the director of the WHO's alert and response coordination department, said at a news conference last week, adding that more data is still needed.
The Chinese Agriculture Ministry advised farmers this month to minimize Lunar New Year gatherings, get vaccinated, wear masks around older people and send holiday greetings by phone or WeChat instead of in person, saying the outbreak in rural areas had "reached the most difficult time."
"The epidemic will eventually pass," the ministry said in a statement, "and the dawn is just ahead."