Russian President Vladimir Putin's forces pummeled Kyiv and other cities across Ukraine on Monday as representatives from both countries met for a fourth round of talks since the invasion started nearly three weeks ago.
Russian and Ukrainian negotiators met Monday before taking a "technical pause" until Tuesday, according to Mykhailo Podolyak, an adviser to Ukrainian President Volodymyr Zelenskyy, who tweeted the news.
Meanwhile, a convoy of 160 civilian cars evacuated from the beleaguered port city of Mariupol, following a designated humanitarian route, according to the City Council.
---
Latest developments on Ukraine:
Russia asked China for military equipment and other support following the start of its war in Ukraine, U.S. officials said.
Ukraine continues efforts to repair the damaged Chernobyl nuclear plant.
Russian and Ukrainian negotiators held a video conference on Monday morning.
U.S. national security adviser Jake Sullivan met with China's senior diplomat in Rome.
Zelenskyy will virtually address Congress on Wednesday.
---
China pushes back
In another key development, Beijing on Monday pushed back on reports that Russia had asked China for military equipment and other support following the start of its invasion of Ukraine, saying that "the U.S. has been spreading disinformation and this is very dangerous."
"We need to advance a diplomatic solution of the situation instead of further escalating the situation," Chinese foreign ministry spokesman Zhao Lijian said at a news briefing.
As fighting intensified across Ukraine, three American officials said on Sunday that the U.S. government had reason to believe that Russia had asked China for the help.
News of the requests came amid the intensifying Russian bombing of Ukrainian cities and residential areas. It was a key topic of discussion between President Joe Biden's national security adviser, Jake Sullivan, and China's senior diplomat, Yang Jiechi, during "an intense" seven-hour meeting in Rome on Monday that reflected "the gravity of the moment," a senior Biden administration official said.
"I'm just going to reiterate that we do have deep concerns about China's alignment with Russia at this time, and the national security adviser was direct about those concerns and the potential implications and consequences of certain actions," the official said. "But again, we're not communicating via the press with China. We're communicating directly and privately."
Kremlin spokesman Dmitry Peskov on Monday denied that Moscow had requested military aid from other countries.
The officials with knowledge of Russia's request to China declined to elaborate on whether Beijing agreed to supply military aid, or whether the United States even knows the answer to that question. They declined say what kind of equipment was requested, and whether it was lethal.
The evolving stance taken by Beijing, which has growing ties with Russia and has refrained from condemning its actions in Ukraine, has been the subject of intense speculation and concern in Western capitals.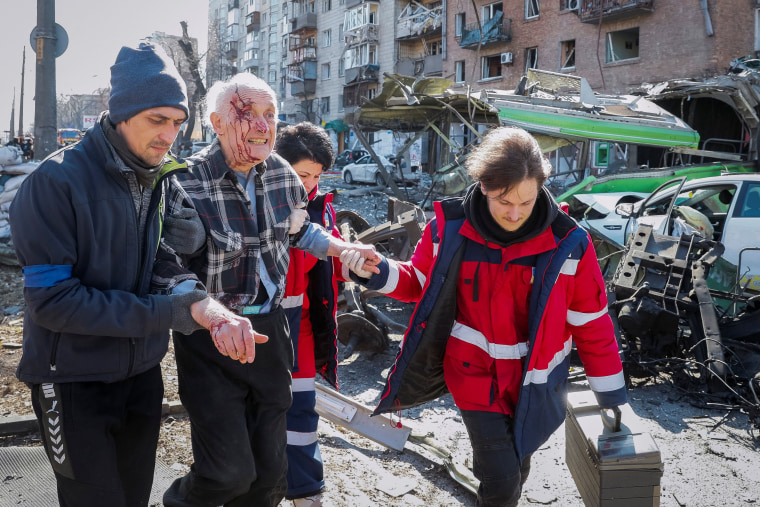 Ahead of the meeting with China's senior diplomat, Sullivan warned that other countries should not consider coming to Russia's aid and singled out China.
"We have made it clear to not just Beijing, but every country in the world, that if they think that they can basically bail Russia out, they can give Russia a workaround to the sanctions that we've imposed, they should have another thing coming," Sullivan said.
"We will ensure that neither China, nor anyone else, can compensate Russia for these losses," he added.
The White House is discussing having Biden travel to Europe in the coming weeks, according to three U.S. officials and two people familiar with the discussions. The trip would focus on the war and aim to reassure America's allies in the region, and it has yet to be finalized, the sources said.
Russia-Ukraine talks
Russian and Ukrainian negotiators discussed a cease-fire, the immediate withdrawal of Russian troops and security guarantees, Podolyak tweeted on Monday just before the talks.
"Communication is being held, yet it's hard," Podolyak tweeted less than two hours later, along with a photo of the negotiations. He blamed the difficulty on the two countries' different political systems.
Previous rounds of negotiations have failed to make concrete progress.
Zelenskyy will make a virtual address to the U.S. Congress on Wednesday, the first time he will address both the Senate and the House of Representatives together since the crisis began.
Over the weekend, Russia intensified its air campaign after its ground invasion has progressed slower than many had expected. At least one person was killed early Monday in a strike on a residential building in the capital, Kyiv, according to the State Emergency Service.
The strike destroyed part of the building's façade and blasted out its windows, photos taken by NBC News showed. Piles of debris lay in the street in front of the building.
The strike hit right near the front door, making evacuations more difficult, NBC News' Richard Engel reported.
"It blew out my window and doors. If I had been near them, I'd be dead," said Serhii Lytvinov, 52, a resident of the apartment block.
'We will rebuild'
In the country's south, Russian strikes have sparked a humanitarian crisis, including in the port city of Mariupol. More than 2,500 residents have been killed there since the start of the invasion, Ukrainian presidential adviser Oleksiy Arestovych said on Monday, according to Reuters. NBC News has not independently verified the number of those killed or injured.
The first Mariupol residents to evacuate the city made their way along a "humanitarian corridor" toward the city of Zaporizhia in a convoy of around 160 private cars on Monday, according to the city council. Russian forces were so far observing a cease-fire along the route, the city council added.
Previous attempts to establish a route into and out of Mariupol have failed, with fleeing residents often coming under Russian fire.
Evacuations from areas around Kyiv also progressed for a fifth day, the regional governor, Oleksiy Kuleba, said in a TV interview on Monday.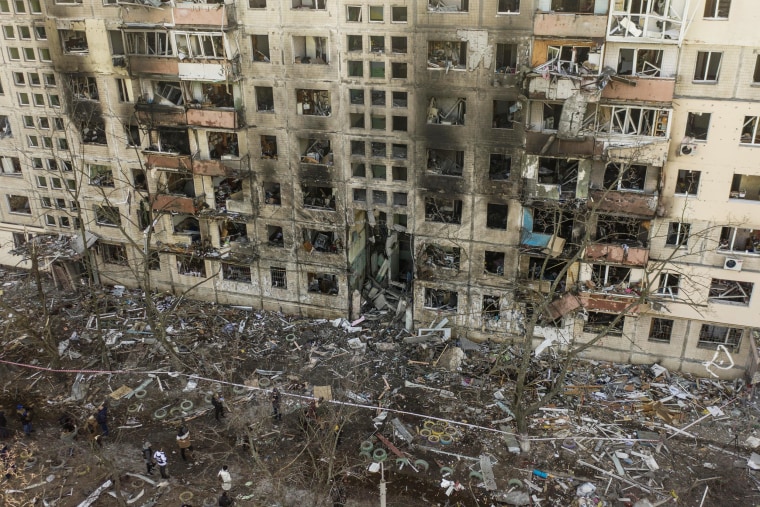 The evacuations were part of 10 safe routes set up for residents of hard-hit cities and towns planned for Monday, according to Ukrainian Deputy Prime Minister Iryna Vereshchuk, including in several areas around the capital. More than 130,000 have been evacuated in the past six days, Zelenskyy said, including 5,500 people on Sunday.
"This is also due to negotiations," he said.
Russia has consistently denied targeting civilians but residential areas have come under fire from Russian airstrikes, and hospitals, schools and vital infrastructure have been destroyed.
Zelenskyy sought again on Monday to boost morale in the country, saying in a video posted to Telegram that "we will rebuild everything, restore everything." Appearing outdoors, he encouraged people to continue working to help save the country's economy.
More than 2 million people have fled Ukraine while countless others have been displaced inside the country since the start of the war on Feb. 24.
Russian strikes have also raised fears that Ukraine's nuclear power plants could incur damage. On Monday, the public utility that operates its nuclear plants said the power line to Chernobyl was again compromised by Russian forces and efforts are ongoing to repair the damage.
"Emergency crews are forced to go to the danger zone again and repair the damage," Energoatom said in a post on Telegram.
The International Atomic Energy Agency said Sunday that Ukraine had repaired the power supply to the plant days after it was cut. Staff at the plant resumed repair work Monday, one day after Russian forces damaged a line that had been reconnected to the power grid, the International Atomic Energy Agency said in a statement.
Russia seized control of the plant, the site of the world's worst nuclear disaster in 1986, early on in the conflict, prompting officials to raise alarms about its safety. The Zaporizhzhya nuclear plant in the southeast of the country is also under the control of Russian forces.