HONG KONG — A flurry of European diplomatic activity over Russia's war in Ukraine has offered a stark contrast this week: While President Joe Biden made a surprise visit to Kyiv, one of China's most senior diplomats was heading to Moscow.
Wang Yi, Chinese President Xi Jinping's senior foreign policy adviser, gave one of the strongest indications yet of Russia and China's strengthening ties Wednesday.
"We are ready to deepen our strategic partnership," he said, according to Reuters. "Other countries cannot put pressure on our relations," Wang added as he met with President Vladimir Putin, who said he was looking forward to a visit by Xi Jinping.
The comments will feed fears that Western backing for Ukraine will be matched by China's doubling down on its bet on the Kremlin. Beijing has been engaged in a delicate balancing act, experts said, but may find that increasingly strained as the conflict moves into its second year.
Washington has accused Beijing of providing Russia nonlethal military assistance against Ukraine, and even considering providing lethal aid. China denies the allegations, saying the U.S. has escalated the situation by sending weapons to Kyiv.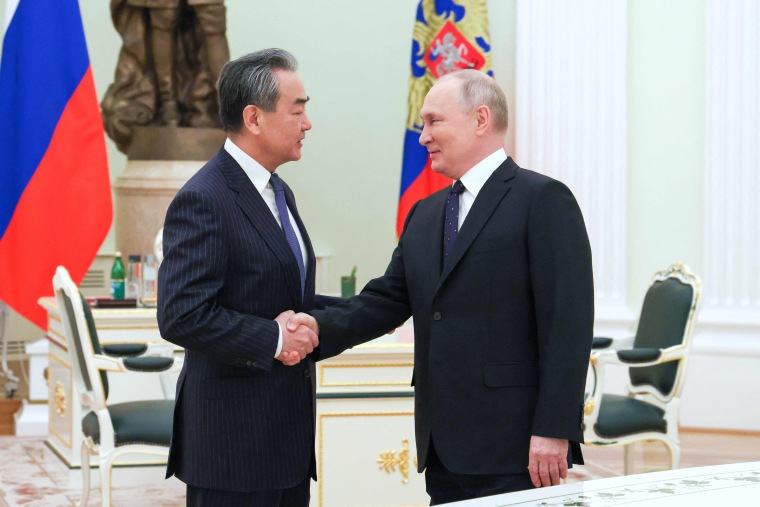 Beijing insists it is committed to promoting peace talks to end the war in Ukraine and will release a policy paper in the coming days explaining its views on a potential diplomatic settlement.
China is "deeply worried" the Ukraine conflict could spiral out of control, Foreign Minister Qin Gang said on Tuesday. "We urge certain countries to immediately stop fueling the fire," he said at a security conference in Beijing, in an apparent reference to the U.S.
China and Russia, both major powers that share a 2,500-mile border, view themselves as counterweights to American global dominance. Their relationship has been under greater scrutiny since last February, when Xi and Putin released a lengthy joint statement declaring a "no limits" partnership just weeks before Moscow invaded Ukraine.
The two leaders, who have met more than three dozen times in the past decade, have "a very good personal relationship [and] call each other old friends," said Zheng Wang, director of the Center for Peace and Conflict Studies at Seton Hall University in New Jersey.
Since the war began a year ago, China has refrained from condemning Russia's aggression while urging peace talks, expressing concern about the humanitarian situation and being careful to avoid violating international sanctions. 
China has been "trying to achieve two things at once," said Joseph Torigian, an expert on China and Russia at American University in Washington.
"On the one hand, it wants to be supportive of Russia because, over the long term, they see Russia as a key partner in an increasingly competitive relationship with especially the United States," he said. "But, at the same time, they're concerned about economic and reputational cost, especially in the European Union."
While trade with Beijing may help the Kremlin's war machine, there has so far been little evidence of China "breaking sanctions and providing lethal material or weapons to Russia," Torigian said. But as Russia struggles on the battlefield, he added, China "may come under increasing pressure from the Russian Federation for assistance that might put them in an increasingly difficult spot."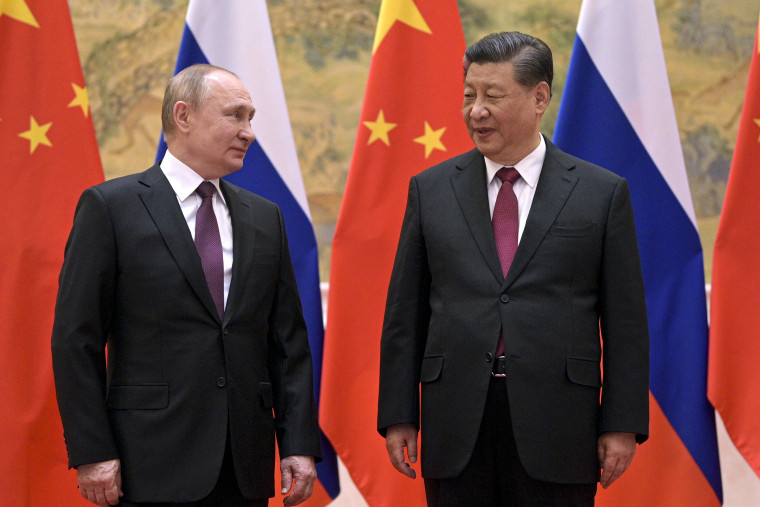 Secretary of State Antony Blinken said Sunday that the Chinese government appeared to be providing Russia nonlethal military assistance against Ukraine. In addition, "there are various kinds of lethal assistance that they are at least contemplating providing, to include weapons," he said on NBC News' "Meet the Press," without providing details.
Other Western leaders have also expressed concerns.
NATO Secretary-General Jens Stoltenberg said Tuesday that he was "increasingly concerned that China may be planning to provide lethal support for Russia's war." Josep Borrell, the European Union's top foreign affairs official, echoed U.S. officials on Monday in saying that China would be crossing a "red line" by sending arms to Russia.
Wang, the Chinese Foreign Ministry spokesperson, responded Tuesday that "relevant parties should not misunderstand or misjudge China's position, still less should they blame China based on disinformation."
Beijing says its policy paper on Ukraine will emphasize the importance of national sovereignty and territorial integrity, as well as "taking seriously the legitimate security concerns of all countries, and supporting all efforts conducive to a peaceful resolution of the crisis."
China has defended its strategic partnership with Russia as based on nonalignment and nonconfrontation, saying Monday that the U.S. is "not qualified" to give China orders about it. An editorial Tuesday in the Global Times, a state-backed nationalist tabloid, said the U.S. and other Western countries were using the Ukraine conflict to try to "hijack" China-Russia relations.
The goal, it said, is "to put pressure on every normal interaction between China and Russia."
China's position on the Ukraine conflict is one of "principled neutrality," said Zhu Feng, executive dean of the School of International Studies at Nanjing University.
"On the one hand, China opposes war and will not provide financial and military equipment support to Russia," he said. "On the other hand, China will not stand in the footsteps of the U.S. and the West to impose sanctions on Russia."
Zhu said the war in Ukraine had greatly affected the relationship between Beijing and Moscow, "because Russia hopes that China will be a reliable partner for Russia. But China, based on its own interests and values, does not provide military assistance to Russia, which is really disappointing to the Putin government."
Beijing is unlikely to change its position in the face of pressure from Moscow, Zhu said.
Russia's war on Ukraine "has indeed been criticized by the vast majority of countries in the world, so China will not put itself on the opposite side of global public opinion," he said.