HONG KONG — China hit back Monday against U.S. allegations that it may be providing Russia nonlethal military assistance in its war on Ukraine, telling Washington to stay out of its relationship with the Kremlin.
"The U.S. is not qualified to give orders to China," Foreign Ministry spokesperson Wang Wenbin said at a regular news briefing. "We will never accept U.S. criticism, even coercion and pressure on China-Russia relations."
Wang said China's position on Ukraine "can be simply put as promoting peace talks."
"China will continue to firmly stand on the side of dialogue and peace and play a constructive part in easing the situation," he said.
The U.S. believes that China may be providing nonlethal military assistance to Russia for use in Ukraine and that it may even be considering sending lethal aid, four U.S. officials familiar with the matter said in an exclusive report Saturday. They did not provide details of any underlying intelligence that would have prompted the accusation.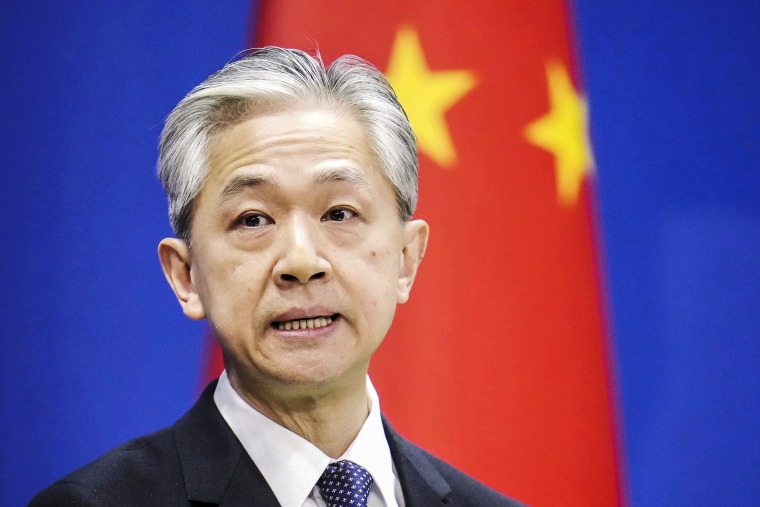 President Joe Biden made a surprise visit to Ukraine on Monday ahead of the anniversary of the Russian invasion.
Speaking earlier Monday in Ankara, Turkey, Secretary of State Antony Blinken said Biden had told Chinese President Xi Jinping early on that "there would be real consequences in our own relationship were China to provide lethal assistance to Russia in this aggression against Ukraine or in a systematic way aid in the evasion of sanctions."
Blinken declined to specify what the consequences might be.
"But I think China understands what's at risk were it to proceed with providing material support of that kind to Russia," he said, adding that it could affect China's relationships with other countries, as well.
Shortly before Russia invaded Ukraine last February, Xi and Russian President Vladimir Putin released a lengthy joint statement declaring a "no limits" partnership between their two countries. China has refrained from condemning Russia's aggression while urging peace talks, expressing concern about the humanitarian situation and being careful to avoid violating international sanctions.
Blinken said China was "trying to have it both ways."
"Publicly, they present themselves as a country striving for peace in Ukraine," he said in an interview on NBC News' "Meet the Press." "But privately, as I said, we've seen already over these past months the provision of nonlethal assistance that does go directly to aiding and abetting Russia's war effort."
While U.S. officials do not believe China is providing Russia with lethal assistance, Blinken said, "there are various kinds of lethal assistance that they're at least contemplating providing, to include weapons."
Blinken said he had discussed the issue with China's top diplomat, Wang Yi, at their meeting Saturday on the sidelines of the Munich Security Conference. Tensions between the two countries have already risen this month over a Chinese surveillance balloon that was downed by the U.S. military, the discovery of which prompted Blinken to postpone a planned trip to Beijing.
At the Munich conference, Wang said China would in coming days release a document explaining its position on the political settlement of the Ukraine conflict. Wang, who was at the conference as part of a broader Europe trip, is expected to arrive in Moscow as early as Monday for talks about Ukraine and other issues in what could be a precursor to a trip to Moscow by Xi.
Wang also met in Munich with Ukrainian Foreign Minister Dmytro Kuleba, telling him China stood on the side of peace and dialogue, according to a readout the Chinese Foreign Ministry released Sunday.
"We do not want to see the Ukraine crisis protracted and expanded," Wang said, "and we are willing to work with the international community to avoid further deterioration of the situation and persevere in striving for peace."