BEIJING — China's rubber-stamp parliament passed a constitutional amendment Sunday that abolishes term limits and will enable President Xi Jinping to rule indefinitely.
The National People's Congress' nearly 3,000 hand-picked delegates overwhelmingly endorsed the amendment, voting 2,958 in favor with just two opposed, three abstaining and one vote invalidated.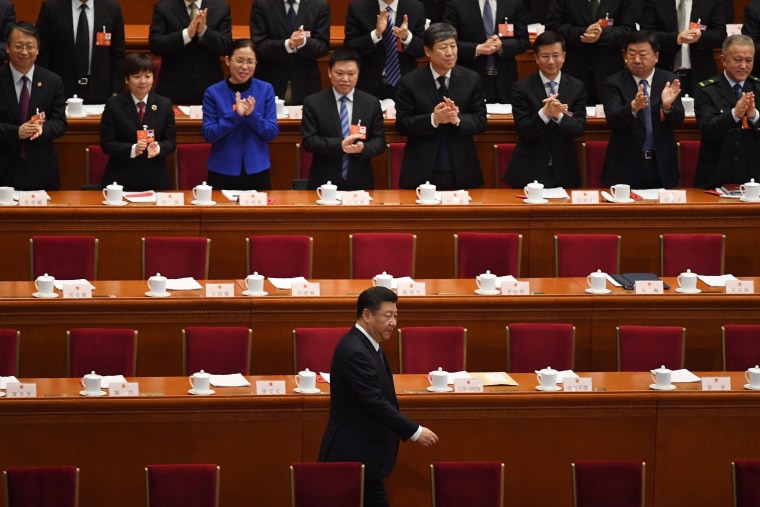 The amendment upends a system enacted by former Chinese leader Deng Xiaoping in 1982 to prevent a return to the bloody excesses of a lifelong dictatorship typified by Mao Zedong's chaotic 1966-1976 Cultural Revolution.
The move is widely seen as the culmination of the 64-year-old Xi's efforts since being appointed leader of the party in 2012 to concentrate power in his own hands and defy norms of collective leadership established over the past two decades. Xi has appointed himself to head bodies that oversee national security, finance, economic reform and other major initiatives.
The slide toward one-man rule under Xi has fueled concern that Beijing is eroding efforts to guard against the excesses of autocratic leadership and make economic regulation more stable and predictable.
Carl Minzner, an expert in Chinese law and governance, told NBC News that "the greatest domestic risk as those reform-era norms erode is that the domestic political instability and turbulence of China's pre-1978 era will begin to emerge — zombie-like — from the grave."
RELATED: Analysis: Xi Jinping returns China to era of one-man rule
President Donald Trump, who drew raised eyebrows last week when he reportedly praised the move at a closed-door lunch for Republican donors and suggested he might have to do something similar in the U.S., clarified his comments on Saturday.
"I was joking, I was joking," Trump told a rally in Pennsylvania. "I said, huh, president for life, maybe we'll have to try it, but I'm joking,"
"Everybody is laughing, joking, president for life, and President Trump with his dictatorial attitude wants to be president for life," he added.