China has as many as 300 nuclear warheads and more than 2 million active-duty troops, more than any other standing army on the planet.
It is already locked in a trade war with the United States. Now, officials past and present from both countries seem to be talking up the possibility of a shooting war.
Chinese President Xi Jinping told his forces on Oct. 25 to "concentrate on promoting preparedness for war and fighting a battle."
A day earlier, a former commander of the U.S. Army in Europe predicted a conflict between the global powers.
"I think in 15 years, it's not inevitable, but it is a very strong likelihood that we will be at war with China," retired Lt. Gen. Ben Hodges said at the Warsaw Security Forum in Poland.
His comments echoed those of former White House chief strategist Steve Bannon, who said in 2016: "We're going to war in the South China Sea in five to 10 years, there's no doubt about that."
Bannon pointed to a network of military bases Beijing has built on artificially enlarged coral reefs in the hotly contested body of water. The militarized outposts feature runways, sea ports and multi-story buildings, and there have even been reports of missile deployments.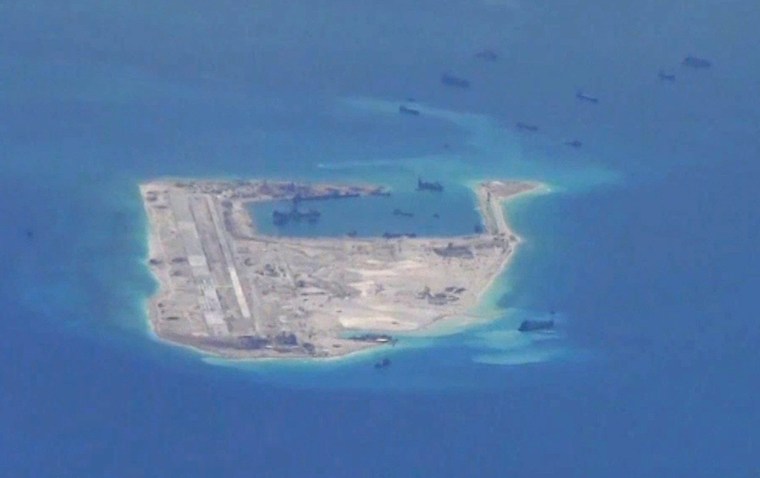 Many experts say that type of tough talk carries grave risks. But most believe the world is a considerable ways away from a war between its two largest economies.
"There's clearly been a sharpening of the rhetoric between the two countries, and we're currently seeing a real push in a worrying direction," says Raffaello Pantucci, director of International Security Studies at the Royal United Services Institute, a think tank based in London. "There's a genuine concern it might end up somewhere horrible."
Xi didn't mention any enemy by name when he made the comments, but they came up during a tour at the Southern Theater Command, in Guangdong province, which is responsible for monitoring Taiwan and the South China Sea.
China claims a huge chunk of this sea as its own, giving it control over a crucial, oil-rich choke-point through which $5.3 trillion of trade passes every year.
It was there in September that a Chinese warship came within 45 feet of colliding with the USS Decatur. The near-collision was during one of the fairly regular voyages by U.S. ships and planes into the waters, an attempt by Washington to show Beijing that it can't restrict freedom of passage.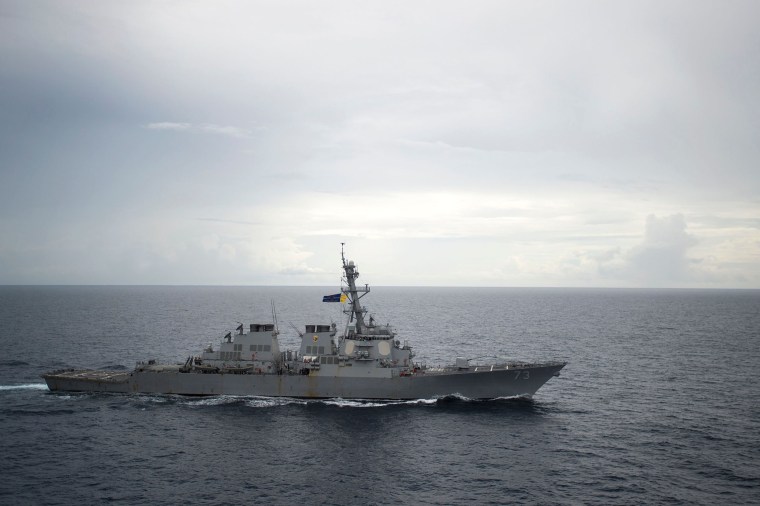 Experts predict it won't be the last time. The United States and China "will meet each other more and more on the high seas," Adm. John Richardson, the chief of U.S. Naval Operations, said at an event in Jakarta, Indonesia, on Tuesday.
Hodges said September's maritime near-collision was only one example of "an increasingly tense relationship."
Other points of friction, Hodges said, are China's vast infrastructure projects in Asia, Europe and Africa, as well as its "constant stealing of technology."
Then there's Taiwan. China considers the island a runaway province; the United States has sold it $25 billion of arms since 2007. When the Trump administration approved the sale of $330 million of F-16 parts in September, Beijing said it lodged "stern representations" against the move.
While it's not in U.S. or Chinese interests to start a war, one way that might happen is through a misunderstanding or bad communication, especially if animosity over the trade war means the sides stop speaking with each other.
"The Chinese might think, 'We're going to build a base here,' and the Americans decide, 'That one is too far,'" Pantucci said. "Or two boats bump into each other, or something happens with Taiwan."
While such scenarios are worrying, Pantucci said they're not quite the precursor to the all-out combat imagined by more hawkish types.
"Are we going to see a conflict soon, like Steve Bannon's doomsday proclamation? I tend to be a little less apocalyptic than that. I tend to think that cooler heads will eventually prevail," Pantucci added.
One thing to remember, according to experts, is that China is not Russia.
Russia has a relatively small economy and is less powerful than it was 30 years ago. It punches above its weight by sowing chaos and using hard power in places like Syria, Ukraine and Georgia, not to mention the ever-present threat of nuclear annihilation.
"That is not China's game; China's game is to become the world's biggest power," Pantucci said. "It doesn't want a nuclear war, because nuclear war is not conducive to growth."
Those seeking reassurance can also look to the trade war that is starting to bite on both sides of the Pacific.
Share markets soared Friday after a phone call between Trump and Xi resulted in a positive tweet from the American president.
Nevertheless, the damage is starting to show. Eighty-five percent of U.S. companies and 70 percent of Chinese companies surveyed said they had suffered from the tariffs, Reuters reported, citing a poll by the American Chamber of Commerce in South China.
The mutual pain would be even greater were a military conflict to break out, according to Gregory B. Poling, director of the Asia Maritime Transparency Initiative at the Center for International and Strategic Studies
The United States and China "have a couple things going for them that no other two great powers ever have," he said.
"They are economically intertwined in a way that raises the costs of conflict for both," he added, "and they are operating in an international web of institutions and norms that help blunt their worst impulses and offer avenues for peaceful contestation."
Most Americans don't seem too bothered. In a poll in October by the Chicago Council on Global Affairs, fewer than 4 in 10 people said the development of China was a critical threat to U.S. interests.
Poling recognized that the South China Sea and Taiwan were "potential triggers" for a conflict, but for now, will he be losing sleep over it?
"Not tonight, no," he said.
CORRECTION (Nov. 4, 2018, 5:30 p.m. ET): An earlier version of this article misstated when the Trump administration approved the sale of $330 million of F-16 parts to Taiwan. The sale was approved in September, not October.