BEIJING — President Xi Jinping vowed Tuesday to protect "every inch" of China's territory, improve the lives of its people and promote the resurgence of Chinese culture and creativity as he kicked off his second term, poised to rule indefinitely.
Xi, China's most powerful leader in decades, sounded a stark warning clearly directed at the government of self-ruled Taiwan, which Beijing claims as its territory, and advocates of independence in the southern Chinese city of Hong Kong.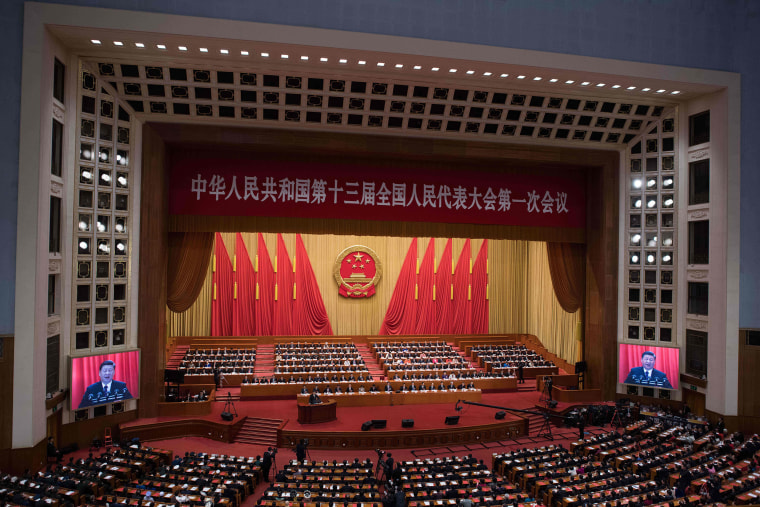 "Every inch of our great motherland absolutely cannot and absolutely will not be separated from China," Xi declared in his speech before the nearly 3,000 members of the National People's Congress.
"All acts and tricks to split the motherland are doomed to failure and will be condemned by the people and punished by history!" he said.
Xi is set to shape the country's future for the coming decades after the historic legislative session that closed Tuesday abolished presidential term limits to allow him to rule for as long as he wants.
As an indication of what is to come, Xi stressed the absolute leadership of the ruling Communist Party — of which he is head — in all aspects of Chinese life. That authority is central to Xi's vision of a confident, rising China with him at the helm to tackle thorny challenges that include slowing growth, risky excessive borrowing, a possible trade war, tensions with rival Taiwan and other challenges.
Xi said the mainland would continue to promote "peaceful unification" with Taiwan. The island's 23 million residents are strongly in favor of maintaining their de-facto independent status but Xi has previously warned a Taiwanese envoy that the issue of unification cannot be put off indefinitely.
Now that he has made it possible to be president-for-life, Xi seems determined to bring Taiwan under Beijing's control during his time in office, something that would place him in the history books alongside Mao Zedong, said Willy Lam, an expert in Chinese politics at the Chinese University in Hong Kong.
That increases the potential for provocative, dangerous actions, he said, possibly drawing in the U.S. which is legally bound to respond to threats against Taiwan.
"Now that he's made himself emperor-for-life, he might be feeling impregnable on the foreign policy front and this is very dangerous," Lam said.
Xi's hard line remarks might have been prompted by President Donald Trump's signing of a law on Friday that encourages expanded contacts between officials from Washington and Taiwan, Lam added. China has officially protested the law, saying it violates U.S. commitments not to restore direct official contacts with Taiwan that were severed when Washington switched diplomatic recognition from Taipei to Beijing in 1979.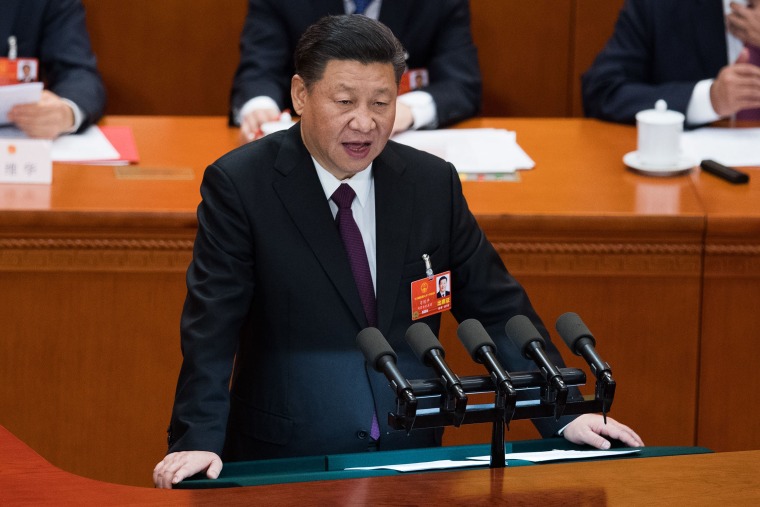 China's longer-than-usual, 16-day legislative session had earlier approved a range of new appointments, including that of key Xi ally Wang Qishan as vice president. New ministers were also appointed and a law passed establishing a powerful new anti-corruption body to oversee the party and civil service.
In his address, Xi said China would promote "high-quality" development that values innovation over the speed of growth.
Xi also invoked China's historical achievements in governance and culture and stressed the importance of national unity in working to reduce poverty.
Xi pledged to expand the Belt and Road, his signature foreign policy initiative of building ports, bridges and railways connecting Europe with Asia — but in an apparent response to the project's critics, said China wasn't seeking hegemony.
"Only those who habitually threaten others will look at everyone else as threats," he added.