HONG KONG — As Hong Kong police continued to lay siege to one of the city's universities Tuesday, the former British colony's embattled leader urged about 100 protesters holed up inside to leave the campus "as soon as possible."
About 600 protesters had left Hong Kong Polytechnic University "peacefully," including about 200 who were younger than 18, Chief Executive Carrie Lam said in a news conference. Those under 18 wouldn't immediately be arrested, but they could face charges later, she said, adding that the other 400 who had left had been arrested.
The city's hospitals were dealing with nearly 200 injured people who had been removed from the campus, and they urged people to stay away from emergency rooms unless it was absolutely necessary.
A small clutch of family members and friends of those inside have been gathering outside the campus in hope of news.
Tiffany Chan, 24, who was at the police cordon outside the university, said she was worried about her younger brother, who was trapped inside.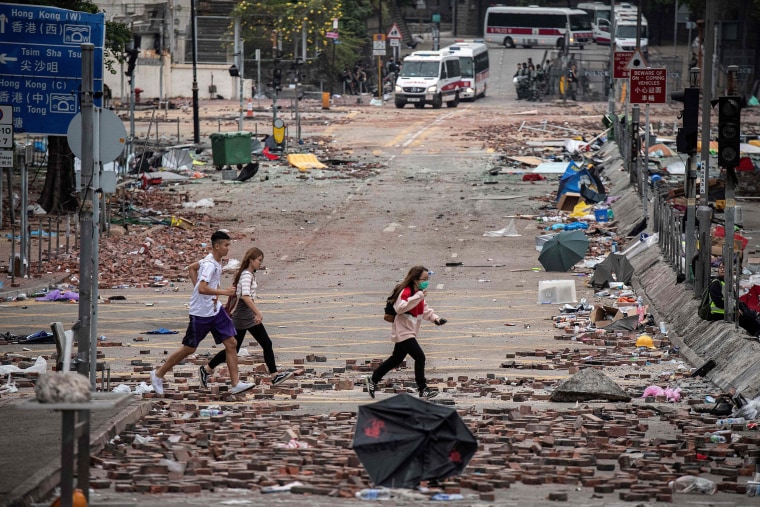 Chan said the 18-year-old, who isn't a student at Polytechnic University, had been in contact with her but refused to come out, saying leaving the campus would be an act of surrender.
"I wouldn't blame him for doing what he believes in," she said, sobbing. "But sometimes, he has to care about his family's feelings. I just want him to come back safely."
Another man, who didn't want to reveal his name, said his 16-year-old son had been trapped inside since Sunday. He also refuses to leave out of fear that police won't keep their word not to arrest those under age 18.
Asked whether he was proud of his son, the man broke down in tears and said he respected his son's decisions, as long as his actions were peaceful.
"As a middle-aged person, I don't like to see violence, but I think the students have no choice. Before the violence happened, the protests were peaceful. But the government is not hearing them," he said, his face covered with a mask.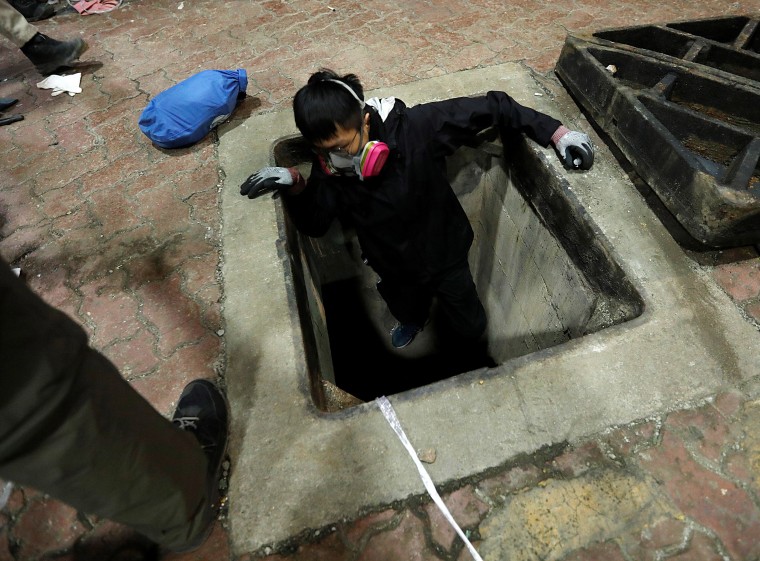 Increasingly, friends and relatives of protesters have been refusing to give their full names to the media, nervous about possible repercussions. Many obscure their faces, as well.
University officials said Tuesday that they continue to try to persuade those still inside the campus to leave. They have asked that police not enter the campus for the time being "to allow people on campus the chance to leave in a peaceful and orderly manner."
Some protesters have been trying to escape. On Monday, NBC News saw about 20 people break free by running down an adjacent highway and railway tracks.
Police said Tuesday that some protesters also tried to escape by rappelling down a footbridge to getaway vehicles below. They said 37 people were intercepted, including the getaway drivers.
The standoff is the most dramatic escalation of the Hong Kong protest movement since it began in June. Universities became the latest battleground last week, as protesters occupied several campuses, including Polytechnic University.
Violence has spiraled over six months of protests, and so has the rhetoric.
Download the NBC News app for breaking news
Sen. Ted Cruz, R-Texas, tweeted his support for the protesters Saturday, calling the police response "shameful." And Sen. Josh Hawley, R-Mo., tweeted Sunday saying "Beijing is pushing Hong Kong into a state of siege."
On Monday, Secretary of State Mike Pompeo said the United States was "gravely concerned" by the violence, including the standoff at Polytechnic University.
Then, on Wednesday, the U.S. Senate passed a bill to protect human rights in Hong Kong. The Chinese Foreign Ministry responded that the bill "disregards the facts, confuses right and wrong, violates the axioms, plays with double standards, openly intervenes in Hong Kong affairs, interferes in China's internal affairs, and seriously violates the basic norms of international law and international relations."
The standoff continued as the Chinese government slapped down Hong Kong's highest court, contending that it doesn't have the authority to strike down a law banning protesters from wearing masks.
For more than five months, hundreds of thousands of demonstrators, many of them wearing masks to shield their identities, have taken to the streets, initially to protest a proposed law that would have allowed Hong Kong to extradite criminal suspects to mainland China.
The measure was withdrawn in September, but the demonstrations have continued as a broader protest of China's control over the island.
Jasmine Leung and Matt Bradley reported from Hong Kong and Yuliya Talmazan from London.