China has accused Vietnamese ships of ramming its vessels more than 1,400 times during a dispute over an oil rig in the South China Sea.
Relations between the two countries have deteriorated significantly after China moved the drilling platform last month into waters also claimed by Vietnam.
This sparked protests in the capital Hanoi in which four people died. Also issuing its own accusations of ramming, Vietnam has told China it must move the rig.
China, which is in disputes with several countries over its maritime borders, hit back on Sunday with detailed defense of the positioning of the oil rig, calling Vietnam's actions illegal.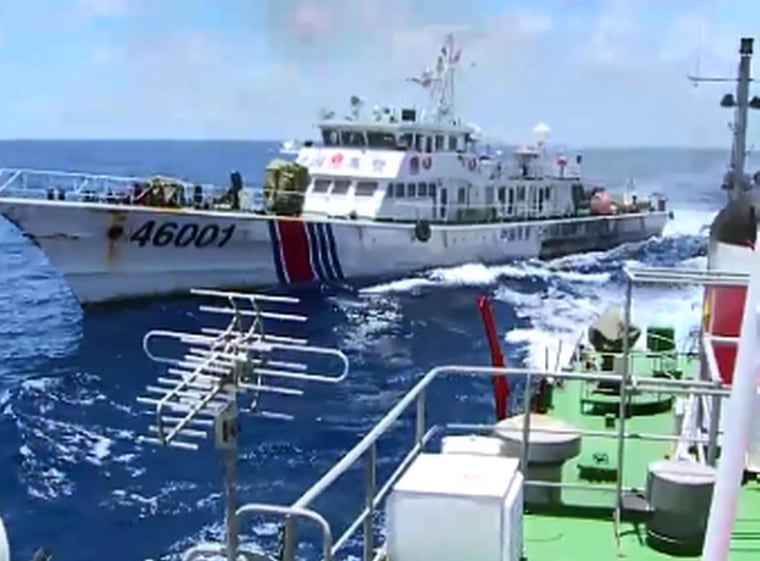 "Shortly after the Chinese operation started, Vietnam sent a large number of vessels, including armed vessels, to the site, illegally and forcefully disrupting the Chinese operation and ramming the Chinese government vessels on escort and security missions there," the statement from the Foreign Ministry said.
"In the meantime, Vietnam also sent frogmen and other underwater agents to the area, and dropped large numbers of obstacles, including fishing nets and floating objects, in the waters."
It said as of June 7, Vietnamese ships had rammed Chinese vessels some 1,416 times.
Scores of ships from both sides have been surrounding the waters near the oil rig and last month 10 Vietnamese fishermen had to be rescued after their boat sank following a collision.
- Alexander Smith