BEIJING, China — China responded cautiously Monday to Donald Trump's latest diplomatic outburst but local media and some citizens mocked the President-elect for making "reckless remarks" and "running the country with Twitter."
Trump criticized Beijing over its monetary policy and territorial ambitions in disputed Asia waters.
"Did China ask us if it was OK to devalue their currency [and] build a massive military complex in the middle of the South China Sea?" Trump asked on Twitter late Sunday. "I don't think so!"
In Beijing Monday, Chinese foreign ministry spokesman Lu Kang said China-U.S. trade has been of "mutual benefit" and that both sides "must exert efforts based on the important principles of relations between the two countries."
"As for the motivations behind certain actions of President-elect Trump and his team," Lu continued, "I don't want to speculate, but we certainly must declare our stand and attitude on issues that affect China."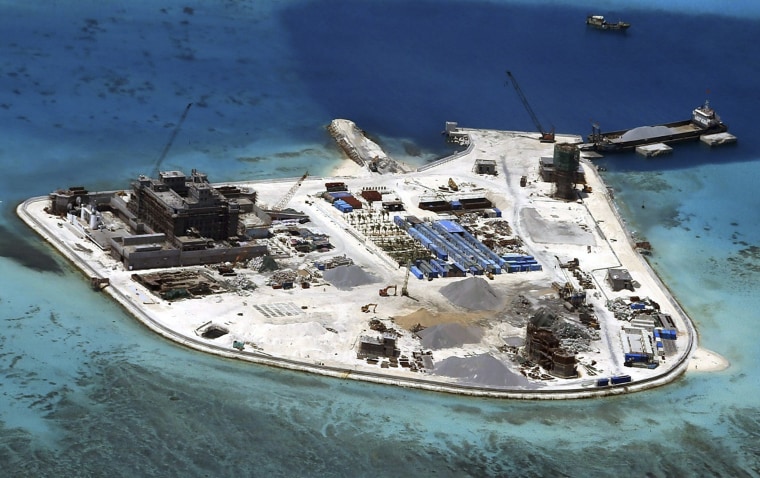 Trump has promised to label China a currency manipulator, and has drawn attention to China's recent action in enlarging reefs in the Spratly Islands — an archipelago in the South China Sea — and to Beijing's claim on 85 percent of the potentially resource-rich waters. This is disputed by China's neighbors, including the Philippines, Taiwan and Vietnam.
While Lu gave a cautious response, local media and social media users were far more outspoken.
"Trump's reckless remarks against a major power show his lack of experience in diplomacy," said the Global Times newspaper, which is known to represent the more extreme and nationalistic views of China's political establishment.
One user of China's Twitter-equivalent Sina-Weibo site mocked Trump, saying: "He is running the country with Twitter."
Another wrote: "The only way for the White House to have one day in peace is to cancel Donald Trump's twitter account."
Yet another user wrote: "This is why I support him, he will definitely accelerate the economic recession in the U.S."
Trump's comments on China came after he broke with decades of diplomatic protocol by speaking with Taiwan's premier Tsai Ing-wen by phone Friday.
The U.S. has not had diplomatic relations with Taiwan since 1979, when it recognized the People's Republic of China as the sole legal government. China sees Taiwan as a breakaway province and the two have nearly gone to war three times since 1949.
However, while the U.S. does not formally recognize Taiwan as an independent nation it has sold $12 billion in arms to the island as part of a 1970s agreement that commits Washington to helping Taiwan defend itself.
A spokesperson for the White House's National Security Council said Friday that the administration remains "firmly committed to our 'one China' policy."
That was followed by a statement on the Chinese Foreign Ministry website saying China had made "solemn representations" to the U.S. over the telephone call.
"China's solemn position about the Taiwan question is clear to the world," Lu said Monday. "I think the United States side, including president-elect Trump and his team is also very clear about [this]."
Also over the weekend, Trump tweeted a plan impose a 35 percent tariff on goods imported to the U.S. by American companies that have taken factories and jobs abroad — and even found time to pour scorn on Saturday Night Live, describing it as "unwatchable" and "totally biased!"