BEIJING – Following recent high-profile examplesof foreigners behaving badly in China, last week saw a spike of anti-foreigner sentiment that culminated in the announcement of a hundred day Beijing police crackdown on illegal immigration.
Among the commentators who applauded the crackdown was Yang Rui, a television host on China's state-run English-language TV network, CCTV-9. On his microblog on China's Twitter-like service, Weibo, Yang posted a bile-laden diatribe on how China's Public Security Bureau should deal with foreigners (Thanks to China Smack for the translation).
The Ministry of Public Security must clean out foreign garbage, arrest foreign thugs and protect ignorant/innocent girls, with Wudaokou (Popular student area in Beijing) and Sanlitun (Bar & restaurant district in Beijing] being the disaster areas [worst places]. Behead the snake heads [human traffickers], the unemployed Americans and Europeans who come to China to make money, trafficking in people, misleading the public and encouraging them to emigrate. Identify the foreign spies, who find a Chinese woman to cohabitate with, while their job is to collect intelligence, drawing maps and perfecting GPS [coordinates] for Japan, Korea, Europe, and America under the guise of being tourists. Drive out the foreign shrew, shut down Al-Jazeera's Beijing Office, let those who demonize China shut their mouths and f--k off!
The vitriol in Yang's post is appalling but is made all the more worse by his day job. Yang co-hosts "Dialogue," a current event news talk program in the vein of "Meet the Press" and the "Charlie Rose Show."  On his program, Yang invites foreign experts to discuss topical world and China-related news.
That Yang holds such inflammatory opinions of foreigners is worrying, given that he's the host of one of CCTV's more venerable news programs charged with providing a forum for the civil exchange of ideas and opinions between China and the outside world.
Ad hominem attacks on foreigners aside, particularly worrying are Yang's charges that foreign spies have infiltrated China-- at a time when Chinese suspicions of foreign containment are already running high.
Yang's comments come after a series of high-profile incidents that have provoked extreme nationalist rhetoric in public debate: sovereignty in the South China Seas, American recommitment to Asia and the recent kidnapping of Chinese fishing vessels by North Korea.
Guests who have appeared on Yang's show have contributed to the negative fall-out.  The Atlantic's James Fallows –who during his years in China appeared now and then on the programme– posted an excellent piece on his blog about what it was like to appear on "Dialogue." Similarly, Charlie Custer, founder of tech blog China Geeks and a two-time guest on the show also expressed his outrage and even confronted Yang on Weibo about his post.
Yang responded on Weibo by calling for the Public Security Bureau to investigate Custer and even threatened to sue him.
One thing that is clear from the reaction by Fallows, Custer, and other foreign guests:  It's about to get a little bit harder for Yang to find foreigners willing to appear on his show.
Explanation or apology?
NBC News attempted to call Yang; an email sent to him today went unanswered. Butthe embattled host penned a statement in today's edition of the Global Times, apparently as a response to a Wall Street Journal story about the incident.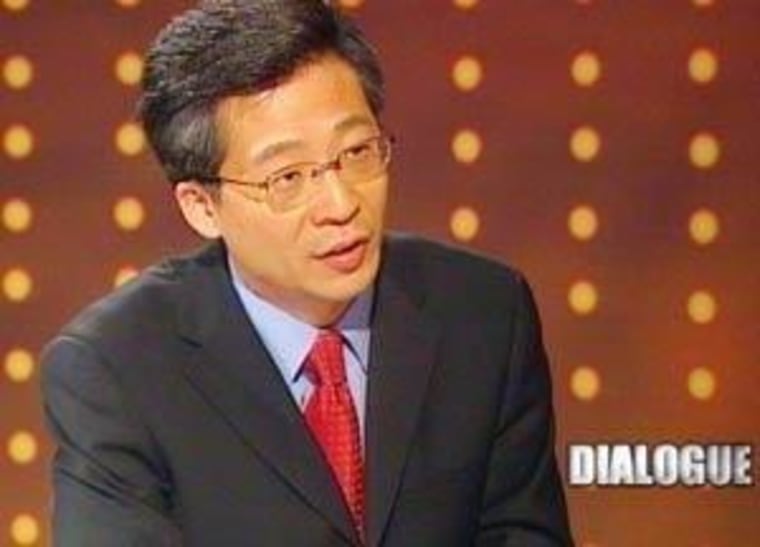 In this statement, Yang claimed his comments were a reaction to last week's news and a "wake-up call" for both Westerners and Chinese. While he acknowledged that there was a "silent majority in the expat communities who obey and respect our culture and society," by singling out the "foreign trash," Yang argues he was "protecting the reputation of decent Westerners."
However, he stood by his comments on Al Jazeera and the "foreign shrew," a reference to Al Jazeera correspondent, Melissa Chan, who earlier this month became the first foreign reporter to be expelled from China in more than a decade.
Yang remains unapologetic about his characterization of Chan, only making the point that translations of his post had mislabeled her "b—ch" instead of "shrew."
China is currently investing millions of dollars into what have been branded as "soft power" initiatives, designed to improve the mainland's global standing.  They include the development of enterprises like CCTV America, China's new 24-hour cable news channel seen in the United States, which is meant to provide a more polished and China-centric interpretation of world news.   
The success of such programming will rely significantly on China's willingness to provide a measured and open look at itself. But that willingness looks threatened by examples of Yang.