HONG KONG — China said Monday that high-altitude balloons belonging to the United States had flown over its airspace without permission more than 10 times since early last year.
"It is nothing rare for U.S. balloons to illegally enter other countries' airspace," Chinese Foreign Ministry spokesperson Wang Wenbin said at a regular news briefing.
"The U.S. should first reflect upon itself and change course instead of smearing other countries," he added.
Wang did not provide further details about the alleged incursions or say whether the balloons appeared to be military in nature or used for spying purposes. He said China reserves the right to use "any necessary means" to deal with such situations.
White House National Security Council spokesman John Kirby responded Monday, "We are not flying surveillance balloons over China."
"I'm not aware of any other craft that we're flying into Chinese airspace," he told reporters at a White House briefing.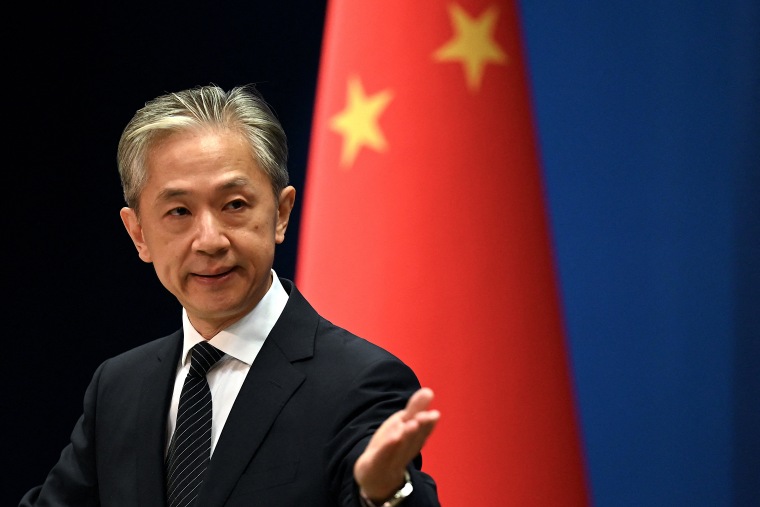 Wang's remarks were the first such accusations Beijing has made against Washington since the U.S. military earlier this month shot down a balloon off the coast of South Carolina that the Biden administration says China was using for surveillance. China says it was a civilian unmanned airship conducting meteorological research that had strayed off course and that the U.S. overreacted by shooting it down.
Wang also said that China had no information on the three unidentified objects shot down over North America in recent days, one over Alaska on Friday, one over Canada on Saturday and one over Michigan on Sunday.
It is not clear whether those objects, which were flying much lower, are linked to China or the earlier balloon. Wang said he had no information about them.
Pentagon officials told reporters late Sunday that they had not been able to assess what the objects were and that they had "acted out of an abundance of caution."
"The spy balloon from the PRC was of course different in that we know precisely what it was," Melissa Dalton, assistant secretary of defense for homeland defense and hemispheric affairs, said using the initials for China's formal name, the People's Republic of China.
Officials said the apparent increase in the detection of unidentified flying objects might be partly explained by the fact that the Pentagon has been scrutinizing U.S. airspace more closely since the balloon was shot down, including enhancing radar systems.
China, meanwhile, is monitoring an unknown flying object in its own territory, according to The Paper, a Chinese news outlet. In a report Sunday, it said maritime authorities in the eastern province of Shandong had alerted local fishermen that they were getting ready to shoot down the object, which was detected over waters near the coastal city of Rizhao.
The report did not give details about the object, such as where officials believe it might have originated, and Wang did not address a question about it from reporters.
Collin Koh, a research fellow at the Institute of Defense and Strategic Studies at the S. Rajaratnam School of International Studies in Singapore, said the Chinese report of an unidentified flying object could be interpreted as an attempt by Beijing to deflect attention from its surveillance balloon program after earlier damage control efforts proved ineffective.
"The objective seems to be quite obviously to sort of highlight to the entire international community that China is also a victim," he said, although that doesn't necessarily mean the object isn't there.
In addition to shooting down the Chinese balloon, Washington has responded by postponing a planned visit to China by Secretary of State Antony Blinken and blacklisting six Chinese entities it says are linked to China's aerospace programs, a decision that Wang criticized.
Nonetheless, Wang said the two countries were maintaining necessary communications.
"The key is to be cool-headed, professional and restrained," he said.
Jennifer Jett reported from Hong Kong and Janis Mackey Frayer from Beijing.