HONG KONG — Outraged versus being a global power broker: China has had to consider which look suits the moment as it held military drills around Taiwan.
The three days of scheduled exercises, which the Chinese military said simulated an aerial and naval blockade, as well as precision strikes against key targets, began Saturday as Taiwanese President Tsai Ing-wen returned to Taipei after a U.S. transit stop that included a meeting with House Speaker Kevin McCarthy in Los Angeles.
China, which claims self-ruling Taiwan as its own territory, had repeatedly warned against the meeting between Tsai and McCarthy, the most senior U.S. official to meet a Taiwanese leader on U.S. soil since Washington switched diplomatic recognition from Taipei to Beijing in 1979. It views such official contact as a violation of Washington's "one-China" policy, under which it recognizes Beijing as the sole legitimate government of China but maintains unofficial relations with Taipei.
While the exercises took place under policies that have governed China's actions for decades, more recent developments seem likely to have tempered its reaction: China last week hosted several senior officials from abroad, including French President Emmanuel Macron. Notably, Beijing did not ramp up its military response until after they left.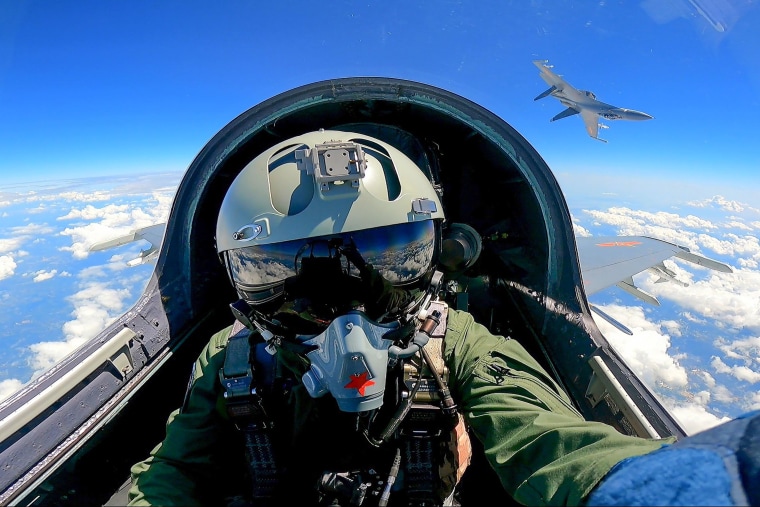 The combat readiness patrols, dubbed "Joint Sword," took place in three areas in waters around Taiwan and were successfully completed Monday, the Chinese military said. A Chinese aircraft carrier took part in the patrols for the first time, with the Japanese military posting video of a fighter jet taking off from the deck. Live-fire drills off the Chinese coast will continue until April 20.
Experts say the exercises were smaller in scale and severity than Beijing's actions last August, when it encircled Taiwan with unprecedented live-fire military drills in response to a visit by then-Speaker Nancy Pelosi.
China's show of strength this time was tempered by the negative global reaction to those military exercises, said J. Michael Cole, a senior adviser on countering foreign authoritarian influence at the International Republican Institute.
Beijing is also wary of undercutting the image it is trying to cultivate as a moderate alternative to American global dominance, as well as a potential mediator in Ukraine.
"You cannot propose a peace plan in Europe while at the same time you are launching large-scale military exercises against a neighbor," said Cole, who is based in Taipei.
An overly aggressive response by Beijing, he added, would also risk derailing efforts to repair relations with Washington, which reached a new low in February after the downing of a Chinese surveillance balloon over U.S. territory prompted Secretary of State Antony Blinken to postpone a planned visit to the country.
Taiwan condemned the latest military exercises and said it would firmly defend its sovereignty without escalating conflict.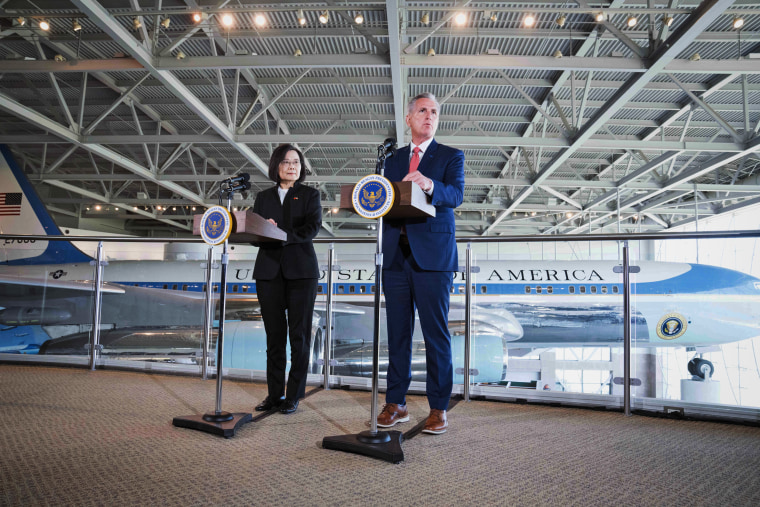 "China cannot dictate how our friends internationally would interact with Taiwan," Taiwanese Foreign Minister Joseph Wu told NBC News in an interview Monday. "And these kinds of interactions have been going on for many, many years."
The American Institute in Taiwan, which serves as the de facto U.S. embassy, said it was closely monitoring China's drills and that it was "comfortable and confident" that there were sufficient resources and capabilities in the region to ensure peace and stability.
"Our channels of communication with the P.R.C. remain open and we have consistently urged restraint and no change to the status quo," a spokesperson said, using the acronym for the People's Republic of China. 
Chinese Foreign Ministry spokesperson Wang Wenbin defended the exercises Monday, saying they were a "stern warning" and a "necessary move to safeguard national sovereignty and territorial integrity."
Taiwan's Defense Ministry said that as of 6 a.m. local time Monday (6 p.m. Sunday ET), it had detected 70 Chinese military aircraft and 11 Chinese military vessels around the island in the past 24 hours, similar to the number the two previous days. Half of the planes entered Taiwan's self-declared air defense identification zone after crossing the median line, an unofficial boundary in the Taiwan Strait that China has been traversing more regularly.
Later Monday morning, the ministry said an additional 59 Chinese military aircraft had been detected near Taiwan between 6 a.m. and 10 a.m., with 39 crossing the median line. China's military spokesman said the drills have shown that Chinese troops are "ready to fight at all times to crush any form of 'Taiwan independence' and foreign interference attempts."
Although China sends warplanes toward Taiwan almost daily, the numbers tend to increase after events such as the McCarthy-Tsai meeting that it views as provocative.
On Monday, a U.S. Navy destroyer sailed near the Spratly Islands, a disputed archipelago in the South China Sea, in what military officials said was a freedom of navigation operation. China, which claims sovereignty over almost all of the South China Sea, said the U.S. ship had illegally entered Chinese waters and that it had monitored the ship's transit.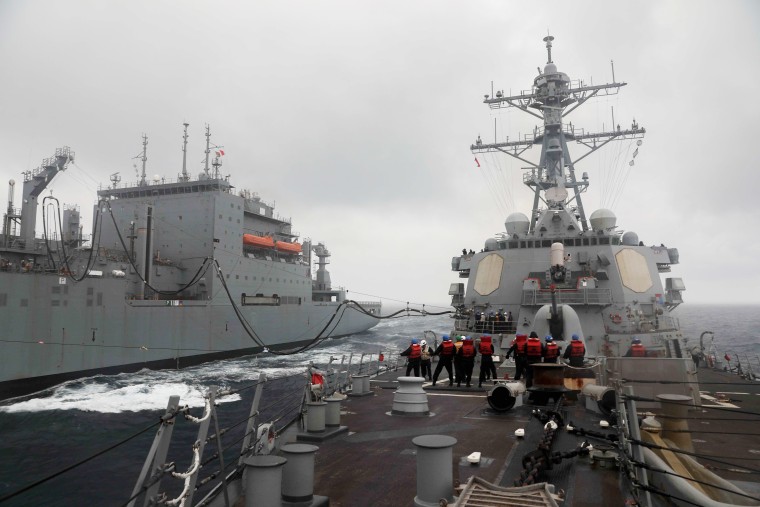 China earlier announced sanctions against the Ronald Reagan Presidential Library, where McCarthy and Tsai met Wednesday, and the Hudson Institute, a conservative think tank that gave Tsai an award while she was in New York last month, saying they had provided a platform for the promotion of "separatist" activity.
A visit to Taiwan by a bipartisan congressional delegation led by Rep. Michael McCaul, R-Texas, the head of the House Foreign Affairs Committee, has received minimal response from Beijing by comparison. The U.S. lawmakers left Taipei on Saturday after meeting with Tsai.
Since Chinese leader Xi Jinping officially began an unprecedented third term as president in March, he has embarked on a flurry of diplomatic activity that includes visiting Russian President Vladimir Putin in Moscow in March and receiving senior Western officials such as Macron and European Commission President Ursula von der Leyen, who were both in Beijing last week.
China held off on its military drills around Taiwan until after the departures of Macron and von der Leyen, as well as former Taiwanese President Ma Ying-jeou, who was in China until Friday on a historic 12-day visit.
Also last week, the foreign ministers of Iran and Saudi Arabia met in Beijing to follow up on a surprise deal that China brokered last month to restore diplomatic ties between the two rivals for the first time in seven years.
"The timing of the exercises underscores Beijing's efforts to balance deterring closer U.S.-Taiwan relations against broader interests in fortifying ties with trading partners and building global diplomatic influence," said Ava Shen, an associate who covers Taiwan and Chinese foreign policy at Eurasia Group, a consulting firm based in New York.
Courtney Kube reported from Taipei, Jennifer Jett reported from Hong Kong, and Janis Mackey Frayer reported from Beijing.