BEIJING – A planned meeting between President Barack Obama and the exiled Tibetan spiritual leader the Dalai lama would "seriously damage" U.S. relations with China, a Chinese Foreign Ministry official said Friday.
The White House National Security Council said Obama would meet the Dalai Lama, a Nobel Peace Prize laureate, at the White House on Friday in a show of concern about China's human rights practices.
China meanwhile, calls the Dalai Lama a "wolf in sheep's clothing" who seeks to use violent methods to establish an independent Tibet. The Dalai Lama, who fled to India after a failed uprising in 1959, maintains he only wants genuine autonomy for Tibet and denies advocating violence.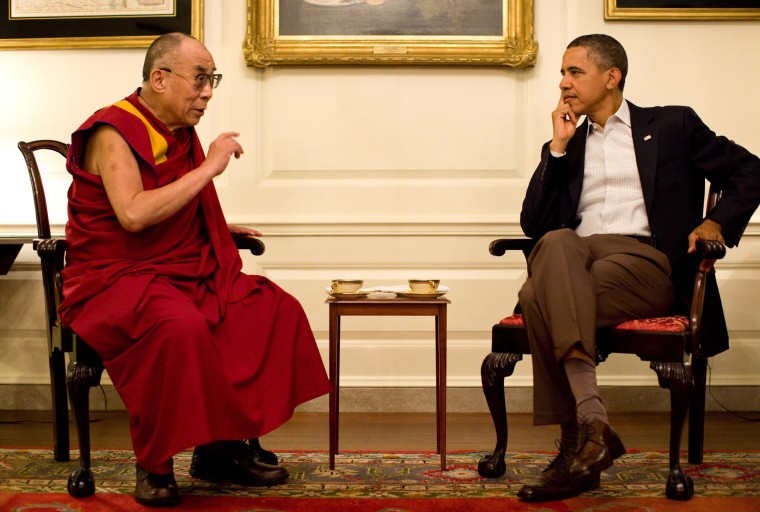 "The United States' arrangement for its leader to meet the Dalai would be a gross interference in China's internal affairs and is a serious violation of the norms of international relations," Chinese Foreign Ministry spokeswoman Hua Chunying said in a statement.
"It will seriously damage Sino-U.S. relations. We urge the United States to take seriously China's concerns, immediately cancel plans for the U.S. leader to meet the Dalai, do not facilitate and provide a platform for Dalai's anti-China separatist activities in the United States," she added.
In what appeared to be a small concession to the Chinese, Obama will see the Dalai Lama in the White House Map Room, a historically important room but of less significance than the Oval Office.
The United States recognizes Tibet as part of China and does not support Tibetan independence, but supports the Dalai Lama's approach for more autonomy, said Caitlin Hayden, a spokeswoman for the White House National Security Council.
-- Reuters