BEIJING — The death toll from a new flu-like coronavirus in China rose from nine to 17 on Wednesday, state media reported, as authorities all but shut down the metropolis of 11 million people where the outbreak is believed to have begun.
Although the origin of the virus has yet to be pinpointed, Chinese and international health officials have linked the outbreak to the Huanan Seafood Wholesale Market market in Wuhan, the sprawling capital of Hubei province in central China.
The market was closed on Jan. 1, and it was locked down, cleared out and placed under police guard Wednesday.
The state-run China Global Television Network, or CGTN, reported that public transportation in Wuhan — including buses and the metro — will be suspended beginning Wednesday to contain the spread of the virus, as will long-distance trains and planes entering or leaving the city.
Federal health officials said strict control measures would be implemented across Wuhan, including increased screening at train and bus stations. Live animals, including poultry, will not be allowed into the city, and authorities are discouraging public gatherings across central Hubei province.
China's state newspaper, People's Daily, reported Wednesday that Hubei province plans to request emergency support from the federal government that would include 40 million medical masks, 5 million sets of protective clothing and 5,000 sets of infrared thermometers.
CGTN reported that 544 people are confirmed to have been infected across China. Li Bin, deputy minister of the National Health Commission, said there was already evidence that the virus was being spread through "respiratory transmission."
"Recently there has been a big change in the number of cases, which is related to our deepening understanding of the disease, improving diagnostic methods and optimizing the distribution of diagnostic kits," Li told reporters.
A case of the disease was confirmed in a U.S. patient on Tuesday, federal health officials said. On Wednesday, President Donald Trump said the virus has been "handled very well" in the United States.
"We're in very good shape. And I think China's in very good shape, also," the president said in Davos, Switzerland, where he is attending the World Economic Forum.
The U.S. Centers for Disease Control and Prevention expanded screening of passengers from Wuhan to five airports Tuesday, adding Hartsfield-Jackson Atlanta and O'Hare in Chicago to airports in Los Angeles, New York and San Francisco. All passengers whose flights originate in Wuhan will be rerouted to one of those five airports, the CDC said.
At Wuhan airport, Lawrence Chen, a Connecticut man traveling to New York, said Wednesday that he was slightly nervous heading back.
"I am not sure what to anticipate in New York — it may take a long time to come out," Chen, wearing a black face mask, said in an interview said as he waited in line with other face mask-clad passengers to check in for their U.S.-bound flight.
Chen was taking basic precautions not to get sick, such as wearing the mask and washing his hands. "That's all I can do," he added.
As China vowed to tighten containment measures in hospitals, the World Health Organization said Wednesday that it was not yet ready to declare the outbreak a global health emergency. It said it needed more information and would resume considering the question Thursday.
In recent days, the virus has spread to Chinese cities including Beijing, Shanghai and the gambling hub Macao, as well as the United States, Thailand, South Korea, Japan and Taiwan.
Health officials are also looking into a suspected case in Hong Kong.
Download the NBC News app for breaking news
The Chinese government has been providing daily updates on the number of cases to head off panic as millions of people prepare to travel domestically and abroad for Lunar New Year celebrations starting this week.
"At present, during the Lunar New Year, the rise in the mobility of the public has objectively increased the risk of the epidemic spreading and the difficulty of prevention and control," said Li of the National Health Commission, warning that the mutation of the virus could allow the outbreak to spread further.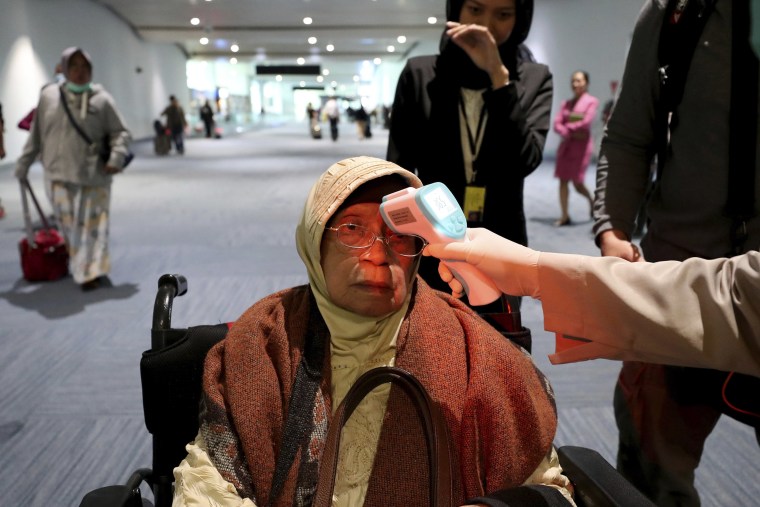 Fears of a pandemic similar to the SARS outbreak that started in China and killed nearly 800 people in 2002-03 have roiled global markets, with aviation and luxury goods stocks hit particularly hard and the Chinese yuan tumbling. SARS, or severe acute respiratory syndrome, is also a coronavirus.
Li said there was as yet no evidence of "super-spreaders" capable of disseminating the virus more widely, as happened during the SARS outbreak.
Symptoms in patients who contract the new virus include fever, coughing and difficulty breathing. The viral infection, which can cause pneumonia, can be passed from person to person.
Eric Baculinao reported from Beijing, Janis Mackey Frayer from Wuhan and Yuliya Talmazan from London.