Hong Kong residents voted in record numbers Sunday in a bitterly contested legislative election, with a push for independence among a disaffected younger generation of candidates and voters stoking tension with China's government.
Hong Kong's pro-democracy opposition is hoping to maintain a one-third veto bloc in the 70-seat legislative council in the face of better-mobilized and -funded pro-Beijing and pro-establishment rivals.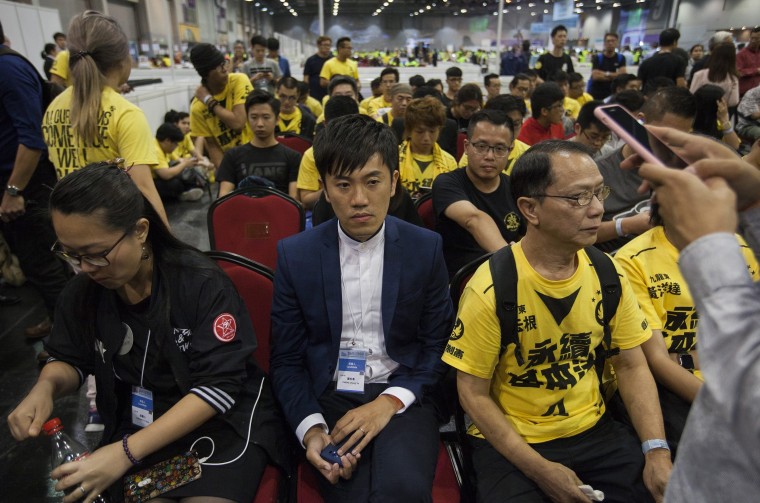 Voters flocked to cast ballots in record numbers, with some having to wait several hours after the close of polling, to cast ballots at a few particularly congested polling stations.
Full results aren't expected until later Monday.
The former British colony was handed back to China in 1997 under a "one country, two systems" agreement that promised to maintain the global financial hub's freedoms and separate laws for at least 50 years but gave ultimate control to Beijing.
The Electoral Affairs Commission said 58 percent of the city's 3.8 million eligible voters had cast ballots, up from 53 percent in 2012, and the highest turnout for any legislative election since 1997.
The turnout reflected the city's heightened political discontent and urgent appeals by candidates, some from new radical groups, jostling for extra votes in a highly competitive poll.
Much attention focused on a group of about 20 pro-democracy "localists" pushing a more radical, anti-China agenda who could become a fledgling new force in the legislature.
Many residents see the 79 days of student-led "Umbrella Revolution" protests in 2014 as a turning point in the city's politics even though Beijing gave no ground.
Since then, many disaffected youngsters have decried what they see as increasing Beijing interference to stifle dissent and civil liberties, leading to a radicalization of the political scene and occasional violent protests and a riot.
Despite the disqualification of six pro-democracy election candidates from the election in July on the grounds that they supported independence, preliminary results showed several localists and young democrats likely winning seats.
Hong Kong's opposition now controls 27 of the legislature's 70 seats, giving it a veto bloc over funding and various legislative bills including those it sees as eroding freedoms.