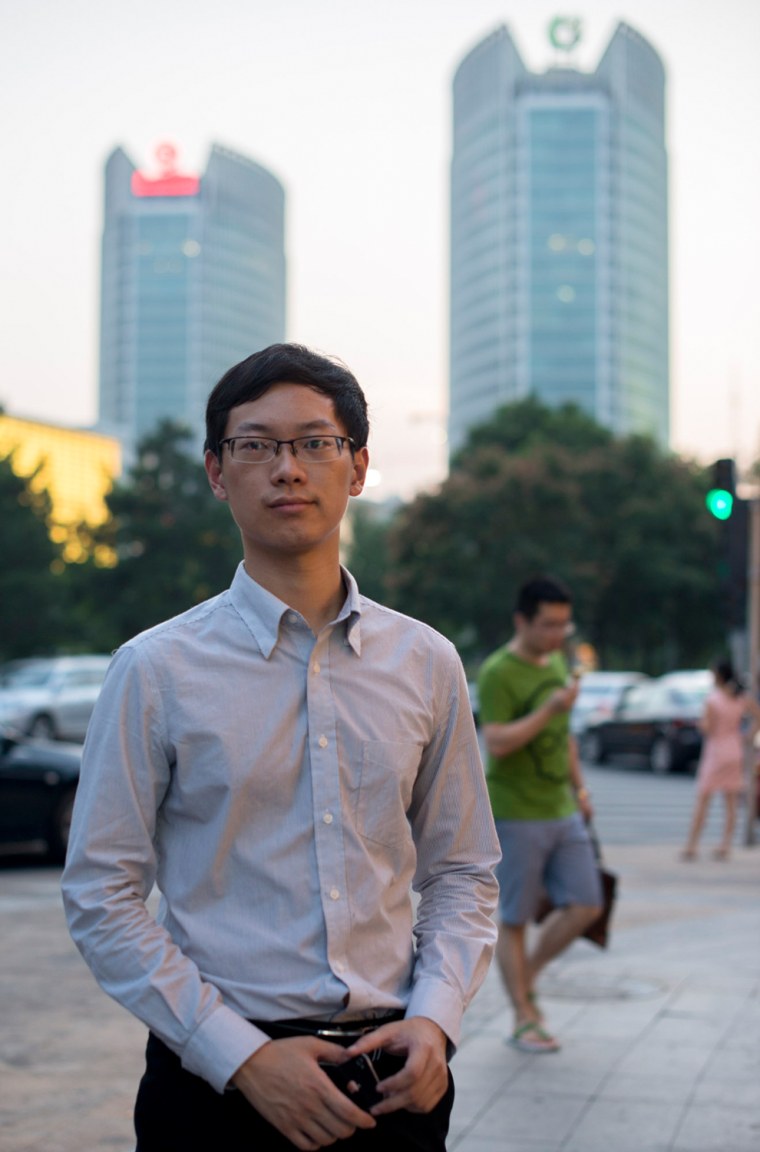 This story is part of Future Shock: Millennials in Crisis, a series looking at how young people around the world are grappling with the transition to adulthood in a challenging global economy. 
BEIJING – Academic success has been seen as the key to prosperity and achievement in China for decades. But the country's slowing economy looks set to make it tough for this year's 7 million new college graduates to achieve the upward social mobility that many have considered their birthright. In fact, Chinese state media has dubbed 2013 the hardest job-hunting season ever.
Hu Qingyan is a case in point. Less than a month after beginning her first post-college job, the 24-year-old management graduate is already thinking of finding something new.
A native from a small town in Hebei province in northern China, Hu aspired to a life in the big city.
Despite her parents' opposition, Hu came to Beijing to look for a job after finishing college in June. After weeks of searching and with money running out, she took what was her only job offer.  
Now she cold calls potential investors for her employer's business. She gets hung up on and cursed at, and her commute is an hour-and-a-half each way. Hu does not like it, and dreams of a job as a secretary or in human relations.
"I know these jobs might sound boring, but life is limited," she said. "I do not want to live a hard life."
Guo Sheng, CEO of Zhaopin.com, a top recruiting company in China, said the increasing number of new graduates and slowing growth of new jobs are the two main reasons for this year's tough job market.
China's government decided to expand access to higher education in the late 1990s. The idea at the time was to ease the tight job market for high school graduates by sending them to school for four more years. With nearly seven times more students graduating from college in 2013 than in 1998, the move ironically helped create the current crunch.
Still, only 5 percent of China's 1.3 billion population have attained higher education, compared to 42 percent in the United States. 
The slowing economy is also clearly having an impact on job prospects. The government announced a growth rate of 7.5 percent in July, which is impressive by world standards but China's slowest pace in 23 years.
Recent graduate David Ni, 23, plunged into the tough job market after earning his degree from Beijing Foreign University, a solid second-tier school, in June. Anticipating the challenge, David changed his major two years ago when he applied to graduate school to make himself more attractive to finance companies, and began his job search last September. He finally got an offer at a state-owned financial firm – a position well below his original expectations.
"I applied to all the top international investment banks, like Goldman Sachs," David explained.
"But they only hired students from top 10 Universities like Beijing University and Tsinghua University."
Many new graduates like David may have more trouble finding their dream jobs because tend to search only in big cities like Beijing and Shanghai, said Guo of Zhaopin.com. 
Xu Wenxue, a 24-year-old from a village in Anhui province in eastern China, is an example of a recent graduate who found success off the beaten track. Initially reluctant to leave Beijing after graduating two years ago, Xu accepted a job as a local government official in the village of Baihutou, three hours from downtown Beijing. He hopes the position will help him get on track for a career in civil service.
Now Xu lives in a small picturesque village in a valley surrounded by mountains that has a population of just 200. Most of its residents are over 60 – other than a handful of children under 10, Xu is the youngest resident by far. Most young people flock to cities to find work. 
The government created the "cun guan" or village official project in 1996 as a three-year service program that leads to permanent civil service jobs. In 2010, they increased the number of positions available to 200,000 to help fill the gap in jobs from the global financial crisis. 
Xu's duties include everything from drafting local administrative policy for the village to helping farmers fill out pension forms. Xu has found that he likes the job and gets satisfaction helping the villagers. Plus he is adored by the village's older residents, he says.
Still, Xu will be ready to move on when his contract ends in July. He hopes to continue working for the government, but in Beijing, and not a tiny village.   
"Baihutou village is too isolated and under developed," Xu said.  
Like Xu, David hopes he will eventually get a top position and become a person of influence in his industry. But, like other recent graduates in China, he has learned those dreams are still years away.
Related links: