LONDON—China's biggest political scandal in decades has embroiled not just the U.S. but increasingly the U.K.
The series of publicly known events culminating in the removal of rising political star Bo Xilai from power appeared to have been triggered by an attempt by Bo's former police chief to seek asylum in a U.S. consulate in Chengdu back in February.
However, it looks increasingly like it was the death of a British businessman last year that set off the chain of events.  And while it might not lead to any firings in the U.K. government, it certainly appears to have ruffled feathers in London.

Murder in Chonqging?
hint
Now it looks as though Bo's ex-crimefighter, Wang Lijun, had evidence suggesting that Bo's wife, Gu Kailai had engineered Heywood's death.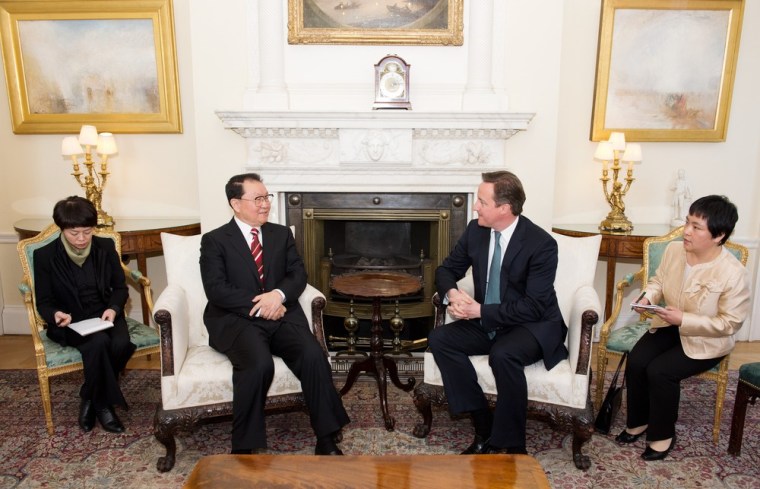 New details on Tuesday about Wang's frantic 36-hour stay at the U.S. consulate in Chengdu in February suggest he tried to give American diplomats information implicating Gu in Heywood's death and demonstrating that Bo had tried to prevent an investigation into his wife's role. 
In a startling revelation, also on Tuesday, sources close to the Chinese investigation told Reuters that Heywood had threatened to expose Gu's plan to move large sums of money overseas after a dispute over his cut from the transaction.   
Chinese officials began stepping up their inquiry into Heywood's death after Wang was whisked away by Beijing authorities following his visit to the U.S. consulate.
Scandal sends China's netizens into afeeding frenzy
In Britain, opposition members of Parliament (MPs) have raised questions whether the U.K. government had been too cautious or slow to raise concerns in the case because it did not want to jeopardize commercial prospects in China.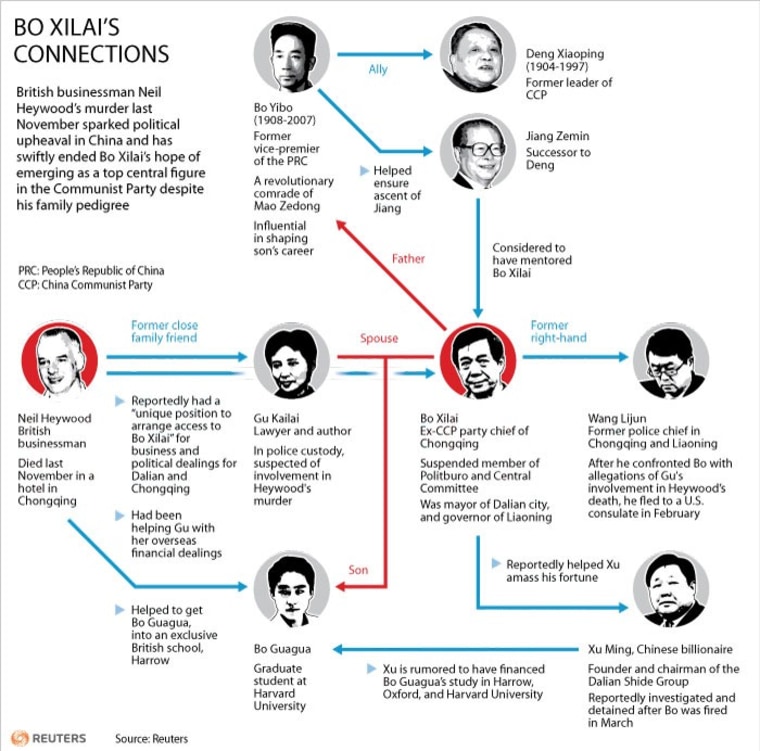 During Tuesday's Parliament session, Foreign Secretary William Hague presented MPs with a detailed timetable of events surrounding Heywood's death.
"We have demanded an investigation. The Chinese authorities have agreed to conduct an investigation. There's been a further discussion of that this afternoon," he told MPs.  "
Hague said Foreign Office officials first heard in mid-January of rumors circulating amongst British expats in China.
But it wasn't until a month later — a day after Wang's ill-fated visit to the U.S. consulate — that officials flagged the case with Hague and other ministers back in London.
British government under heat
Hague's appearance in Parliament coincided with a visit to 10 Downing Street by one of China's top ministers, Li Changchun.
Li — the propaganda chief and a member of the all-powerful Communist Party Politburo Standing Committee — held a meeting with British Prime Minister David Cameron, who raised the matter with him.
In an abrupt departure from the earlier muted approach, Cameron has promised to demand more from the Chinese on Heywood's death, which has become tabloid fodder over here.  Cameron also read the riot act to his intelligence chiefs.
The Foreign Office has declined to comment further on Li's meeting or the situation regarding Heywood.
The story, in the meantime, continues to rivet the public in Britain and in China.
"I guess it's just a good story for normal people," said an overseas Chinese national now living in London who only wanted to be identified as Lucy.  "Murder, high-powered officials, it's got all the ingredients."