SHANGHAI — Patients are crammed into hallways, stairwells and lobbies, and still the sick keep coming.
In scenes reminiscent of the start of the coronavirus pandemic in 2020, Chinese hospitals are struggling to cope with a surge in Covid-19 cases following the country's decision to scrap its "zero-Covid" policy in early December.
Although the move relaxed three years of strict measures that had set off rare mass unrest, it also unleashed the virus on a population of 1.4 billion people that had been largely shielded from it. After international criticism that it had not been transparent about the severity of the outbreak, the Chinese government said last weekend that it had recorded 60,000 Covid-related deaths since Dec. 8.
But that figure covers only those who have died in hospitals, suggesting the true death toll could be much higher. An estimate on Tuesday by Airfinity, an independent forecaster based in London, put the number of Covid-related deaths in China since Dec. 1 at 608,000, 10 times the official figure.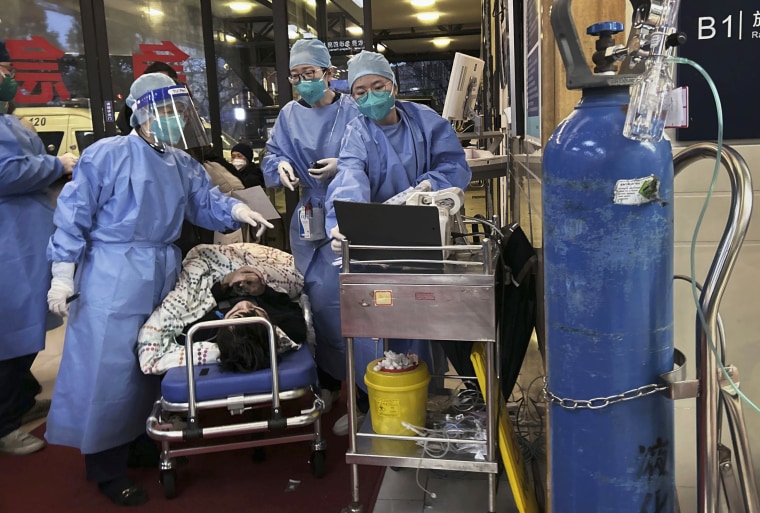 "Our forecast estimates a significant burden on China's health care system for the next fortnight," Dr. Matt Linley, Airfinity's analytics director, said, "and it is likely that many treatable patients could die due to overcrowded hospitals and lack of care."
NBC News witnessed chaotic scenes in overcrowded hospitals in Shanghai, China's financial center and most populous city at 26 million people. Less than a year after a grueling two-month lockdown in an effort to stamp out the virus, the city is now experiencing the consequences of letting it loose.
The bodies of those who die in the hospital are taken for cremation. At one funeral home visited by NBC News, their families are allotted 10 minutes to say goodbye. Relatives carry flowers and pictures of the dead through the rain to their designated time slot.
"My father had no symptoms but still died," one 31-year-old woman said outside a hospital in central Shanghai. Her mother, who has heart disease, was still hospitalized with the virus.
"Thirty-five people passed away the day before yesterday, right here," said the woman, who lives in Australia and like others interviewed did not wish to be named due to the political sensitivity of the issue in China. "Since my mom was here, I've come here to see [her] every day. On the day my father moved into the hospital, almost all patients in the emergency department died."
The intensity of the outbreak has taken her and many others by surprise.
"It's way more severe than I expected, much more severe," the woman said. "Especially for seniors, whether or not they have had some diseases before, the virus could end their lives."
The hospital here is so busy, street vendors have set up outside to profit from the spike in visitors after almost two years of scraping by with hardly any business at all.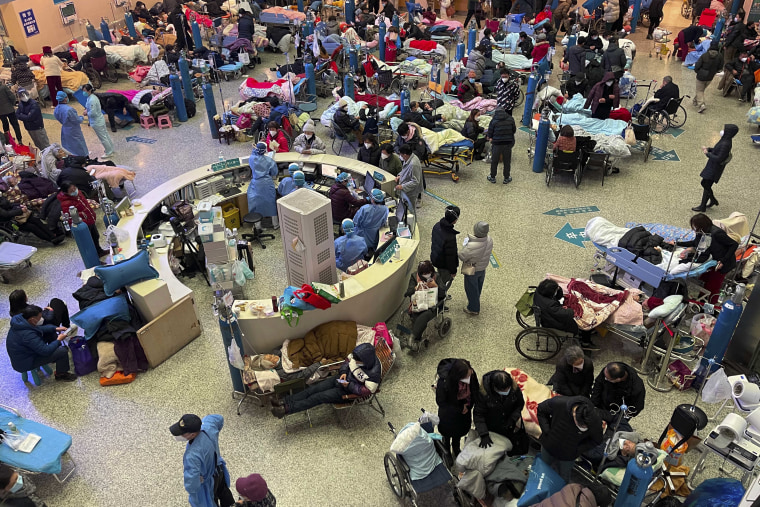 "Most of my customers are the families of the patients and the patients themselves, or the nurses inside the hospital," one vendor said.
Satellite images taken in December and January by the Colorado-based space technology company Maxar showed a high number of cars as well as new construction at crematoriums in cities across mainland China, providing a glimpse into the outbreak's human cost.
At a funeral in Shanghai, a woman leaving the crematorium cried: "Why did you leave us so soon? Now I'm alone in the world."
China on Thursday repeated complaints about Western media coverage of its outbreak, with an editorial in People's Daily, the official newspaper of the ruling Communist Party, criticizing reports in some unidentified outlets as "completely biased hype, smear and political manipulation with ulterior motives."
It said life was returning to normal in places where cases had peaked, as residents in some major cities have also told NBC News.
Chinese President Xi Jinping said Wednesday that "zero-Covid" had been the "right choice" for China for most of the pandemic but that the government's response had entered a "new phase."
"Tough challenges remain, but the light of hope is right in front of us," he said in a virtual meeting with medical staff at a hospital in the northeastern province of Heilongjiang, according to state media.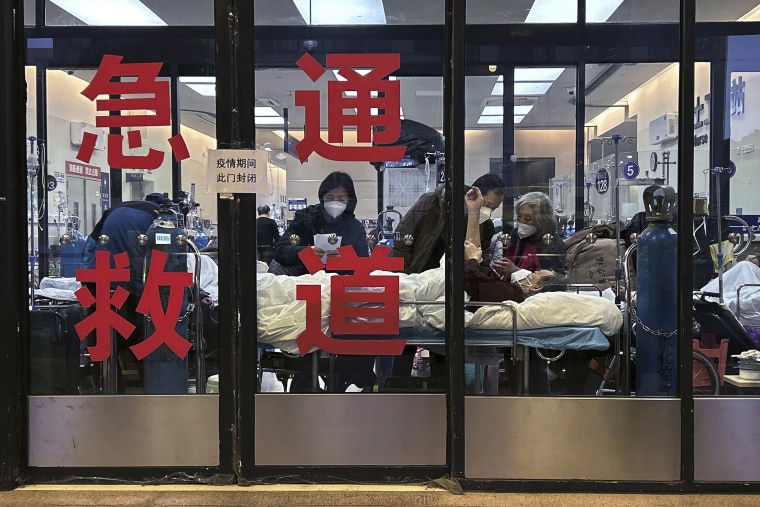 Xi said he was particularly worried about those living in rural areas, as huge numbers of people travel to their hometowns for the Lunar New Year, also known as Spring Festival, which officially starts on Sunday. Rural areas in China often have much fewer medical resources than cities.
"For the next two or three weeks, we know the virus is going to find its way to every last corner of the country," said Ben Cowling, chair professor of epidemiology in the School of Public Health at the University of Hong Kong. "That means in rural areas they're going to have lots of infections, most likely within a short space of time, and the impact may be greater because of that lack of resources."
Also on Wednesday, Chinese authorities announced a crackdown on pandemic "rumors" during the holiday, calling it a "Spring Festival online environment improvement" program.
Despite strict censorship, stories and complaints about the virus outbreak have spread widely on Chinese social media, challenging the official narrative that it is under control. Among other issues, the Cyberspace Administration of China said over the next month it would take action against "fabricating patient experiences" and promoting fake virus treatments in order to "prevent gloomy sentiments" during the Lunar New Year.