TEL AVIV, Israel — Yue Ting finally went "home" to Israel this week.
She had been looking forward to the day for years — where she comes from there are no synagogues or rabbis.
"Our ancestors are Jews ... I have to be here," said Yue, a 25-year-old primary school teacher who intends to become an Israeli citizen along with four other women from her hometown of Kaifeng in Henan province.
Growing up in China, Yue Ting always thought she was Jewish but she never understood quite what that meant.
"As a child my parents and people around me always called me 'Jewish girl,'" Yue told NBC News. "I didn't understand the meaning of Jewish at that time."
Yue and the four other women traveling with her are among some 1,000 traceable descendants of the Jewish community in Kaifeng, once the imperial capital of the Chinese Song dynasty. The Kaifeng's Jewish population was established by travelling merchants from the Middle East and Persia as early as the 7th century and once numbered as many as 5,000.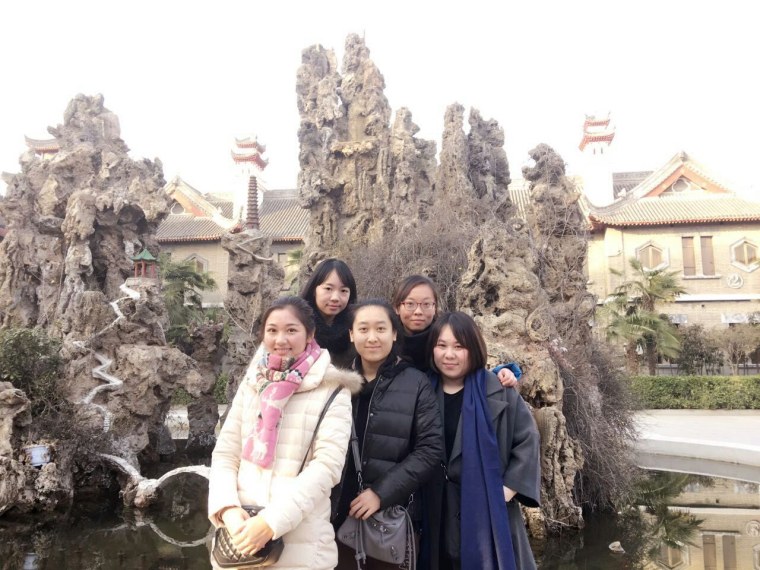 Since their last synagogue was destroyed by floods more than two centuries ago and their rabbinical tradition died out, little remains of the city's Jewish roots.
"We began to lose our Jewish tradition," said Yue, whose family kept kosher growing up, but did not know how to pray or read in Hebrew.
For many Jewish descendants in Kaifeng, their heritage is little more than family folklore.
"When I was a little girl my father and my grandfather taught me we are Jews," said Li Yuan, 26, who is also making the journey with Yue Ting.
Assimilation, intermarriage and Communist rule "almost succeeded" in eradicating the last traces of Judaism in Kaifeng, according to Michael Freund, founder of Shavei Israel, an organization that helps "lost" or "hidden" Jews emigrate to Israel.
Freund has helped 19 Kaifeng Jews travel in Israel since 2006 and has been instrumental in Yue's journey.
"Judaism is not a recognized religion in China ... in the eyes of the government they are Han Chinese just like anyone else," he said.
For Yue, who spent four years studying in Israel as a teenager, returning to Israel permanently is the key to unlocking her Jewish identity.
"I know I am Jewish," said Yue. "To be Jewish I have to go back to Israel ... I've been waiting for this time for a long time."
Li Yuan agreed: "We need to come back to Israel, this is our home."
In 2015 more than 30,000 people made what is known in Hebrew as "Aliyah" — the return of diaspora Jews to Israel. The rite is encouraged by the Israeli government, but Kaifeng's Jews face extra challenges in the bid for citizenship because they don't meet the official criteria required under the country's laws of return.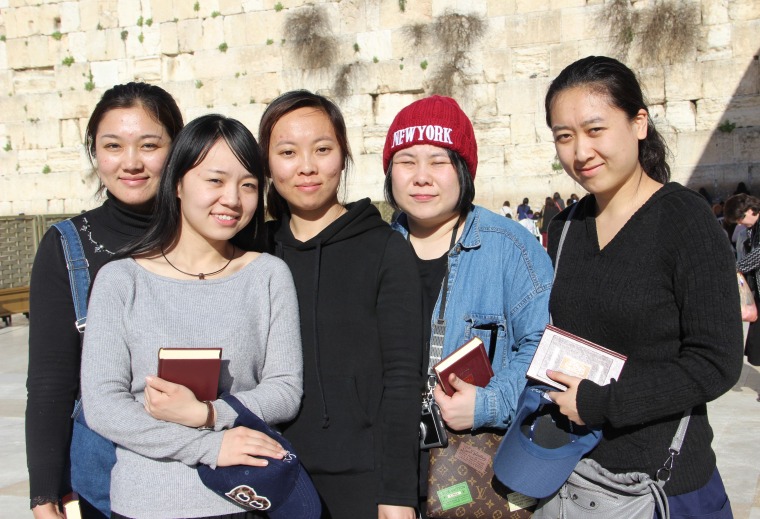 "I have to study more about Judaism because I want to do Aliyah," said Yue who, like Li is working on improving her Hebrew. "It's not easy but I will try my best."
The Israeli authorities usually require new immigrants to prove their Jewish heritage through at least one grandparent. Unable to provide evidence for this, Yue and her four fellow migrants will instead spend the next year in Israel studying for a formal conversion before becoming eligible for citizenship.
The conversion process requires deep knowledge of the principles and practices of the Jewish faith and culminates in an examination before three rabbinical judges and a ritual bath.
"It's an act of spiritual transformation," Freund said. "They are formally becoming a Jew and no one can question that once they have completed the process."
For Yue, being recognized as a Jew in Israel would be the fulfillment of a long-held dream.
"I'll be far from my family and friends," Yue told NBC News. "But on the other hand, in my heart Israel really is my hometown."