BEIJING — "Work hard, play hard" may be a popular mantra among university-bound kids, but simply making the grade will be difficult enough for thousands of Chinese students enrolled in American colleges.
U.S. education is big business, and Chinese students attracted to the flexibility and freedoms of the American system are arriving in droves. Some 274,000 Chinese students attended American universities in the 2013/14 academic year, according to one report — up 17 percent on the year before — and contributing $26.8 billion to the U.S. economy, according to another.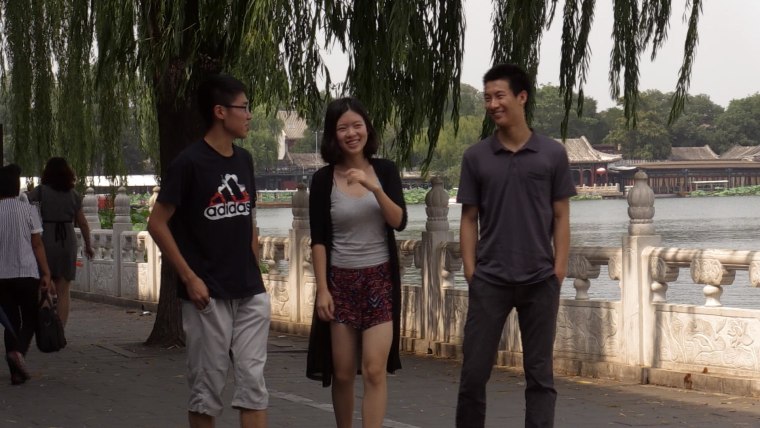 But while the lure of an education at a U.S. college is great, the costs are substantial. Some of America's best universities charge in excess of $60,000 a year. And as with any adventure there comes risk — and the intense pressure to succeed.
"I don't want to be broken down in the process," said 17-year-old Liu Yuanhong, who will be studying at the University of Chicago.
"Our school has already told us that their motto is to let us study hard and play hard," said Guo Ruihan, an 18-year-old going to Dartmouth College in Hanover, N.H. "I hope these challenges won't be too hard in the end."
Part of the appeal of American universities is an escape from the rigorous Chinese National Higher Education Entrance Examination, or "gaokao" test. Demand far exceeds the limited number of places at China's top universities, and failing to secure a decent grade dooms many students to a second-tier university — and for some, little chance of bettering their life.
The pressure to succeed in the gaokao can be overwhelming: A 2014 report on China's education showed that the majority of Chinese student suicides were caused by pressure from the harsh examination culture. Reports of cheating also abound, with one city this year using a drone to fight exam cheats.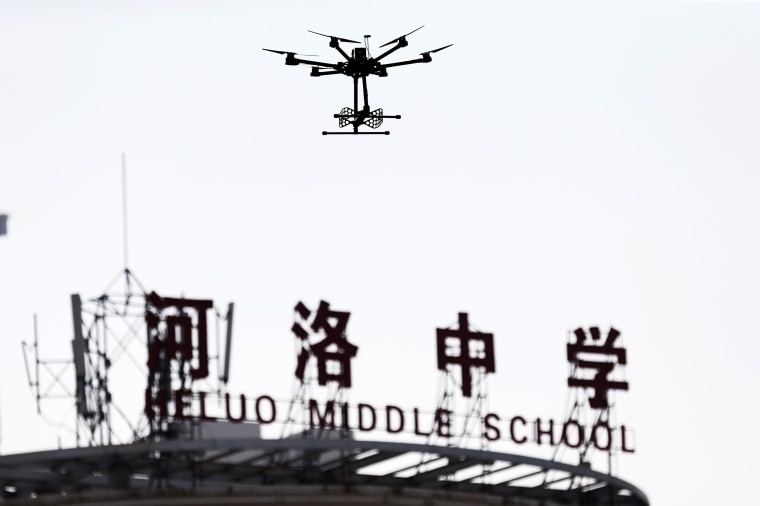 A decent score in the gaokao might not be good enough for China's best universities, but a similar score in the SATs would allow a Chinese national the option of going to many different top-tier universities in the U.S.
"Those that couldn't get into top universities, they have the freedom to find a better path in their academic journey," Guo explained. "A lot of these students will apply abroad, and they will enjoy a much better education there."
In contrast to the Chinese system, American universities offer students the freedom to choose their major — and delay it if they see fit.
"In America I can pursue two majors and I do not need to decide which major before I even enter the school," Liu said. "Especially for me, I do not have a major I really want to pursue," he added.
For Liu, the option of choosing his own major had even more personal resonance for him.
"My mother chose to study EE, electrical engineering, not because she likes it, because my grandparents thought EE may offer a better job for her. My dad chose to study social science because social science may provide him with a better job instead of mathematics, a subject he loves," he said.
"I think just based on my father and my mother's experience, I decide, I want to do what I want to do."
However, American universities are not without their challenges. A 2014 research paper on Chinese students in the U.S. revealed that 8,000 students were expelled, mostly for having a low GPA.
"I think being in a place with so much diversity and also chances to learn [from] people with different backgrounds but all gathered in one place is really amazing"
And according to the South China Morning Post, a 2013 report found that 25 percent of Chinese students at Ivy League universities ended up dropping out. The main reasons? Differences in the education system and language barriers.
There are also many accounts across American universities of Chinese students failing to "fit in," or integrate into U.S. student life. A 2012 survey of international students in America revealed that nearly 40 percent of students surveyed had no close American friends, and this was most prevalent in students from East Asia.
Wu Ziye, a 17-year-old heading to Brown University in Providence, R.I., this fall, said she'd heard that it would initially be difficult adjusting to her new campus life, but she was determined to adapt.
"I think getting into contact with more people and to [show] initiative ... and not to give up when there are bumps, it's always going to be very helpful," she said.
But Wu said she was said she was excited about the diversity that she would be exposed to at university.
"My college roommate is going to be a Latino American, she is from California and she speaks Spanish as well," she said. "I think being in a place with so much diversity and also chances to learn [from] people with different backgrounds but all gathered in one place is really amazing."
"Being in America, it's like being on the stage with all sorts of information from all around the world."
However, there were still some aspects of the U.S. life that she was dreading. "I'm not really looking forward to American food," she said.