Several people suffered symptoms consistent with exposure to chlorine gas in Syria's rebel-held eastern Ghouta on Sunday and one child was killed, local health authorities said.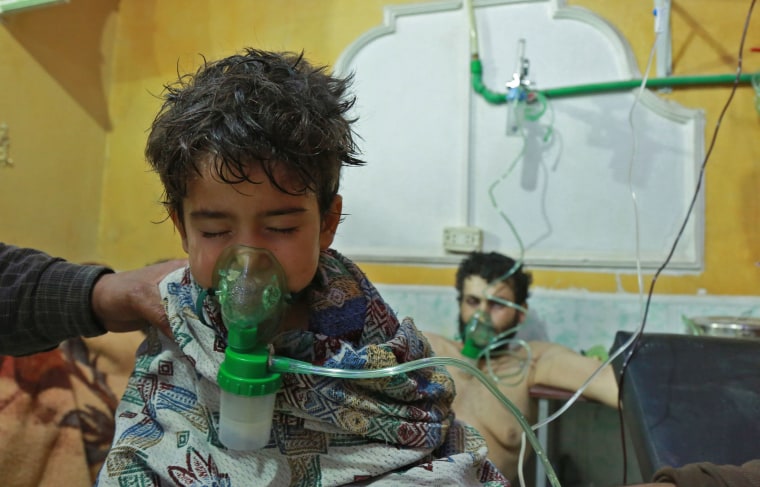 Victims, ambulance drivers and others reported smelling chlorine after "an enormous explosion" in the area of al-Shayfouniya, a statement issued by the local branch of the opposition Syrian Interim Government's Ministry of Health.
"At least 18 victims were treated with oxygen nebulizing sessions," it added.
The area — the last major rebel stronghold near Damascus — has been targeted as part of a fierce government offensive that got underway last week.
The Syrian army could not immediately be reached for comment. The Syrian government has consistently denied using chemical weapons in the war that will soon enter its eighth year.
The Russian defense ministry, which backs the Syrian government in the war, on Sunday accused rebels of preparing to use toxic agents so they could later allege government forces of employing chemical weapons.
The Syrian Observatory for Human Rights, a U.K.-based organization that reports on the war, said a child had died from suffocation in eastern Ghouta but said it could not confirm if poison gas had been used.
Video circulated on social media networks purporting to show the aftermath of the attack depicted a child's corpse wrapped in a blue shroud, and several bare-chested men and young boys appearing to struggle for breath, with some holding nebulizers to their mouths and noses.
The U.N. Security Council on Saturday demanded a 30-day truce across Syria. The observatory said Sunday's bombardment of eastern Ghouta was less intense than last week, but 14 people were still killed.
In recent weeks, the United States has accused Syria of repeatedly using chlorine gas as a weapon. Rebel-held areas of the Ghouta region were hit in a major chemical attack in 2013.
Last year, a joint inquiry by the U.N. and the Organization for the Prohibition of Chemical Weapons (OPCW) found the Syrian government was responsible for an April 4, 2017 attack using the banned nerve agent sarin in the opposition-held town of Khan Sheikhoun, killing dozens of people.
The inquiry had previously found that Syrian government forces were responsible for three chlorine gas attacks in 2014 and 2015 and that Islamic State militants used mustard gas.
The Russian defense ministry said rebel leaders were "preparing a provocation with employment of toxic material, aiming at accusing the governmental forces of using chemical weapons against civilian population."