TEL AVIV, Israel — Love was in short supply for much of Caroline Khouri's life.
Her male relatives nearly killed her after discovering she had chosen to transition from being a man to a woman, the 24-year-old told NBC News.
"My cousins, my father, my brother-in-law all came and beat me and took me by force and cut my hair, tied me to the bed and left me there for three days with no food," she said. The police rescued Khouri, but she no longer has a relationship with her relatives in the Arab town of Tamra.
Now the nightclub belly dancer has a new family that accepts her — and a wealth of potential new admirers as one of the last 12 contestants in the "Miss Trans Israel 2016" beauty pageant.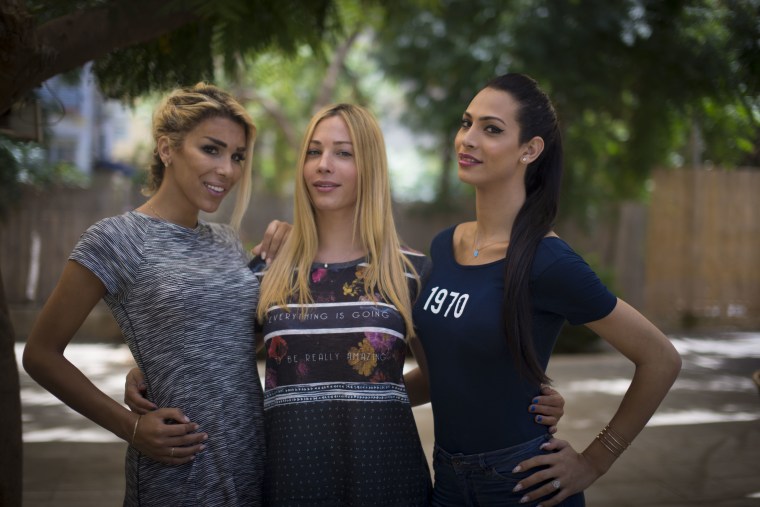 Friday's competition in Tel Aviv is the country's first of its kind — and brings together Jews, Christians and Muslims in a region known more for its deep divisions.
"Here I don't feel Muslim, Jewish, Christian," Khouri said. "All of the people are together and the transsexual [people], they love together."
Pageant judge Efrat Tilma agrees that the event is "bonding people."
"We can show the world that we are really for peace, this competition is for peace," the 70-year-old added.
The winner will represent Israel at a "Miss Trans Star International" pageant in Spain in September — and has a shot at winning $15,000 for gender-reassignment procedures at a Bangkok hospital.
Related: Sex-Change Israeli Army Officer Breaks Silence
Gay and transgender people can serve in Israel's military — the country is considered one of the most gay-friendly countries in the world. However, they still can face huge discrimination in Jewish Orthodox and Arab communities. In 2015, an ultra-Orthodox Jewish attacker killed a teenager at a gay pride parade in Jerusalem.
Tilma described being one of the first, if not the first, openly transgender woman in the country in the 1960s as a difficult and at times harrowing experience. Society in general was hostile to her.
She said she was repeatedly beaten by police and raped twice simply for being a transgender woman.
"It was 15 years after the Holocaust," said Tilma, who is Jewish. "People were also busy with building Israel. And a problem like transgender ... was not on their agenda."
After decades of struggle and pain, the former police officer says she has achieved her life's "dreams" — to become a "100 percent woman," get married and have a family.
"I did it," Tilma said.
The attitude of acceptance that permeates the pageant has helped Eileen Ben Zakene get over objections her Orthodox Jewish "Haredi" family had to her transition — along with a few other obstacles.
"Before the change, I looked like a rabbi," the 27-year-old baker said.
Back then, who she was and who her family wanted her to be were incompatible. So she ran away from home in Jerusalem at the age of 15 and started "the change."
Ben Zakene said those who once rejected now shower her with encouragement.
"Three years ago I didn't talk to my mom. Now she loves me, and I go to Shabbat dinner," she said.
Her family say, "Wow, you look like a woman — I love you'" when they see her, Ben Zakene added.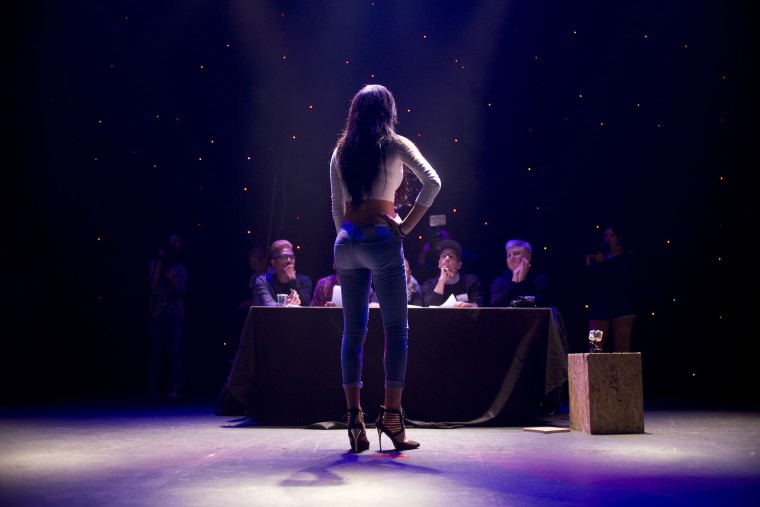 But Tallinn Abu Hana, a 21-year-old Christian, feels she can never live in her predominately Arab hometown of Nazareth — the community there as well as her father won't accept her.
Still, she has reached a degree of acceptance from other relatives.
"I have a great family, I love my family — we have a big love," she said.
Abu Hana says she also feels very grateful to have been born in a country that allowed her to become herself, and compete in pageants like this one.
"If I had not been in Israel and had been elsewhere — in Palestine or in any other Arab country — I might have been oppressed or I might have been in prison or murdered," she said. "Israel indeed did help me in this ... and I am proud to be an Israeli Arab."