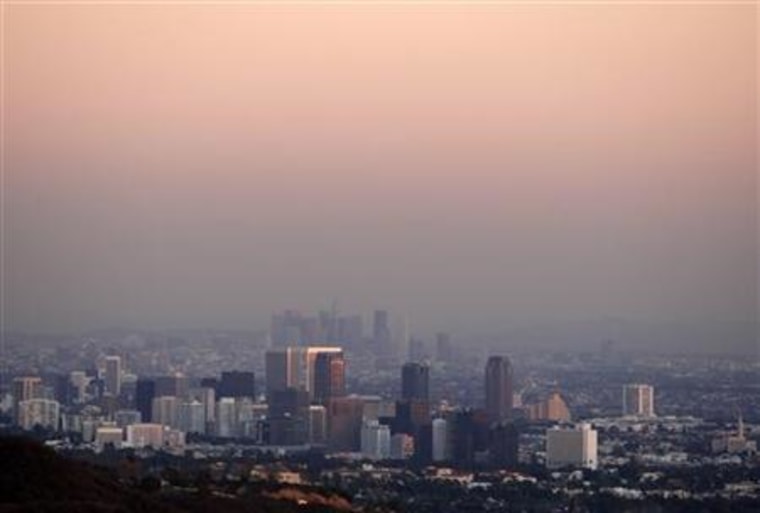 The cities with the dirtiest air are finally cleaning up their act, the American Lung Association (ALA) reported Wednesday in its annual listing of cleanest and most polluted areas across the country.
But the nonprofit that's been on a crusade to ease lung ailments also noted that some 127 million Americans — more than 40 percent of the population — still live in areas that it graded with an "F" due to smog or soot levels.
"The air has gotten cleaner while the population, the economy, energy use and miles driven increased greatly" since 1990, the ALA said in its State of the Air 2012 report. "Even as the economy begins to improve after the recession, air emissions continue to drop."
Since 2001, ALA noted, ozone-causing smog is 13 percent lower; year-round particle pollution from soot is 24 percent lower and short-term particle pollution is 28 percent lower. 
Children, older adults and people with asthma suffer most from smog and soot pollution, which, ALA said in the report, "can increase the risk of heart attacks, strokes and emergency-room visits for asthma and cardiovascular disease, and most importantly, can increase the risk of early death."
In a statement released with the report, the ALA attributed the progress to tougher Clean Air Act standards set in the 1990s "that have driven continued cleanup of coal-fired power plants and the turnover of the fleet of older, dirtier SUVs, pick-up trucks, vans, and diesel engines."
Other findings in the ALA report:
Ozone: "major improvements were seen in 18 of the 25 cities most polluted" by the chemical from vehicle exhausts. That includes Los Angeles, which had the lowest smog levels since the State of the Air report was first published in 2000.
Year-round soot: Los Angeles, Pittsburgh and Cincinnati were among 17 of the 25 cities most polluted by diesel engines and other sources to see "major improvements."
Short-term soot: Philadelphia, Pittsburgh, San Diego and Visalia, Calif., had their lowest levels ever. (Short-term soot is defined as 24-hour periods with elevated soot levels.)
Moreover, three cities — Birmingham, Detroit and York, Pa. — dropped completely off the report's 25 most-polluted cities lists. That's the first time any cities cleaned up enough to be removed, the ALA added.
Santa Fe, N.M., was named America's cleanest city, finding a place in all three clean-city categories — the only city to do so, ALA said.
The ALA also flunked 235 counties where Americans are exposed to unhealthful levels of ozone or soot. Nearly 6 million of those live in counties with unhealthful levels of all three categories: ozone, year-round soot and short-term soot, it added. 
The city and county listings were based on ozone and soot data from 2008, 2009 and 2010, the most recent years for which reliable statistics are available, the ALA said. 
Interactive maps on the ALA website provide detailed data on the cleanest and most polluted cities.
More content from msnbc.com and NBC News: