KABUL, Afghanistan - The number of civilians killed or wounded in Afghanistan's battle with the Taliban reached a record high in the first half of this year – with children bearing the brunt of the conflict – the United Nations said Monday.
At least 1,601 civilians were killed and 3,565 wounded in the first six months of 2016 as militants and insurgents try to topple the government that was installed in Kabul after the 2001 U.S.-led military intervention.
One in three of those casualties was a child.
Related: The Healers - Inside an Afghan Hospital
The figures, published by the United Nations mission in Afghanistan (UNAMA), came days after the deadliest bombing to hit Kabul since the U.S. invasion. At least 80 people were killed and 231 wounded Saturday in a suicide attack on a peaceful demonstration of the Afghan minority Shiite Hazara community. Most of those killed were civilians.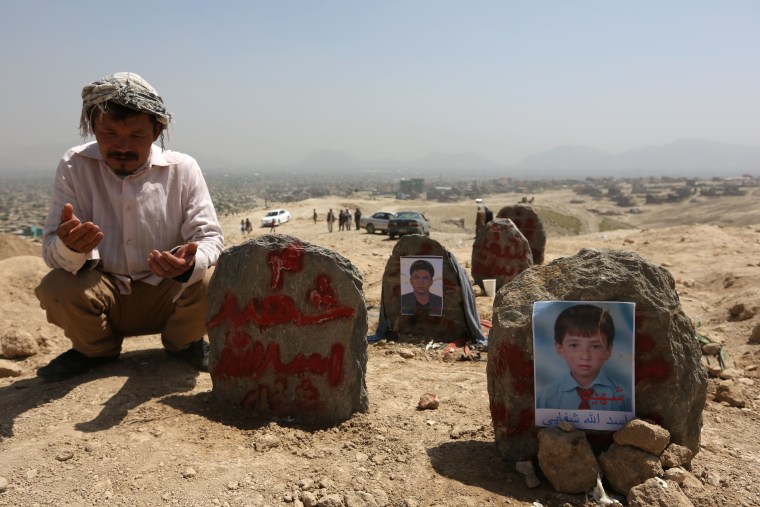 ISIS claimed responsibility, fueling concerns that the extremists, who have had a presence in the remote eastern border regions near Pakistan for the past year, plan to raise their profile in Afghanistan as they rack up losses in their heartland in Iraq and Syria.
Related: Afghans Mourn 80 Killed in Kabul Blast
This year's casualties include 1,509 children (388 dead and 1,121 injured) a figure the UN Human Rights Chief described as "alarming and shameful." There were also 507 women casualties (130 killed and 377 injured).
The Secretary-General's Special Representative for Afghanistan and head of UNAMA, Tadamichi Yamamoto, said in a statement that Monday's report must serve as a call to all sides in Afghanistan to "do all they can to spare civilians from the horrors of war."
"Every single casualty documented in this report – people killed while praying, working, studying, fetching water, recovering in hospitals – every civilian casualty represents a failure of commitment and should be a call to action for parties to the conflict to take meaningful, concrete steps to reduce civilians' suffering and increase protection," he said. "Platitudes not backed by meaningful action ring hollow over time. History and the collective memory of the Afghan people will judge leaders of all parties to this conflict by their actual conduct."
U.N. High Commissioner for Human Rights, Zeid Raad Al Hussein,said: "The family that lost a breadwinner, forcing the children to leave school and struggle to make ends meet; the driver who lost his limbs, depriving him of his livelihood … in just the past six months, there have been at least 5,166 such stories of which one-third involve the killing or maiming of children, which is particularly alarming and shameful."