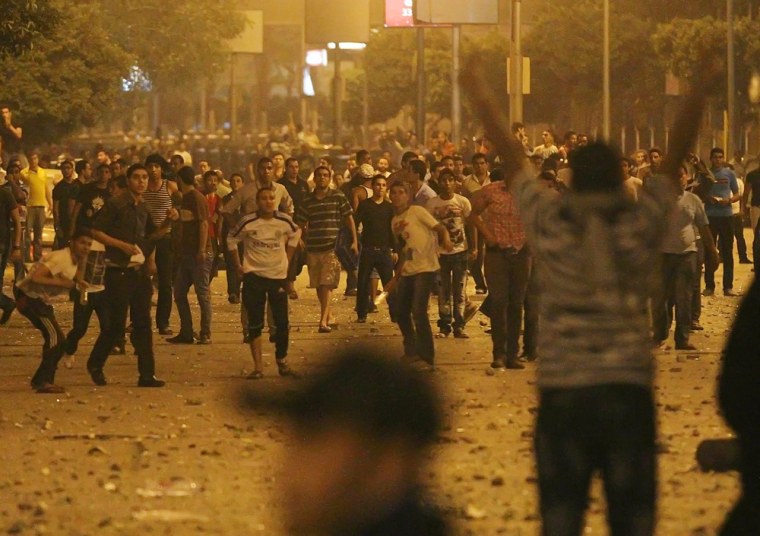 CAIRO — Egypt's Islamist-dominated parliament said Sunday it was suspending sessions for a week to protest the ruling military's failure to heed repeated calls for the dismissal of the government.
Anger against the country's military rulers also spilled into the streets where a protester was killed late Saturday in a demonstration outside the Ministry of Defense. Protesters clashed for three hours with unidentified assailants supporting the military, throwing rocks, firebombs and glass bottles.
The parliament seated three months ago has been demanding it be allowed to form a Cabinet to replace the one appointed by the country's military rulers late last year. That Cabinet is headed by Prime Minister Kamal el-Ganzouri, a holdover from the era of authoritarian leader Hosni Mubarak who was ousted in a popular uprising 14 months ago.
Parliament Speaker Saad el-Katatni of the powerful Muslim Brotherhood announced the suspension after lawmakers spoke in a televised session against el-Ganzouri's government and the ruling generals.
"It is my responsibility as speaker of the People's Assembly (parliament) to safeguard the chamber's dignity and that of its members. There must be a solution to this crisis," el-Katatni told lawmakers before he adjourned the session until May 6.
The legislature's move is likely to fuel tensions between the generals and the Brotherhood, which controls just under half the seats in parliament. It also brings into focus the ambiguity of parliament's actual powers at a time when the ruling generals enjoy near absolute executive powers.
Brotherhood vs military
The Brotherhood and the military are already at odds over what was widely seen as an attempt by the Brotherhood-led Islamists in parliament to dominate a 100-member panel that was to draft a new constitution.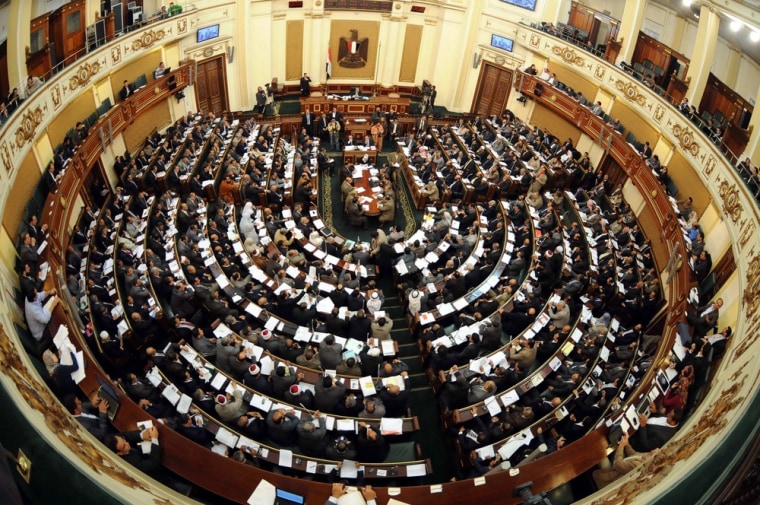 A court disbanded the panel and consultations are under way between political parties and the ruling generals over the composition of a new panel.
Egypt's military ruler, Field Marshal Hussein Tantawi, has hinted in several public comments in recent weeks that the powerful military would not allow the Brotherhood to dominate the country, a response to what is widely seen as the group's hunger for power after 60 years operating illegally and subject to government crackdowns.
The credibility of the Brotherhood was dented when it announced it was fielding a candidate in presidential elections, reversing an earlier decision to stay out of the May 23-24 race. An expected runoff will be held on June 16-17 and a winner will be announced on June 21. The military has promised to hand over power by July 1.
El-Ganzouri, who is in his late 70s, served as prime minister during the 1990s under Mubarak.
Saturday night's clashes took place when the unidentified assailants set upon the protesters.
Attack on protesters
Neither army troops or police attempted to stop the street battle, witnesses said. They also reported hearing gunshots.
Many of those outside the Defense Ministry were supporters of an ultraconservative Islamist angered by his disqualification from running in next month's presidential election. Hazem Salah Abu Ismail was thrown out of the race because officials ruled his late mother had dual Egyptian-U.S. citizenship in violation of eligibility rules.
Security officials said the dead protester was one of Abu Ismail's supporters. There was no official confirmation of the protester's death, or information about how he died. The officials spoke on condition of anonymity because they were not authorized to speak to the media.
Demonstrations in Egypt have frequently been attacked by unidentified assailants, particularly protests which are near or outside the Defense Ministry.
Rights and pro-democracy activists have blamed the attacks on undercover police, petty criminals on the police payroll, plainclothes army soldiers or supporters of the ousted Mubarak regime.
Mubarak-era generals took over the reins of power when their patron stepped down in February last year. Opposition to their rule has built up after they were blamed for killing protesters, jailing critics and putting at least 10,000 civilians on trial before military tribunals.
They have also launched a systematic campaign to undermine the youth groups credited with Mubarak's stunning ouster, using the state media to portray them as irresponsible and linked to foreign powers.
"Crushing peaceful demonstrations, whether we agree with them or not, is a continuation of a regime that has not been removed yet," Egypt's top reform leader Mohamed ElBaradei wrote in his Twitter account. "Will we this time see those involved in violence brought to account whether they from inside or outside the regime?"
 
Copyright © 2012 The Associated Press. All rights reserved.
More world news from msnbc.com and NBC News:
Follow us on Twitter: @msnbc_world