HONG KONG — Protesters blocked roads, trains and tunnels on Monday as they took to the streets in a general strike that followed a weekend of demonstrations in the former British colony.
Police trying to clear protesters fired tear gas in several locations, while the city's Beijing-backed leader Carrie Lam warned that the protests were pushing the city to the edge of an "extremely dangerous situation."
"These illegal acts that challenge our country's sovereignty, and jeopardize 'one country two systems,' will destroy the stability and prosperity of Hong Kong," said Lam, referring to Hong Kong's administrative system since 1997, when it was handed back to China.
Hundreds of flights were canceled at the city's airport on Monday, while long lines of traffic snaked across Hong Kong island into the heart of the business center.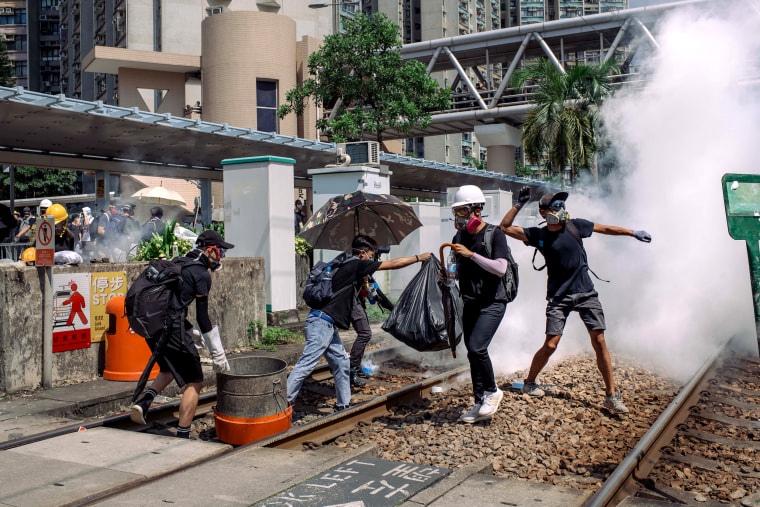 Monday's general strike is the latest action by protesters. Massive demonstrations began in Hong Kong in June against an extradition bill that would have allowed suspects to face trial in mainland China, where critics say their rights would be compromised.
The bill was eventually suspended, but that hasn't stopped protesters who are demanding a broader push for democracy in the semi-autonomous Chinese territory.
Protesters on Monday fanned out across the city, and in one residential district hurled umbrellas and other items at police. Officers responded with pepper spray.
"'Be Water' is now the motto. We stay when we need to stay, we leave when we need to leave, we change location when we need to change," explained Tom, 23, a university student who declined to give his last name for fear of prosecution.
"If we all stayed at one specific location, the police would know where to get us," he said. "I'm not saying that by spreading out we will be safe, but even police will need to spread out their manpower."
On Monday evening, police in the area of Tai Po pushed toward the protesters and made several arrests.
According to local reports, some protesters were attacked with long wooden rods by a group of people not wearing police uniforms. The protesters threw traffic cones and other objects at the group. It was not clear who the people wielding the rods were. The attack on the protesters was reminiscent of a mob assault in a train station last month.
Police said in a press conference on Monday that they have arrested 420 people since June 9. They have also fired around 160 rounds of rubber bullets and over 1,000 rounds of tear gas. Protesters have demanded an independent inquiry into police conduct, which they say has been abusive.
Last Wednesday, 44 people appeared in a Hong Kong court charged with rioting for their role in a recent protest that turned violent.
"We are telling the government officials through action, this is the current public opinion. You don't listen, and this will be the consequence: an economic downturn," said Po Chan, 24, a human resource officer, who joined the strike on Monday.
"It seems like police has the final say to everything these days. They can beat up anyone if they want to."