Record fires sweeping across the Amazon this month are bringing renewed scrutiny to Brazil's deforestation policy and have environmental researchers and conservationists worried that the blazes will only aggravate the climate change crisis.
"The effects of forest destruction in the Amazon don't stay in the Amazon. They affect us all," said Robin Chazdon, professor emerita at the University of Connecticut who has studied tropical forest ecology.
Grabbing headlines this week has been the unsettling sight of heavy smoke blowing from some of the fires and reaching about 2,000 miles away, cloaking the Brazilian city of Sao Paulo in darkness during the day. The fires have inspired the hashtag #PrayforAmazonia, and have received attention from the likes of actor Leonardo DiCaprio, Democratic presidential candidate Bernie Sanders, rapper Lil Nas X and United Nations Secretary-General António Guterres.
But there's more at stake than people might realize, Chazdon said.
"There are large negative consequences for climate change globally, as the fires contribute to carbon emissions," she added. If the rainforests are "not allowed to regenerate or be reforested, they will not be able to recover their high potential for carbon storage."
The vast swaths of rainforest play an important role in the world's ecosystem because they absorb heat instead of it being reflected back into the atmosphere. They also store carbon dioxide and produce oxygen, ensuring that less carbon is released, mitigating the effects of climate change, scientists say.
But with fires ravaging vegetation, research shows it could take more than a century to recover the carbon storage that was lost.
"Forests can regrow following fires, but not if fires are repeated every few years and not if the land is converted to agriculture," Chazdon said.
She added that the shrinking of the Amazon and its transition into scrubland "could bring a tipping point to forest functioning that is not easily reversible."
The Amazon rainforest sprawls across nine countries and is the largest rainforest in the world, about half the size of the United States. It has also been burning at a record rate, according to Brazil's National Institute for Space Research, with more than 74,000 fires in Brazil alone this year, almost double the total for 2018.
According to an analysis of NASA data, in the last three months Brazil has had twice as many observed fires as in the same period in 2018.
This year has not been a particularly dry one, Chazdon said, so unusual drought does not explain why there have been so many conflagrations, although not all are large in scale.
Environmental groups have blamed the policies of Brazilian President Jair Bolsonaro, who took office in January, for rolling back environmental protections that have paved the way for the illegal clearing of forests in favor of cattle farming and agriculture. On Wednesday, Bolsonaro posted a video to Facebook blaming nongovernmental organizations for setting the blazes as a tactic to malign him, although he provided no evidence for the claim.
"There is a war going on in the world against Brazil, an information war," Bolsonaro said.
The loss of more land could have a frightening effect in other ways, ecologists say.
Trees in the Amazon help to pump water from the soil into the atmosphere, carrying much-needed rainfall to other areas.
"These massive fires burning now reduce the resilience of the Amazon forest to future droughts and climate change at the same time that this forest is needed to mitigate against these threats," Chazdon said. "Protection and restoration of Amazon forest has never been more urgent."
Roel Brienen, a professor at the University of Leeds in England who has studied the Amazon basin for more than 15 years, said the current level of deforestation is worrying for what it means to the loss of biodiversity and the release of more carbon into the atmosphere.
"If we kill enough forest, we may be tipping the Amazon into a new, much drier state, and it may turn into a savanna," Brienen said in an email. "This would be a great loss to our planet and almost means game over for our battle against climate change."
He added that while such a doomsday scenario is still far off, it will take policy changes to be enacted now.
"Brazil can do as it has shown in the past, but only if there is political will," Brienen said.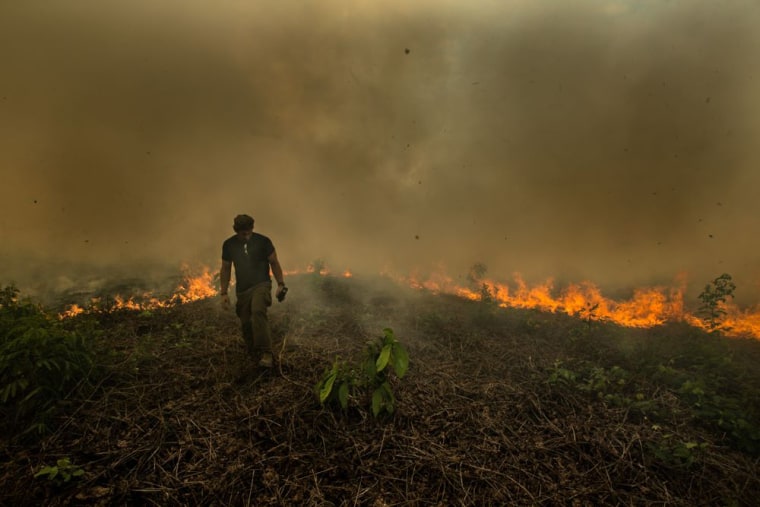 American conservationist Paul Rosolie, who has regularly traveled to the Amazon rainforest in Peru's Madre de Dios region for 13 years, said these fires are of concern not just in Brazil but across the continent. He blames a decade of apathy toward deforestation for allowing the problem to fester.
"We've never seen it at this scale before," Rosolie said, "and that's what's getting people scared. If your house was on fire, you'd call 911, but that's not an option here."
In addition to the climate, he said, he's also worried about the biodiversity — the tens of thousands of tree species and plants and the hundreds of thousands of insects and other wildlife that inhabit the Amazon.
Each tree, he said, holds thousands of species, and he's seen firsthand how fires have disrupted the largest of mammals to the smallest of leafcutter ants.
"As this fire is seeping through the Amazon, we're losing millions and millions of animals," Rosolie said.