In a historic first, countries have agreed to set up a fund to help pay for the devastating impact of climate change on poorer nations, according to a deal unveiled on Sunday after marathon talks.
"It is clearly a down payment on the longer investment in our joint futures," said Sherry Rehman, environment minister of the flood-hit Pakistan.
Who exactly who will pay for the fund and how it will operate remained undecided on Sunday. A committee of 24 members, 10 from developed nations and the rest from developing countries, will first convene in March of next year and will make recommendations on the fund's arrangements to be considered during next year's COP summit.
And while the compensation fund is widely viewed as a breakthrough, much of the final agreement reached at the United Nations environmental summit, known as COP27, in the Egyptian Red Sea resort city of Sharm el-Sheikh was focused on addressing the impact of burning fossil fuels instead of addressing the root cause of climate change.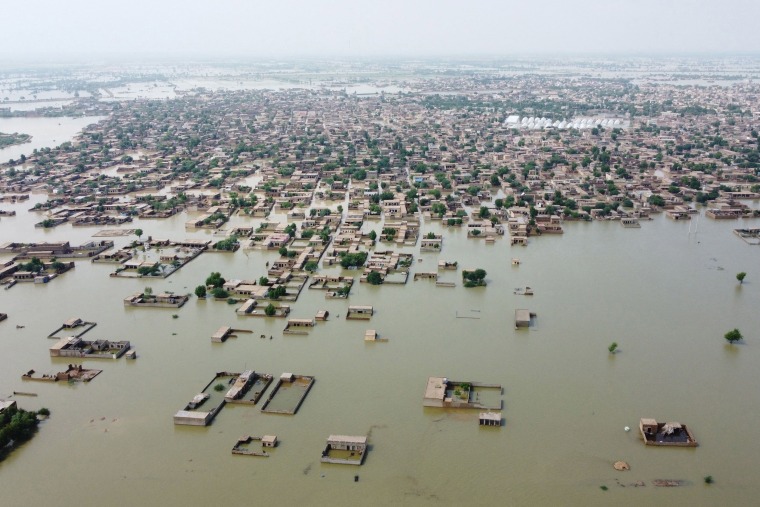 The fund aims to bring relief for disaster hit countries who have called for aid and reparation after enduring climate change-induced floods, droughts, heat waves and famines. Payments, for what negotiators call loss and damage, have also been an issue for nations which are at a higher risk of sinking all together due to rising sea levels.
"Today, the international community has restored global faith in this critical process that is dedicated to ensuring no one is left behind," Antigua and Barbuda's Molwyn Joseph, who chairs the organization of small island states that has been vocal on the issue said.
The United States also supported the fund though the climate envoy John Kerry did not attend the talks after testing positive for Covid-19.
Wealthier nations had previously rejected the proposals for creating a specific loss and damage fund at the last climate change summit in Glasgow, Scotland. 
Yamide Dagnet, director for Climate Justice at the Open Society Foundations, it was about time rich nations acted on the issue.
"After 30 contentious years, delayed tactics by wealthy countries, a renewed spirit of solidarity, empathy and cooperation prevailed," she said, adding that "too few countries submitted enhanced plans to reduce emission this year."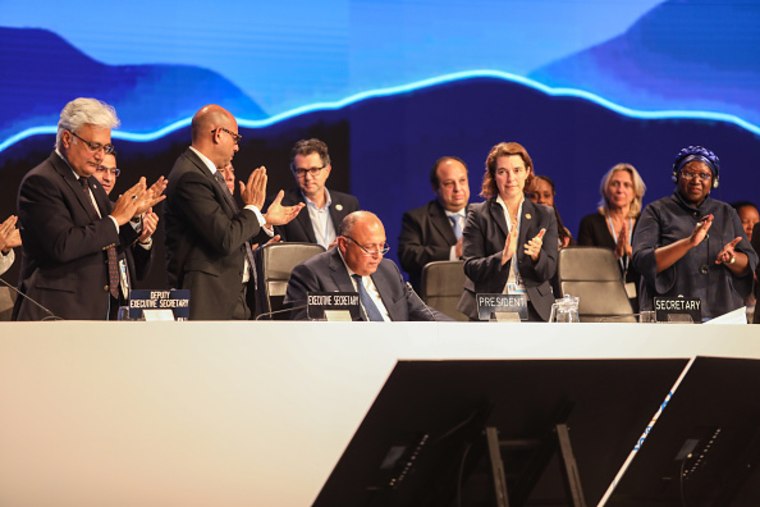 Even though the fund was welcomed by many, the summit also noted that developed countries had jointly failed to mobilize $100 billion per year by 2020, as part of a 2009 pledge in Copenhagen for climate action in developing countries.
The creation of a fund was approved by almost 200 countries early Sunday morning, after the European Union and other nations were left disappointed at the lack of an agreement to reduce the burning of fossil fuels in the first place. The deal lacked any agreement to phase down the unbated use of fossil fuels. Earlier on Saturday, The E.U. had threatened to exit the talks if an ambitious cut on emissions was not discussed.
"Our planet is still in the emergency room," said the Secretary-General António Guterres after the breakthrough deal was reached at dawn after hours of negotiations. "We need to drastically reduce emissions now — and this is an issue this COP did not address," he said. 
Regardless, the summit was able to prevent backsliding on the current global goal of limiting global warming by 1.5 degrees Celsius (2.7 degrees Fahrenheit) after the Egyptian presidency for the talks insisted on relaxing it.
"I said in Glasgow that the pulse of 1.5 degrees was weak. Unfortunately, it remains on life support," said Alok Sharma, U.K.'s representative who was also the president for the 2021 summit in Glasglow, Scotland.
"What we have in front of us is not enough of a step forward for people and planet," a disappointed Frans Timmermans, executive vice president of the European Union, told his fellow negotiators. "It does not bring enough added efforts from major emitters to increase and accelerate their emissions cuts," he said.
German Foreign Minister Annalena Baerbock also voiced her frustration after seeing "overdue steps on mitigation and the phase-out of fossil energies being stonewalled by a number of large emitters and oil producers."