The world climate conference ended Friday much the way it began two weeks ago — with the Trump administration bolstering legacy fuels like coal and gas, separating itself from much of the world.
The lone panel sponsored by the U.S. government was interrupted by singing and chanting protesters, who said support for coal power went against the thrust of talks centered on promoting renewable energy and 21st century technology.
The result was a fundamental disconnect at the gathering in Bonn, Germany.
"California is not waiting for Trump," Gov. Jerry Brown told some of the 20,000 attendees. "We are not waiting for all the deniers, we are committing ourselves to do everything possible to get on the side of nature instead of fighting it, to deal with the climate change challenge in a real way."
Jake Schmidt, director of the international program for the Natural Resources Defense Council, assessed the panel's reception. "One of the positive things here is that the Trump administration has mostly been ignored," he said.
Related: Trump Panel to Diverge From Views of Other Americans at Bonn Climate Talks
Much of the world community — from Pope Francis, to French President Emmanuel Macron, to a giant Norwegian investment fund — made it clear they agreed with the American dissenters.
The annual conference had been expected to highlight deep divisions not only between the United States and foreign nations, but also between U.S. federal and local governments. Despite the Trump administration's vows to bring back coal jobs, some American states and communities are moving forward aggressively to get more of their electricity from wind and solar installations. They made multiple presentations at the world conclave.
Related: California and Other States Step Into the Climate Policy Void
President Donald Trump said in June that the U.S. would exit as a participant in the Paris climate accord, putting the world's second-biggest carbon producer at odds with governments around the world.
In the Paris deal, nations agreed that they would change policies and practices to try to limit the increase in Earth temperatures to 2 degrees Celsius (3.6 degrees Fahrenheit). An array of measures are needed to meet that goal, such as slowing rapid deforestation and slashing the use of coal and gas, both to make electricity and to power cars and trucks.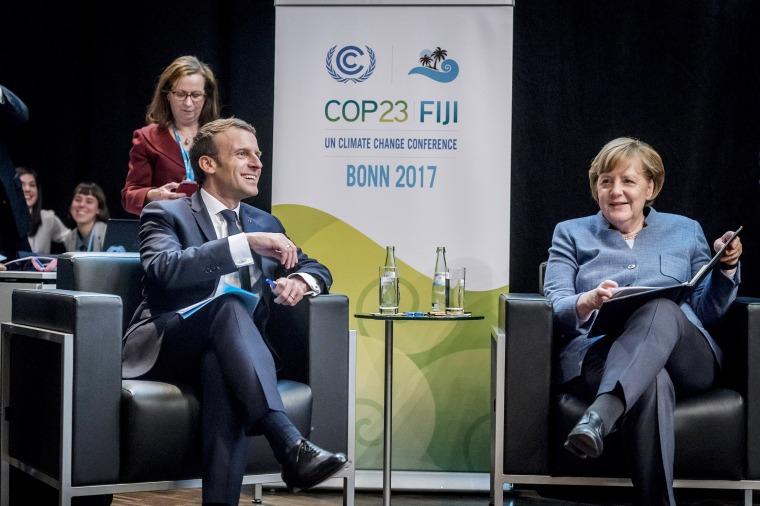 The U.S. was represented by career State Department diplomats and only made one presentation headed by a Trump representative — leading a panel of representatives from the coal, nuclear and natural gas industries.
"Without question, fossil fuels will continue to be used, and we would argue that it's in the global interest to make sure when fossil fuels are used that they be as clean and efficient as possible," Trump representative David Banks told the gathering. "This panel is controversial only if we chose to bury our heads in the sand."
That panel was interrupted for about 10 minutes by protesters, who accused the U.S. president of neglecting the world's most existential threat. When the demonstrators left, the meeting hall was left with many empty seats.
The U.S. wrapped up its official role in the sessions Thursday, with a presentation by veteran State Department official Judith Garber. She said America would continue to rely on a variety of fuels to provide "energy security [and] promotion of economic growth."
Coal backers claim it is more dependable than wind, solar and cleaner energy sources — a position that environmentalists reject.
Related: How to Save an Island Drowning From Climate Change
Garber told the gathering that, despite the plan to exit the Paris accord, "We remain open to the possibility of rejoining at a later date under terms more favorable to the American people." She added that the U.S. "will continue to be a leader in clean energy and innovation, and we understand the need for transforming energy systems."
The pope was one of several leaders signaling they wanted a more aggressive approach. Francis' statement called global warming "one of the most worrisome phenomena that humanity is facing."
While Trump has previously threatened to withdraw funding for the Intergovernmental Panel on Climate Change, French President Macron told the Bonn gathering he will make sure the the group "won't lack a single euro" for its climate work.
Another signal of the anti-carbon momentum came when Britain and Canada announced a new alliance intended to phase out coal. Participants in the Global Alliance to Power Past Coal ranged from Finland and Mexico to New Zealand and several U.S. states.
The Norwegian firm signalling its support of clean energy, Storebrand, said it was divesting carbon-centric energy companies from its $80 billion portfolio.
The mixed message out of Bonn should not be a surprise, said Scott Barrett, a Columbia University professor of natural resource economics who has studied international agreements for 30 years.
"It really is amazing the world at least stands united," Barrett said. "But the successes they are talking about have to be put in the context of what really matters, which is the level of carbon dioxide in the atmosphere. And that has gone up every year since it was first measured in 1957."