As potentially historic climate change talks began in Paris Monday, the White House seemed determined to distinguish this gathering of 150 world leaders from the last time around — when efforts to produce a sweeping carbon emissions treaty in Copenhagen seven years ago failed.
"One of the enemies we'll be fighting at this conference," Obama declared during his remarks at the summit's opening session on Monday morning, "is cynicism — the notion that we can't do anything about climate change."
As if to emphasize this pledge, the president's remarks became the equivalent of a Congressional filibuster, running 11 minutes past the designated three-minute mark allowed for each speaker.
Afterwards, there was no desperate wrangling — as there had been in Copenhagen — to secure a meeting with, among others, India and China, the world's largest carbon emitter.
Instead, with Indian Prime Minister Narendra Modi by his side (as well as Bill Gates), Obama announced "Mission Innovation," which he called a "groundbreaking" public-private initiative to "accelerate the pace at which we can develop and deploy clean energy that's affordable to populations around the world."
Modi responded graciously, saying the pair "have a deep relationship" and were "launching on a very good mission."
There were fewer specifics from China. Obama did meet with president Xi Jinping, and in a joint statement released afterwards, they "reaffirmed" a historic agreement negotiated last year and declared "their resolve to work together and with others to achieve an ambitious and successful Paris outcome."
During a news conference Monday, Deputy National Security Adviser Ben Rhodes called the Paris conference a "truly global effort" that has, at its center, a "recognition that this can't just be an agreement of the most advanced economies."
Elsewhere at the summit, Obama met privately with Russian President Vladimir Putin, a White House official said Obama "expressed his regret" over Turkey's recent downing of a Russian warplane — and, according to Reuters, Israeli Prime Minister Benjamin Netanyahu and Palestinian President Mahmoud Abbas did something highly unusual: they shook hands.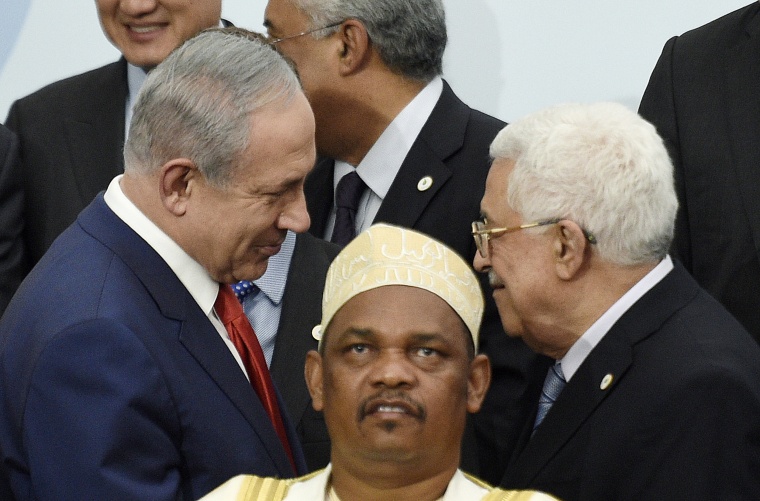 The conference meeting comes at a somber time for France, which is still reeling after extremists linked to ISIS killed 130 people around the capital.
Immediate fears of repeat attacks have prompted extra-high security and a crackdown on environmental protests, who hope that the images from the United Nations conference will send a powerful message of unity on the issue of global warming.
Each leader is scheduled give a speech about what their countries are doing to reduce emissions and slow climate change. After the leaders leave, negotiators have two more weeks to work on a deal before the talks are scheduled to wrap up Dec. 11.
"It is the future of humanity that is at stake at this conference," French President Francois Hollande told 20 Minutes newspaper. "History will severely judge the heads of government if, in December, they miss this opportunity."