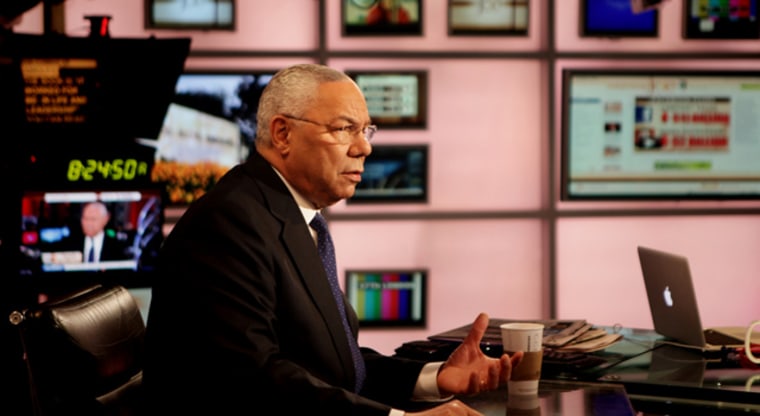 This morning Colin Powell joined us to discuss his new book "It Worked for Me," which focuses, in part, on his role in the run up to the Iraq war.
In the book and in our interview Powell reflects on his now infamous speech to the U.N. Security Council on Iraq, calling it in the book something that "...will earn a prominent paragraph in my obituary."
Joe Scarborough also asked the former Secretary of State his thoughts about Mitt Romney's foreign policy advisors and if he thinks Romney is "...top-heavy when it comes to the neoconservatives around him."
"I've noticed that," Powell said.
Powell then said he feels many of Romney's advisors are "quite far to the right."
"And sometimes they might be in a position to make judgments or recommendations to the candidate that should get a second thought. For example, when Gov. Romney not too long ago said the Russian federation is our number one geostrategic threat. C'mon, Mitt…think! That isn't the case. And I don't know whether Mitt really feels that or…It's been catching a lot of heck from regular GOP foreign affairs community. We were kind of taken aback by it. Look at the world. There is no pure competitor to the United States of America. All of the problems we talk about – Afghanistan, Iraq, Iran, you name them all – they come to about 700 or 800 million people in a world of 7 billion. What are the rest of them doing? They're increasing their economies; they're building wealth; they're educating their kids; they're building their infrastructure. That's what we need to be doing."
In March, Romney also faced criticism for an opinion column on Iran he wrote in the Washington Post.
Watch the interview below: