MAINZ, Germany — Roving packs of men sexually assaulted dozens of women on New Year's Eve in western Germany's city of Cologne, officials said, describing the attacks as unprecedented.
The spree suggested a "new dimension of organized criminality," German justice minister Heiko Maas told a press conference on Tuesday.
Police said the attackers — who struck in pairs and groups of up to 20 men — appeared to be part of a larger, 1,000-strong group that had gathered in one of the city's main plazas for New Year's celebrations.
Cologne's police spokesman Thomas Held told NBC News that authorities had fielded around 90 complaints of pick-pocketing, groping and at least one of rape.
Eye witnesses described getting groped multiple times near the city's train station and its famed cathedral.
"It was horror. Although we shouted and hit around us, the guys did not stop. I was desperate," a 28-year-old woman identified as Katja L. told Cologne's Express newspaper, saying she was groped about 100 times while walking 600 feet.
Another woman, who did not give her name, told Bild newspaper that several men attacked her and her friend. "They had circled us and started to grope us. They were everywhere with their hands," she said.
NBC News was not able to independently verify the witness and victim accounts.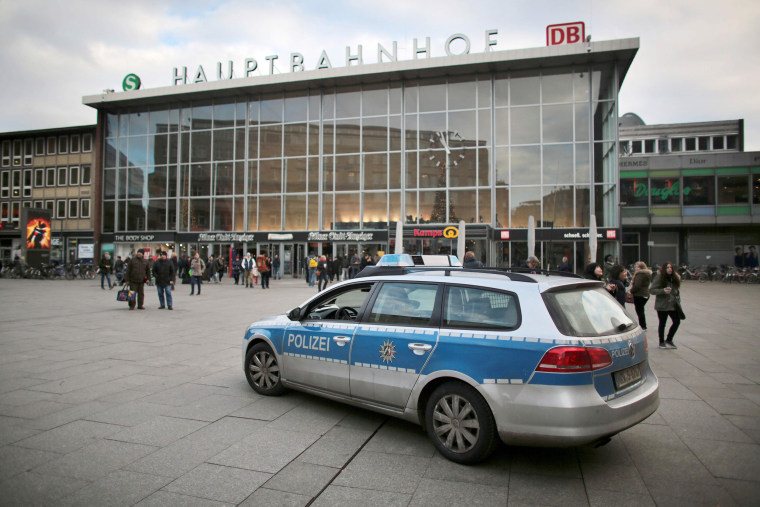 Police on Monday had said the suspects appeared to be of "Arab or North African descent," sparking fears on social media they were among around 1 million asylum seekers who have flooded Germany this year. Held told NBC News that it was too early to tell if the suspects were recent arrivals.
Amid the fears and outrage, Cologne city officials were meeting Tuesday to discuss further measures to prevent similar incidents — especially in light of upcoming carnival festivities.