Colombian President Juan Manuel Santos was awarded the Nobel Peace Prize on Friday, a surprise triumph coming only days after his bid to end a 50-year civil war was rejected by his country's voters.
Santos was recognized for his "resolute efforts" to agree a treaty with the leftist FARC guerrilla group, according to the Norwegian Nobel Committee. The conflict has seen 220,000 people killed and 6 million displaced from their homes.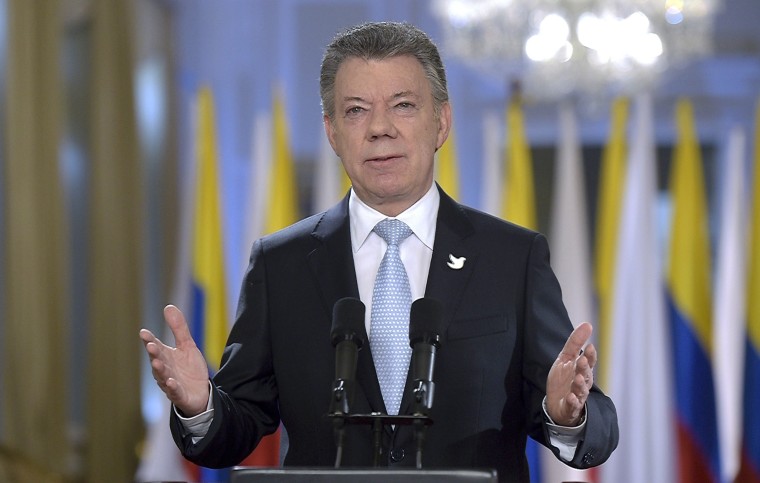 The announcement of Santos' win was met with audible shock among the audience at the Nobel press conference in Norwegian capital of Oslo.
"Do you think he will be as surprised as the rest of us?" one reporter asked.
In a statement from the Nobel Committee, the president dedicated his prize to "the Colombian people who have suffered so much with this war."
Santos was instrumental in forging a peace deal between his government and the rebels, with the committee noting that "he has consistently sought to move the peace process forward."
But this pact was narrowly rejected by the Colombian people during a referendum Sunday, something acknowledged by the committee.
"This result has created great uncertainty as to the future of Colombia," the committee said, referring to the referendum. "There is a real danger that the peace process will come to a halt and that civil war will flare up again."
The president has ordered his negotiators to try for a better deal with the FARC. The campaign to reject the deal said that its terms were too lenient on the guerrilla group.
Santos beat out the bookmakers' favorites to win the peace prize, the Syrian White Helmets volunteer group. Also known as the Syrian Civil Defence, the rescue organization says it has saved some 62,000 lives during the country's civil war.
Reporters questioned whether it was appropriate to honor Santos given the referendum decision to reject his peace deal.
"Isn't it a little disrespectful of the democracy of Colombia that you now give the peace prize to the president?" one reporter asked.
Kaci Kullmann Five, chair of the Norwegian Nobel Committee, rejected this view.
"The fact that a majority of the voters said 'no' to the peace accord does not necessarily mean that the peace process is dead," she told the press conference. "What the 'no' side rejected was not the desire for peace, but a specific peace agreement."
Journalists also asked why the prize had not been jointly awarded to FARC leader Rodrigo Londoño, also known by his alias Timochenko.
"We never comment on those who do not comment on those who do not receive the award," Five told reporters, adding that Santos' "role as the keeper of a process is very, very important."